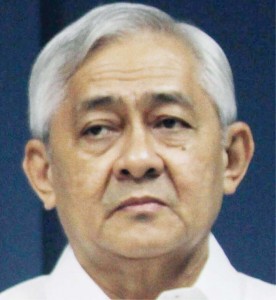 In the aftermath of the announcement of the unexpectedly disappointing third-quarter GDP figures earlier this week, Budget Secretary Florencio "Butch" Abad offered a rather strange explanation for part of it, the 2.9 percent retraction of government spending during the quarter: "…the decrease was largely caused by the low utilization of notice of cash allotments (NCAs) by government departments and agencies, which, in turn, affected the implementation of public infrastructure projects," Abad said, because the Supreme Court's ruling against the Administration's "Disbursement Acceleration Program" (DAP), "may have sent a chilling effect across the bureaucracy's expenditure practices."
My first impression of this, as I explained in my latest Times column, is that Abad was, for the umpteenth time, assuming that the local media and the public at large are a bunch of idiots who will swallow any ludicrous excuse so long as it is delivered under the aegis of government officialdom. But I think he may have just been hoisted by his own petard, and blown up former Solicitor General and now Associate Supreme Court Justice Francis "Ooh, ooh, pick me! pick me!" Jardeleza as well.
Here's the problem: The DAP was declared unconstitutional on July 1, which is, of course, the very first day of the third quarter. So yes, if government's budgetary management did, up to that point, include DAP as a key component, the SC ruling against it would have certainly thrown government spending through most of the third quarter into turmoil.
SUPPORT INDEPENDENT SOCIAL COMMENTARY!
Subscribe to our Substack community GRP Insider to receive by email our in-depth free weekly newsletter. Opt into a paid subscription and you'll get premium insider briefs and insights from us daily.
Subscribe to our Substack newsletter, GRP Insider!
Learn more
Early on in the Supreme Court's lengthy hearings on the DAP controversy, however (January 28, to be exact), then-Solicitor General Jardeleza, in a session also attended by Abad, testified that the DAP had ended in mid-2013, and therefore the challenges to it were moot. To which, of course, the SC responded, "nice try," and continued hearing the case.
If what Jardeleza said was true — and it should have been, since he was testifying before the highest court in the land — then the 2014 budget should have not had any provision for DAP or DAP-like spending; after all, the Administration had just deemed it unnecessary. Whatever turmoil in budget and expenditure management would have resulted from the ending of DAP would have been experienced in the latter half of 2013.
Now comes Butch Abad, unintentionally (or so we assume) admitting that DAP was used for at least a year beyond the time Jardeleza told the SC it had been eliminated. Which leads to two (2) possible conclusions:
1. Jardeleza lied to the Supreme Court, and DAP didn't actually stop until the SC's adverse ruling against it in July 2014 at the earliest.
2. Butch Abad is lying now, and used an erroneous excuse to try to cover his utter failure to do his job properly.
If President B.S. "Bobo the Simpleminded" Aquino Mk. III had any sense at all, which he's repeatedly demonstrated is extremely unlikely, he would quickly choose what's behind Door #2 as the official story, and replace his BFF Abad with someone a little more competent (and circumspect when speaking to the media) because some dire consequences lie behind Door #1. At a minimum, the latter choice would mean admitting the former Solicitor General perjured himself, either on his own or at the behest of the Administration he was representing in court — if he knew he was doing so, it might explain his and his President's frantic efforts to get him appointed to the Supreme Court (which clearly wanted anyone but Jardeleza) afterwards.
IF that is really what happened, the only way to solve that without dragging Aquino, Abad, and probably others among N/A's henchmen into a larger plunder case is for Aquino to throw Jardeleza under the bus, and see one of his own SC appointees impeached and disbarred. Any other attempt to resolve it would simply have even worse consequences for the "anti-corruption" president and his political machine.
Of course, what will probably happen is the Administration will simply ignore the glaring issue, and the captive Philippine Legislature and the doltish population it represents will let the whole thing slide. The only consolation — and it's not much to be happy about, really — is that even if this most likely result is the outcome, its impact will continue to be felt in the wider economy; B.S. Aquino will escape the presidency perhaps secure in not having been called to account for his massive corruption, but remembered for leaving an economic mess in his wake.
I write a column for The Manila Times on Tuesdays, Thursdays, and Saturdays. Most of the energy sector and the heads of several government agencies probably wish I didn't.