Frankly, I don't understand women who remain with cheating partners. I have a few female friends who remain in relationships with known palikeros (philanderers). They are quick to get their claws out at women who stray too close to their precious hubbies or boyfriends, or hang on more tightly to them when someone perceived to be "competition" walks into the room. What is the missing component here? So obvious. These ladies, while quick to throw hissies at perceived hussies seem to consistently fail to hold their hubbies or boyfriends accountable.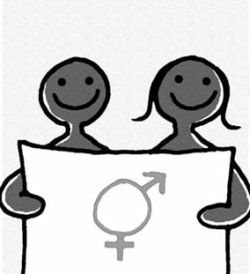 I don't get it. If your man is the sort of guy you have to put in a cage to keep him faithful, why bother? Set him free and let him sow his oats.
I read an article in Yahoo! News that revealed that women do really tend to be more forgiving of erring men than men of erring women…
Today a report claimed that more than 6 in 10 women would happily forgive their partner for up to three "relationship errors", but a massive 9 out of 10 men would dump their partner if they strayed just once.
So women will allow their man three strikes before he's out while for guys it's sudden death at the first offense. What's up with that? Why the double standard? Is it because men are significantly more offended by a cheating partner than women are?
Consider though that it seems Filipino men tend to enjoy the winning end of this double-standard. I have married male friends who openly discuss the flings and affairs they routinely have on the side. There is no shame. It seems to me that the stigma attached to cheating on your partner has long ago been lifted for men. But of course it takes two to tango. Apparently there is a supply of willing women to meet the demand for such affairs coming from these married men.
I've been often told that men are really very simple. Men, I am told, are highly-unlikely to decline sexual opportunities that present themselves under the majority of circumstances. Perhaps that is the rationale behind the claws-out instinct of the women I described earlier. So at the risk of being an apologist for the male of the species, let us for arguments' sake take the popular position of resignation — that men will be men. On that, I jump off and ask the ladies: So why succumb to the charms of the obviously-married or evidently-taken guy?
Presumably women, in contrast with their more indiscriminate opposite gender, are more inclined to think things through — at least from an emotional angle — before jumping in bed with someone. What then is the nature of that point that tips a woman over to a pursuit that goes against her better judgment?
I don't presume to judge. After all, that hypothetical question of what one would do given the chance to roll in the hay with the very married Chris Hemsworth almost always induces long pause for thought in many a red-blooded female — very long pause. But that high bar simply highlights the really baffling incidence of very average — and very less-than-average-looking — guys out there who are somehow so successful in the game of female conquest. What is their secret? More imporantly, what are the secret buttons that turn otherwise sensible women into willing prey?
Frustrated artist doing geek for a living.