Why is it that issues of mental health and emotional maturity seem to stick to the Yellow camp of President Benigno Simeon "BS" Aquino III like a bad rash? During the the 2009-2010 presidential campaign, observations emerged around what increasingly seemed to be a cult-like following emerging around the Aquino camp composed of what many described as simpletons. The term "noytard" (presumably a witty mashup of the words "Noynoy" and "retard") became the slur of choice used to refer to the staunchest of Aquino-Cojuangco loyalists.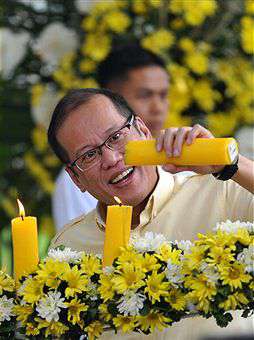 Now it is Aquino's hand-picked Supreme Court Chief Justice Lourdes Sereno who is now being beleaguered by questions surrounding her mental health following revelations that she scored a four on a scale of 1 to 5 (5 being the lowest) in a psychology evaluation administered by the Judicial Bar Council. According to the alleged findings, Sereno is…
"[…] dramatic and emotional, she appears energetic and all smiles and agreeable, but with religious preoccupation in almost all significant aspects of her life. She projects a happy mood but has depressive markers too. There is a strong tendency to make decisions based on current mood thus, outcome is highly subjective and self-righteous."
Perhaps it is because the top dog himself suffers from similar speculation around his own mental fitness for the job he currently performs.
Recall back in the heady days of the 2010 presidential campaign when "reports" of the alleged mental illness of then candidate Benigno Simeon "BS" Aquino III flew back and forth. The centre of this media circus was a set of documents that found its way onto the internet describing the results of a psychiatric evaluation allegedly performed on BS Aquino in 1996 by Fr. Carmelo Caluag SJ of the Ateneo de Manila University Department of Psychology.
The report was dismissed as "bogus" on account of said evaluation being performed by an unlicensed practitioner who is affiliated with an academic department of the university and not, as "protocols" supposedly demand, by the guidance and counseling offices of the institution. Not surprisingly, BS Aquino reportedly denied ever being the subject of a psychiatric evaluation. The Ateneo, for its part, asserted that the documents were "false" while Caluag himself in statements to the media disavowed any involvement in any such psychiatric evaluation.
According to a Manila Bulletin report, "It was the network giant [ABS-CBN] that broke the news, with two of its reporters alleging that they sourced the document from the [Nacionalista Party (NP)]." But Senator Loren Legarda denied the reports that the NP was the source of these documents. Forced to respond to challenges to reveal their sources, then ABS-CBN News and Current Affairs head Maria Ressa issued this statement:
"We respect the confidentiality of our sources. While it's tempting to take the Nacionalista Party's challenge, it violates a sacred rule of journalism."
Nonetheless, the documents provide entertaining reading. The fact that these were supposedly "proven" to be "bogus" seems to not have assuaged any persistent speculation around the President's mental health even to this day…
History of Present Illness: The patient is a 36-year old single male with a history of profuse salivation and labile moods since his childhood. He was observed to be sleeping excessively, disoriented and confusing family and household member's name. When interviewed at the time of psychiatric assessment, the patient said he had difficulty in speech, poor concentration, impaired thinking and melancholia brought about by the stresses of his work and the break-up with his flight attendant girlfriend. He also claimed he felt clumsy and uncoordinated. He also describes what appeared to be a deep sense of foreboding and feeling that the "world was coming to an end."

Current Symptoms:

1. Psychomotor retardation
2. Slowed gait and activity
3. Lack of initiative
4. Melancholia
5. Fatigue
6. Lack of self-confidence
7. Lack of sexual interest

Substance Abuse History:

Smoker = Yes, up to two (2) packs a day
Drugs = Yes, teen-age experimentation with Marijuana and various pills
ETOH = Yes, solitary drinker

MMSE

The Psychologist conducting the interviews noticed that the patient would occasionally walk slowly and aimlessly around the room when being interviewed. He appeared inattentive, vague, non-spontaneous and detached in interactions, but passively followed simple commands. He appeared disoriented. There was some difficulty in communicating due to his deep depression and melancholia. On mental state examination, he was a lanky man of medium height who was mildly psychomotor retarded with a latency of verbal replies, and a slowness of movement. He was preoccupied with his inner thoughts, brooded and felt melancholy. He appeared quite elevated and irritable when he spoke of the loss he was feeling when he recounted his relationship with his girlfriend. He expressed a poorly-formed grandiose delusion that the world was ending and described feelings of foreboding but no disturbance in any other sensory modality. The patient was oriented in person and place, with only very mild impairment of time. Attention and concentration deficits were evident, though much in the slightest and confirmed on formal testing that he had minor difficulty in counting down by seven from 100 and could not readily spell some words backwards. Registration and short term memory were intact on testing but he was often distracted and distant.

There was evidence of dysphagia, mild difficulty with three-step commands, concretism and trial-constructional dyspraxia (he could not copy complex diagrams). No confabulation or remote memory deficits were identified. His Mini-Mental State Examination (MMSE) score totaled 28/30. No cognitive impairments. He denied being in need of medical assistance and explained his presence in the school as being due to his sister's concerns, but did not appear suspicious of possible motives or irritated by his presence in the department. He denied that he had any cognitive deficits. He said he required medication and dietary modification, but did not accept medication offered in fact requiring detailed explanation on why the medication had to be taken.

In as much as the patient exhibits the following symptoms (1) Depressed mood (i.e. feeling sad and empty) most of the day for 10 days, (2) Markedly diminished interest on pleasure in almost all activities (including lack of sexual interest) most of the day for 10 days, (3) A noticeable fluctuation of appetite most of the day for 10 days, (4) Psychomotor agitation or retardation (i.e. increased restlessness) most of the day for 10 days, (5) A diminished ability to concentrate ordering on indecisiveness most of the day for 10 days, (6) Insomia nearly everyday, (7) Fatigue nearly everyday , And (8) a feeling of foreboding everyday. He is diagnosed as suffering from Major Depressive Disorder.
As always, abangan ang susunod na kabanata.
benign0 is the Webmaster of GetRealPhilippines.com.