"I Do Bidoo Bidoo: Heto nAPO Sila!" is making waves within the Filipino media scene as a must-see movie. I myself watched it just recently. To give the readers an idea of what it is, it's very simple. If you guys know the movie "Mamma Mia", the concept is exactly the same. The actors suddenly burst into song after they've delivered a few lines or so, something akin to a movie musical. Better yet, the term I hear being thrown around is a "movie-oke" – a portmanteau of movie and karaoke. While the soundtrack of "Mamma Mia" is composed entirely of ABBA songs, "I Do Bidoo Bidoo" uses songs from The APO Hiking Society's extensive collection.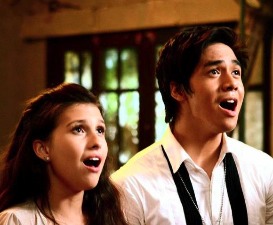 Here's what basically happens in the movie (WARNING: some spoilers ahead). It's a story that starts in medias res: poor guy has relationship with rich girl. Guy and girl plan to get married because girl is pregnant. Guy's family goes on pamamanhikan (a Filipino tradition/custom where groom's family travels to bride's house to formally ask for her hand in marriage from her parents). Girl's grandfather opposes marriage completely. Guy's family, feeling disrespected and belittled, leaves in a huff. Girl talks with her mother to head to the United States to give birth there. Guy is convinced by his mother to keep applying for jobs. Girl and guy meet one last time and break up. Just before girl leaves, guy appears at her house, they kiss and make up, and then elope. They get married, their son is born, and happy ending ensues.
As one reviewer put it, it's "Romeo and Juliet minus the tragedy."
I was able to appreciate the movie for its production value. If you're a person who won't squirm in his/her seat when the characters suddenly burst into song and dance numbers you'll be just fine. Hey, I didn't even mind at all that the whole concept of Mamma Mia was seemingly copied off-the-shelf and given local color! The plot is all too familiar and seems used one too many times: boy and girl from different social classes come together despite their differences and the obstacles that they face. Despite this, the chosen APO songs were creatively well-woven into the story line; they fit it to a T.
APO Hiking Society, also known as APO to us Filipinos, is the trio of Boboy Garovillo, Danny Javier, and Jim Paredes. They started in the early 70's, and their songs and sound virtually defined Original Pilipino Music (OPM) for almost four (4) decades. The lyrics of their songs tell of friendships and loves lost and found, and of life's ups and downs which every Filipino can relate to. Even up to now, their songs are still widely known among Pinoys and widely covered by current Filipino artists. Hits like "Awit ng Barkada" (The Gang's Theme), "Ewan" (Maybe), "Nakapagtataka" (Strange), "Blue Jeans", and "Batang Bata Ka Pa" (You're Still Very Young) have resonated with Filipinos across generations. The group though, citing "creative difficulties", had retired in 2010.
That the appeal of APO Hiking Society lives on to this day, is a testament to how the appeal of their songs has withstood time. At the same time, one must wonder as well: is the concept of "I Do Bidoo Bidoo" a plausible new direction for OPM and the local movie scene to go, or are movies like this perhaps a last hurrah with their dying breath? Will the OPM and/or local movie scenes ever experience another "Golden Period", so to speak? Will "I Do Bidoo Bidoo" serve as a sign to us merely of what local entertainment once was, instead of inspiring us of what it can be once again?
Jim Paredes relates the success of I Do Bidoo Bidoo to how APO made the fateful decision to do OPM or Original Pilipino Music back in the 70's:
"It only confirms that we were right all along to have done OPM. It's a career decision na tama—Go OPM! Go original! Write your music like you didn't care. Huwag titingin ng sales report. Ganoon kami, e, kaya medyo reckless."

Tagalog parts translated: "It only confirms that we were right all along to have done OPM. It's a career decision that was right – Go OPM! Go original! Write your music like you didn't care. Don't look at the sales report. That's how we were, a bit reckless."
The entertainment industry is a fickle and cruel one; one minute, you're the next rising star and/or popular icon. The next day, laos ka na(your time has come and gone). That's an inescapable fact for anyone who dreams of making it big in that profession.
Regardless, perhaps that's what the local entertainment scene needs to do: step up to the plate and focus on quality material instead of prioritizing formulaic mass-produced junk. Instead of lamenting about the glory days and complaining about foreign artists taking too much of their market share, local artists need to stop whining and get their acts together.
Seriously though, Manny Pangilinan saying this movie is better than Mamma Mia? Let's not get ahead of ourselves.
А вы, друзья, как ни садитесь, все в музыканты не годитесь. – But you, my friends, however you sit, not all as musicians fit.