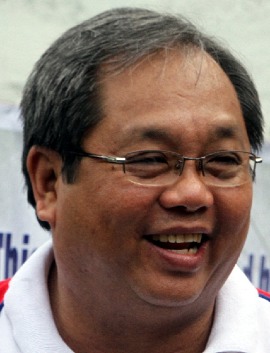 Following reports that police officers led by Department of Interior and Local Government Undersecretary Rico Puno had tried to "raid" the late Secretary Jesse Robredo's apartment just a day after his fatal plane crash, an ABS-CBN News report has revealed that Robredo had in fact been investigating an arms deal that involved Puno…
ABS-CBN News was able to secure a copy of the Department of Interior and Local Government's (DILG) report on the planned purchase of assault rifles by the Philippine National Police-Special Action Force that involved two procurements of nearly P178 million and P213 million.

The documents show that Robredo received the report on August 8, less than two weeks before the fatal plane crash off Masbate.

ABS-CBN News sources said this report is among the sensitive documents that were in Robredo's condominium unit at the time of his death.

This is the same condo unit that Puno and some police officials allegedly tried to access on August 19, a day after the plane crash.
Earlier, we highlighted the the questionable circumstances surrounding the plane crash that killed Robredo and two pilots. According to news reports, Robredo's remains had been returned to his hometown in Naga City only "a few hours after technical divers found and recovered his body in the waters off Masbate." From there, it will be made available for public viewing. There is no report of any autopsy being performed nor any plans for one in the future. Some people have also speculated on the suspicious circumstances surrounding the way Robredo's aide Jun Abrazado "survived" the crash. One of them is Nemesio Antonio Jr in an article on his blog Danger Signs. Some questions he poses among others:
(1) Initial reports stated that Abrazado suffered a fractured arm during the accident, yet situation spokesperson at the time Mar Roxas reported that "Abrazado swam out of the plane's cabin upon regaining consciousness and not finding Robredo."
(2) Abrazado reportedly related how he observed that the plane was broken into two after the crash. But having reportedly lost consciousness after the crash, how did he know this?
(3) How did Abrazado lose sight of Robredo so soon after regaining consciousness?
Interestingly, Malacañang has so far been notably mum on the subject of Puno's attempt to storm Robredo's apartment a day after his plane crashed. Bombo Radyo Philippines reports that the Aquino Administration has as of press time declined to comment. According to Deputy Presidential Spokesperson Abigail Valte, her office would not be able to comment pending clear guidance from "higher officials".
Rico Puno is a shooting buddy of Philippine President Benigno Simeon "BS" Aquino III. He is also a key figure in the botched rescue operation that led to the deaths of eight Hong Kong tourists in a August 2010 hostage drama. Puno was later absolved of any responsibility for the appalling incompetence exhibited by Filipino security forces in that incident. Puno also seems to have close ties with the Philippines' jueteng (illegal numbers game) underworld. In September 2010, Puno admitted he got offers to be on the take from the lucrative jueteng business from relatives and friends ("conduits", he calls them, that the actual operators used to extend the offer to him). He said he "turned them down".
Yet, some questions come to mind…
(1) Why would friends and acquaintances even consider approaching him with such proposals if they didn't see a possibility that he'd be potentially open to such things? Suffice to say, one's "friends" reveal quite a lot about one's character.
(2) If Puno were serious in towing his boss's zero-tolerance line regarding corruption, then those people who extended the offer to him are potential leads to an equally serious crackdown on jueteng. Is he going to pursue these leads now?
(3) Why is this admission coming at the heels of an imminent whistle blow coming from retired Lingayen-Dagupan Archbishop Oscar Cruz? Indeed, there is nothing like an imminent threat of exposure to smoke out people with dirty noses.
Where there's smoke, it is quite likely that there is fire, and Puno is smoking now, and has been, apparently, since the earliest days of the Second Aquino Administration.
benign0 is the Webmaster of GetRealPhilippines.com.