You'd think that a meeting with China with which the Philippines is in the middle of a military showdown over rival claims on several groups of islands in the West Philippine Sea would be high on the agenda for the Philippine president. That Philippine President Benigno "BS" Aquino III could actually find the time to "clarify" a few things about Department of Interior and Local Government (DILG) Undersecretary Rico Puno's recent actions and yet fail to meet with China leader Hu Jintao in Vladivostok during a meeting of Asia Pacific heads of state last week describes the sort of priority Aquino puts on adding his personal touch when it comes to taking care of friends and family. Nobody could've said it better than the Inquirer.net Editor herself…
To have the President himself make excuses for you, while you studiously avoid the probing media: That is a very cozy work arrangement Puno has. We wonder, What is it exactly that recommends him to President Aquino's good graces?

This much we know; almost every time Puno surfaces in media reports, it is seemingly to test either the meaning or the outer limits of the tuwid na daan, the straight and narrow path the second Aquino presidency is committed to.
That op-ed piece also listed a number of items that colour Puno's career in the service of the Second Aquino Administration since BS Aquino's ascent to power in 2010 — his figuring in the fatally-botched rescue effort that resulted in the deaths of eight Hong Kong tourists in August 2010, and his links to the country's jueteng (illegal numbers game) underworld (nasty stuff we had highlighted long ago and brought to light again recently). Most recent is Puno's suspiciously-timed attempt to "secure" his boss's, the late DILG Secretary Jesse Robredo's, private condominium shortly after the news of his (later to be known fatal) plane crash broke.
An ABS-CBN News report, reveals a DILG report that could possibly have been the object of Puno's thwarted raid. The report documents on-going investigation into what are described as allegedly "anomalous" dealings with weapons manufacturer Israel Military Industries involving the "planned purchase of assault rifles by the Philippine National Police Special Action Force (SAF) that involved two procurements of nearly P178 million and P213 million." The document reportedly links Puno to the deal.
The document shows Puno travelled to Israel upon the invitation of weapons manufacturer Israel Military Industries.

Puno was accompanied by former SAF chief Director Leocadio Santiago, defense and security company owner Reynaldo Espineli, and Puno's consultant, Ramiro Lopez III.

The DILG report says Puno's group left for Israel on May 10, the same date of the second pre-bid conference for the purchase of short firearms.

It cites a possible conflict of interest, since Puno and Lopez were both members of the bids and awards committee.

The report also says specifications of the assault rifles seem to have been amended to favor a particular bidder.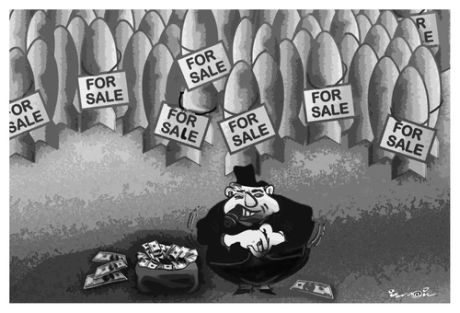 Interestingly, Israel Military Industries (IMI) is noted by Transparency International as suffering a ten-year blacklist imposed by the Indian government over a corruption scandal there. Israel is a signatory to the OECD Convention on Combating Bribery of Foreign Public Officials in International Business Transactions. However, its government reportedly has so far failed to meet the requirements of the Convention with regard to the enforcement of its tenets.
Countries that have signed the convention are required to put in place legislation that criminalises the act of bribing a foreign public official. The OECD has no authority to implement the convention, but instead monitors implementation by participating countries. Countries are responsible for implementing laws and regulations that conform to the convention and therefore provide for enforcement. The OECD performs its monitoring function in a two-phased examination process. Phase I consists of a review of legislation implementing the conventions in the member country with the goal of evaluating the adequacy of the laws. Phase 2 assesses the effectiveness with which the legislation is applied.
Senator Miriam Defensor Santiago has since initiated a Senate probe on Puno, even inviting Robredo's wife attorney Maria Leonor Robredo to attend. The probe is scheduled to start on the 14th of September…
Santiago earlier said Puno should explain why he was at Robredo's condominium a day after the latter's plane crashed off the waters of Masbate.

The others invited are: Executive Secretary Paquito Ochoa Jr. who took over the DILG reins as interim chief; Environment Secretary Ramon Paje, who said Robredo was also having a probe on illegal logging; Justice Secretary Leila de Lima, who was asked to secure Robredo's condominium a day after the plane crash; DILG Secretary-designate Mar Roxas; PNP Director General Nicanor Bartolome.

Interestingly, Santiago also invited former Lingayen-Dagupan Archbishop Oscar Cruz. It was Cruz who earlier tagged Puno to the illegal numbers game.
A possible avenue to investigate is Puno's personal cash holdings vis-Ã -vis his Statement of Assets Liabilities and Net Worth (SALN). The impeachment trial of former Chief Justice Renato Corona had set a precedent around gaining more transparency with regard to the foreign currency bank accounts of top Philippine government officials which, under Philippine law, are held to be absolutely secret.
Indeed there are many ways to skin a cat now that many "creative" ways to tar and feather government officials have been developed by the Aquino Government over the last six to eight months. What goes around comes around.
[NB: Parts of this article were lifted from the Wikipedia.org article "OECD Anti-Bribery Convention" in a manner compliant to the terms stipulated in the Creative Commons Attribution-ShareAlike 3.0 Unported License that governs usage of content made available in this site.]
benign0 is the Webmaster of GetRealPhilippines.com.