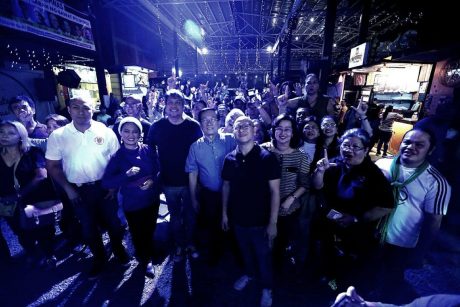 Historical parallelism – because two or more significant events happened in the past, then one similar event happening again will lead to another of the corresponding event. And the most recent example, being bandied around by critics of current president Rodrigo Duterte, is that the University of the Philippines (UP) Men's Basketball Team's UAAP (University Athletic Association of the Philippines) finals stint in 1986 (32 years before the team got there again!) happened in the same year as the ouster of then-president Ferdinand Marcos.
Of course, several commentators were quick to point out that UP's finals appearance occurred several months AFTER the ouster. And logically speaking, one should be able to smell the post hoc fallacy from the very start. One should also be able to call out the difference in circumstances then and now.
This, however, really should come as no surprise, if you've been busy following the Opposition. Whether or not they have more substantial propositions and arguments, making references to the past is not only convenient, it is easy. Filipinos are so easy to scare: they have an aversion to risk that is debilitating and prevents them from venturing out into an unknown, but potentially rewarding, future. They have a deference to "elderly" symbols and authority by age that prevents them from being truly independent thinkers, and from truly learning from the mistakes of their ancestors and predecessors. They would rather talk of glory days gone by, rather than doing actual work to make sure they can truly bring them back.
The other perceptible, but more subtle, half of the parallelism drawn between UP's UAAP finals appearance and the ouster of Marcos, is that whoever is pushing it is telling people to "prepare for another inevitable ouster", or to go "do their 'patriotic duty', on their behalf". One can't help but get the feeling that whoever these people are, they would rather see others get their hands dirty as cannon fodder for their cause, than do the dirty work themselves out in the streets. Conveniently, this sort of behavior is also seemingly associated with Yellowtards, arguably the loudest among the rattling cans in the current Opposition.
It seems, however, that the most obvious hindrance to the Opposition having more weight is the lack of credibility of the Yellowtards. For all the historical parallelism and throwbacks that the Opposition likes to indulge in, they conveniently gloss over the snippets of history that don't make them look good. Like how, for example, not one single Marcos has yet to be put in a jail cell in the Philippines, where it counts. Or how both Aquino presidents mothballed potentially beneficial development projects started by their predecessors – without even completing one of their own. Or how Aquino the Son's incompetence and unnecessary politicking had caused a long list of deaths that didn't need to happen (Yolanda).
Fortunately, it seems certain Filipinos are starting to divorce themselves from such so-called chains of the past. Some of them don't care about the bogeymen of, and deference to, the past anymore; they came of age in a time when everything was supposed to be prosperous, clean, inclusive, free, and democratic, and yet, wasn't all it's cracked up to be.
Filipinos would do well to take to heart this proverb which I personally find profound and relevant:
"Dwell on the past, and you'll lose an eye. Forget the past, and you'll lose both eyes."
The past is a lesson, not a state to go back to. If things weren't done in their time-appropriate manners, then perhaps people should take accountability for them, not blame others for their own neglect/failures. Unfortunately, the shallow opposition offered and espoused primarily by Yellowtards, communists, and other so-called "activists" belong in the past. So they should stay there. As for the future, retain what works, cast off what does not.
Easier said than done.
[Photo courtesy: Twitter – Kiko Pangilinan]
А вы, друзья, как ни садитесь, все в музыканты не годитесь. – But you, my friends, however you sit, not all as musicians fit.