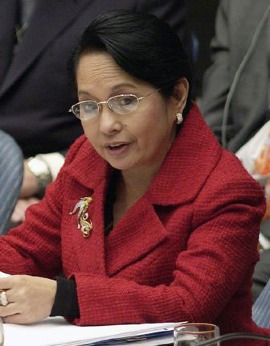 We have witnessed in the past months how ex-Chief Justice Renato Corona received the lion's share of jeers and insults from the Filipino populace in the duration of his impeachment trial. He was accused of a whole bunch of crimes, the most memorable of which is betrayal of public trust, judging by inaccuracies in his Statement of Assets, Liabilities and Net worth (SALN). At the moment when the respondent himself faced the Senate court to address his case, Corona couldn't help but become sentimental regarding the possibly permanent moral damage inflicted upon him and his family by the Filipino people. He expressed his sadness over how people judge him because of his investments, accusing him of being a "thief," earning him the moniker "Thief Justice" from wannabe satirists from the masses.
In the end, the nation's wishes were fulfilled as Corona got convicted and ousted from office. But looking back to the debates that ensued concerning Corona's moral and legal standing, how did most Filipinos voice out their reasons for condemning Corona? Perhaps you might remember memorable quotes like these:
"Tuta kasi siya ni Arroyo." (He's Arroyo's lapdog.)
SUPPORT INDEPENDENT SOCIAL COMMENTARY!
Subscribe to our Substack community GRP Insider to receive by email our in-depth free weekly newsletter. Opt into a paid subscription and you'll get premium insider briefs and insights from us daily.
Subscribe to our Substack newsletter, GRP Insider!
Learn more
"Midnight appointee ni Arroyo." (He's Arroyo's midnight appointee.)
"Marami kasi siyang pera na undeclared, kaya guilty siya at dapat umalis sa pwesto." (He has a lot of undeclared wealth, so he's guilty and should be removed from office.)
There is a myriad of attempts to justify Filipinos' contempt for the ex-Chief Justice, most of which, if not all, have been said again and again, rehashed again and again—with passion. But rarely, if not never, had we seen an actual good argument or position to suspect Corona of betrayal of public trust. If anything, anti-Corona peeps will churn out the old and tiresome rhetoric about Corona being Arroyo's midnight appointee and whatnot, even though most of them are either lacking in proof, or already debunked.
What's worse is that some people will just argue based from what they had heard from other people, or from the prosecution panel that combated the Chief Justice (a really terrible source of information). And this is often the case; in the course of Corona's impeachment, many Filipinos formed their opinions primarily out of what they've heard and agreed with it almost instantaneously. It makes you think that, somehow, they must have hated him simply because almost everyone does.
But there is a hate-game that has been around far longer than the one about Corona. This one is very much alive despite the years that have passed, because apparently, people are still hungry for justice. I'm not sure whether there are Filipinos who actually don't know this, but I am, of course, talking about the intense Filipino hatred towards former president Gloria Macapagal Arroyo.
Oh, just hearing that name will piss many Filipinos off already. Some of them might even say something like "the most corrupt president in the world," "go to hell, you b*tch," "I hope she rots in jail," among others. It would seem that GMA-hate has been deeply ingrained in the lifestyle of Filipinos that it is considered a norm; a standard of living. You're a Filipino if you hate GMA. Something like that.
And what could aggravate the typical Filipino lifestyle more than this recent event; GMA is now free on bail, thanks to Pasay Regional Trial Court Judge Jesus Mupas. We all sort of expected that after what happened to Corona, GMA's public persecution is just around the corner, but I admit that I didn't expect things to turn out this way. This is just too much of a slap in the face of those Filipinos who live the GMA-hate life.
To be succinct, many Filipinos were outraged at this news. The air was filled with shouts calling for GMA's proverbial head on a pike. Some protesters even attempted to stop GMA as she left the Veterans Memorial Medical Center (VMMC) after her bail was granted.
Angry protesters tried but failed to stop former President and now Pampanga Representative Gloria Macapagal-Arroyo from going home Wednesday afternoon after she posted bail.

(Source: Link)
Wow, talk about angry. Now, one might wonder how people grew to hate her so much to the point of resorting to these kinds of gimmick—stopping a sick old woman from leaving. And then the generic list of GMA's crimes will be cited once more.
Plunder in the NBN-ZTE anomalous deal

Plunder in the illegal use of PCSO intelligence fund

Plunder in the fertilizer fund scam

Civil suits on human rights violations including extrajudicial killings and torture filed by members of the Morong 43 and the United Church of Christ in the Philippines

Criminal and administrative charges against Arroyo's henchmen in the military and the police on the account of murder, massacre, kidnapping, illegal arrests, illegal detention, torture and other violation of human rights

Administrative and criminal charges against military, police and other public officials liable in the Hacienda Luisita and Maguindanao massacres

Fraud in the 2004 Elections

(Source: Link)
When you put it that way, GMA really does look contemptible. Since the hottest case filed against her is electoral sabotage, we might as well focus on her alleged crime; fraud in the 2004 elections. Electoral sabotage supposedly is a non-bailable offense. However, a court judge has the discretion to override this rule provided that the evidence supporting the case is too weak. Judge Mupas did just that, and GMA got her bail, much to the chagrin of Filipinos whose lifestyles were deeply shaken by GMA's temporary release.
Unsurprisingly, President Noynoy Aquino and his cohorts quickly shifted to code red, battle mode, or "let's volt in" mode (whichever you prefer), and contested Mupas' ruling, insisting that the evidence against GMA under electoral fraud is not weak.
Commision on Elections (Comelec) Chairman Sixto Brillantes on Thursday said the poll body and the Department of Justice (DOJ) have started preparing their next move against former President Gloria Arroyo, who was released from detention yesterday for her electoral sabotage case.

"Mayroon kaming plano, pag-uusapan namin [ng DOJ]. We just don't want to give the defense the leeway of knowing what our moves are," Brillantes told radio dzMM.

Brillantes said he was surprised by Pasay Regional Trial Court (RTC) Branch 112 Judge Jesus Mupas' declaration that the evidence against Arroyo was weak, resulting in the granting of Arroyo's petition for bail.

An electoral sabotage is a non-bailable offense. However, a judge can grant bail if he finds the evidence against the accused of a non-bailable offense weak.

"Eh sabi niyang mahina eh di tatanggapin namin iyan, pero hindi kami naniniwala na mahina ang ebidensya namin. Mayroon pa namang trial on the merits iyan so pwede pa kaming mag-submit ng additional evidence to strengthen the case against the former president," he said.

(Source: Link)
Furthermore, Brillantes argued that more witnesses have been prepared for the trial, giving the case against GMA merits, followed by a snide remark towards the defense panel which has apparently presented no witnesses so far. This leads me to wonder:
(1) Quality trumps quantity. What is the use of a truckload of witnesses when they fail to shed light on the matter? So far the only testimony frequently considered is that of former Maguindanao Provincial Administrator Norie Unas, which has been deemed as hearsay evidence. Brillantes contested this claim.
He also dismissed the Arroyo camp's claim that Unas' testimony that Arroyo masterminded the rigging of the 2007 mid-term elections was hearsay evidence.

"Katabi siya (Unas) ni Gov. Ampatuan nang ibinigay ni GMA ang instruction. Sila ang magkatabi, rinig na rinig niya ang binigay na instruction. Hindi lang niya sinabi na 12-0. Ang sinabi [ni Arroyo ay] kung kailangan palitan ang resulta. Iyun ang masama, ang second portion," he said.

"Iyun ang ginawa nila eh, nina Unas, Bedol. Iyun ang ibinigay na instructions hanggang sa ibaba eh," he added.
But this statement did nothing to invalidate the nature of Unas' testimony as hearsay. Are Brillantes' claims supported by tangible, visible or audible documents? In effect, what Brillantes did was to confirm the nature of Unas' testimony as hearsay by saying something structurally similar to what the witness divulged.
(2) Why blame the defense? Who's trying to prove something anyway? Isn't it the prosecution, who's trying to establish GMA's guilt regarding electoral fraud? Then isn't it logical to assume that the burden of proof lies on the prosecutors? With that said, what's the obligation of the defense to present witnesses to counter the prosecution when the latter couldn't even put up a good fight?
With these said, I have to ask: where's the merit in all of this?
Meanwhile, the chain of vindictiveness does not end in Comelec, as the Office of the Ombudsman has stepped into the fray to chase GMA 'til kingdom come.
The Office of the Ombudsman wants Gloria Macapagal-Arroyo rearrested in connection with a plunder case even as the Commission on Elections (Comelec) and the Department of Justice (DOJ) appeal the bail for electoral sabotage that the Pasay City Regional Trial Court granted her on Wednesday.

(Source: Link)
And what else does not end? The mass hatred towards the former president. What's interesting, however, is if you ask them what their reasons are for hating GMA. Most of them will recite by the list of GMA's alleged crimes that supposedly makes her an evil person, as if they memorized the said list by rote. Now, how about you ask them this: where is your proof?
"Huh, what proof are you talking about? It's all around you!"
"What proof are you talking about? It's not as if GMA is responsible for everything happening right now. After all, PNoy is now the president."
And then, an awkward moment of silence.
Most Filipinos are so consumed with hatred towards GMA, that they forget an important part in despising someone: justifying it with facts and rational analysis. Every now and then you see a bunch of folks burning a GMA effigy, calling for her punishment, and a bunch of folks reciting the list of her crimes. But where is the proof? Where is the proof that can be validated by the courts that can ensure GMA's guilt?
Apparently, this is the same question Mupas asked himself. And in an objective decision, by lack of strong material evidence, he decided to grant GMA's bail petition. EVIL!
Yes, evil, as believed by several protesters who tried to block GMA's departure. Never mind Article III Section 13 of the Philippine Constitution.
Section 13. All persons, except those charged with offenses punishable by reclusion perpetua when evidence of guilt is strong, shall, before conviction, be bailable by sufficient sureties, or be released on recognizance as may be provided by law. The right to bail shall not be impaired even when the privilege of the writ of habeas corpus is suspended. Excessive bail shall not be required.
Yes, folks. Bail is a constitutional right. GMA was granted bail by a judge under legal circumstances, and so she has the right to leave. In effect, the protesters are actually attempting to infringe GMA's rights. What an interesting way of viewing things, eh?
I neither confirm nor deny the allegations against GMA, simply because there is no proof yet. I can't form a fair and objective judgment in the absence of facts. But apparently, most Filipinos can with clear conscience. That, I believe, is what's truly evil.
How will you judge someone who hates another person without any firm basis whatsoever? How will you judge someone whose anger is founded not on facts, but merely on hearsay from other people? How will you judge people who judge others in the absence of conclusive evidence? Bad, unfair, maybe evil? Then you've just judged the majority of Filipinos who joined the GMA hate-bandwagon.
We Filipinos have this tendency of following trends. Maybe because it's fun, perhaps it's for a sense of belonging or something, but this inclination persists in many Filipinos. Moral judgment is no exception, as recent events have shown. Corona was pre-judged through trial by publicity, and was degraded by multitudes of gossipers, eager on destroying his image. GMA was pre-judged for so many years despite weak evidences put up against her, and even became some sort of a cult object for Filipino anger.
Filipinos learned to hate GMA, and later Corona, mostly on the basis of being trendy (like the way how you tweet in accordance to what's "trending" on Twitter). It's in to hate GMA, since many people do. It's in to persecute Corona, since many people do. We might as well join the bandwagon! I see no other explanation; for how can you passionately hate someone for something he or she did, even when there's no real evidence that confirms that accusation? The way I see it, this can only happen if people are in it for the trend… for the sake of belonging.
In vernacular, nakikisakay lang ang mga Pilipino.
Perhaps, there is some truth in the cases filed against GMA. Perhaps she is indeed guilty of a crime or two. But can we at least be fair enough to suspend our judgment until the hard facts are out? Or is this how Filipinos view justice? Justice based on gossip and hearsay? Justice based on a hate bandwagon on a national scale?
Boy, we sure have a way of messing virtues up.