Following the apparent death of the Freedom of Information (FOI) bill due to certain technicalities and delays (which are, interestingly, totally absent during the government's relentless assault towards former Chief Justice Renato Corona), President Benigno Simeon "PNoy" Aquino III attempts to sidetrack the tension caused by his administration's neglect by once again raising the issue of balanced, fair and objective journalism.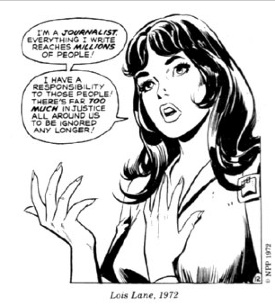 The president spazzing out at journalists apparently painting the Philippines in a consistently bad light is nothing new. And now, he took the liberty of refreshing our memory on how embittered he is about the way the media portrays his utopian kingdom.
In a speech he delivered during the 38th top level management conference of the Kapisanan ng mga Brodkaster sa Pilipinas in Tagaytay City, Aquino stressed the importance of reporting positive stories and not just negative ones.

He said Filipinos and the country would benefit from truthful, balanced, and complete reporting, which essentially is something similar to his principles on issues about the media and the public like his favorable view on the right of reply.
(Source: Link)
PNoy has also expressed support for the Right of Reply, which is pushed by lawmakers to be included in the proposed FOI bill. Why he supports only a part of the prospective bill, which he, incidentally, will benefit hugely from, instead of supporting the bill's entirety is a matter of, shall we say, mystery.
One thing is for certain, however; the president's penchant for throwing tantrums when he doesn't hear the things he want to hear, while dragging the people to his sentiments. Again and again, we have heard PNoy complaining about negative news filling up national television.
In the earlier part of his speech, Aquino said that he had observed that the media had the tendency of reporting mostly negative news.

"Sa karanasan ko po, tila ba nakasanayan na ng media ang mapaulan ng batikos sa mga lumalabas na balita. Allergic po yata ang iba sa good news-kundi man iiwasan ang mga ito, ay hahanapan naman nila ng masamang anggulo," he said.

[In my experience, it appears that the media have gotten used to issuing a lot of criticisms on the news that comes out. It seems that some of them are allergic to good news-if they don't avoid it, they look for the negative angle of a story.]

He said that as purveyors of truth, the media's responsibility is to present both sides of the story from specific and verified sources.

"Bilang mga alagad ng katotohanan, ang responsibilidad po ng mga mamamahayag ay ilatag ang dalawang panig ng anumang kwento mula sa tiyak at beripikado nitong pinagmulan," said Aquino.
He proceeds to highlight the apparent importance of presenting "balanced" news, claiming that the average Juan will be enticed to join the efforts towards a better Philippines, and that the capacity of the citizenry to form their own opinions will be given importance. Well, isn't it dandy? The benefits of these "balanced" news sound like music to one's ears. If only we know exactly what he means by "balanced."
Really, how can news be called "balanced"? What are the specific parameters to quantify the balance of journalism? Alas, PNoy withholds the sacred answers from our insatiable curiosity. But let's try to play along, for the sake of the argument. A crude response to such queries would be; if enough positive news coexists with negative ones in a consistent manner.
But this leads to another couple of questions; what is "enough"? Should the number of good news match that of the bad news? How can you even do that? But perhaps, PNoy meant that journalists should present both sides of a news article; the good and the bad. That warrants another question; to what extent? Should journalists search for a positive side about a murder or theft? What is the scope of this provision?
But then again, maybe PNoy is not really concerned with the crude quantity of good news, but with the quality and the "bigness" of the news. Like, say, the news saying that Philippines is an emerging Asian Tiger!
Visiting Canadian Prime Minister Stephen Harper called the Philippines yesterday as an "emerging Asian tiger" as he thanked President Benigno S. Aquino III for inviting him to visit the country which was last visited by a Canadian leader 15 years ago.
(Source: Link)
Ooooooh, sweet news. The Philippines is starting to get it on with foreign investors, like the current Asian Tigers! Good news, good news. We need more of this stuff! But then:
President Benigno S. Aquino III has signed Executive Order No. 98 to expand the investment areas and economic activities reserved to Philippine nationals under the 9th Regular Foreign Investment Negative list, Executive Secretary Paquito N. Ochoa Jr. announced on Friday.
(Source: Link)
…which kind of defeats the requirement of being an Asian Tiger, which is to establish a market setup more conducive to budding foreign investors. But seriously, we can't worry about that, can we? This is good news we've got on our hands. Let's see, what else can we find? Oh, here's another one; the part where the Philippines is called an "emerging Asian Tiger!" And there's another one about the Philippines being an emergent Asian Tiger!
There just isn't enough big good news to keep up with the president's frenzied desire to beautify the image of the Philippines through media. And it's not the journalists' fault to begin with. How can journalists publish good news to match bad news when there just isn't enough? Should they start withholding the publication of more negative news? Isn't that intellectual dishonesty? Should they repeatedly bombard the people with this dubious Asian Tiger tagline which somehow found its way to the name of our country? Isn't that more like propaganda now?
The president claimed that journalists do not have to worry about the Right of Reply bill, provided they observe fair and balanced reporting. But how can a journalist feel safe when he/she isn't even aware of how the president defines "fair" or "balanced" or "complete"? Devoid of an objective and systematically defined standard, how can you be sure you're not violating the law of the land?
What should the journalists do, PNoy, so that they won't suffer your wrath? What should they exactly do so that they won't meet their doom in your hands?
Alas, our president is mystical and cryptic. Ever since his ascendance to presidency, PNoy only hints us towards the straight path (the notion of which is by itself also vague), guiding us with his unfathomable wisdom. What does PNoy mean by "judicial reform"? We can only but put our faith in him. Where does the "straight path" lead to? We can only but believe.
Maybe, just maybe, the president should consider keeping his nose out of what journalists write and focus more on actually making the good news; settling the issue of the FOI bill, fixing the contradictory nature of our economy as "hospitable" to foreign investors yet expanding the negative list to serve as a "guide," and generally not being a total jerk.
Until then, journalists would do well to tread softly on these dangerous waters, lest they incur the wrath of our equality-crazed president.
A thought just occurred to me; what if the reason we don't run out of bad news is because PNoy himself is the bad news? Uh-oh, gotta find a positive side about this one.