President Benigno Simeon Aquino acted like a spoiled brat once again after Pasay City Judge Jesus Mupas allowed former President Gloria Macapagal-Arroyo (GMA) to be released on bail on grounds that the prosecution had provided weak evidence to support their case against her on the charge of "electoral sabotage"?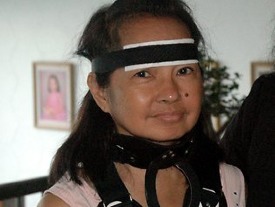 A day after GMA was granted bail; President BS Aquino gave his two cents to the media about it yet again and insinuated that Judge Mupas may be out of his mind by saying that the judge's "test was too high; appears impossible to attain". As usual, BS Aquino is giving some people a sense of déjà vu, an experience of thinking we have been in this situation more than once before. The Chief Executive, who has made no secret of his hatred for GMA and her allies in the past, is conducting another trial by media in a futile attempt to protect his so-called "Tuwid na daan" or straight path agenda. It's the Corona impeachment trial all over again.
We recall that former Chief Justice Renato Corona received months of relentless trial-by-media seemingly perpetrated by the President himself, the prosecution team and some private citizens who volunteered to help. Unfortunately, Corona's conviction has probably further emboldened BS Aquino to continue meddling in the courts' affairs even when he is not supposed to. One can only imagine him hoping that releasing statements against the judge's decision can incite enough anger from the public and convince Judge Mupas to reverse his decision. Some are hoping that Judge Mupas is man enough to stand his ground.
President BS Aquino's decision to make a statement a day after GMA was released is quite suspect. It's as if it was only in response to some of the anti-GMA militants who expressed their outrage at being granted bail. It was like either a delayed reaction on BS Aquino's part or Malacañang spokesman Edwin Lacierda was not properly briefed by his boss before speaking to the media. The usually rabid spokesman was more accepting of the judge's decision on the same day she was released. This was what he had to say:
Malacañang itself acknowledged that the evidence against former President Gloria Arroyo may have been weak.

"These things happen," presidential spokesman Edwin Lacierda said. "When a case is filed before the courts, of course, there's always a 50-50 chance that it (bail petition) would be granted or would not be granted. So when we heard today that the court granted the petition for bail, (we can only) recognize that it happened and move on."

Lacierda said the position of Malacañang to respect the approval of Arroyo's bail petition shows the executive branch respects the independence of the judiciary.

"Whatever the decision of the court is, we recognize because it was a court which had ample jurisdiction to hear the case," Lacierda added.
What's quite funny is the reaction of Commission on Elections chairman Sixto Brillantes Jr and the Department of Justice Secretary Leila de Lima. They should have seen it coming but the two department heads who collaborated in filing the case against GMA were said to be "stunned" by Judge Mupas's decision to grant Arroyo bail for a non-bailable offense. According to Brillantes he is nervous about the case:
Siyempre kinakabahan kami kasi lumalabas niyan, mahina yung ebidensiya…parang sinasabihan lang kami ni Judge na kung mahina ang ebidensiya niyo, dagdagan niyo pa yan," said Brillantes.

Ganun kabilis. Kinakabahan ako at bakit nagmamadali si Judge. I'm really surprised bakit sila nagmamadali.
Brillantes got the impression that Judge Mupas is rushing things. Never mind that GMA has already been detained for nine months even while sick. She was detained based on a case that is looking more and more like a fabrication. The Comelec chairman is also perplexed as to why Judge Mupas seems to be implying that they still needed more witnesses. I suppose he doesn't appreciate the concept that mere "hearsay" is not enough to convict a suspect and he is refusing to accept that the testimony of the witness has to be corroborated by someone else.
DOJ Secretary Leila de Lima is reportedly "baffled" and said she was not expecting that the judge would not be convinced the evidence against GMA was strong. But even Senator Aquilino Pimentel III, the supposed "victim" of the electoral fraud in 2007, said "he could not blame Mupas for the decision to grant bail." Meanwhile some Senators are pointing the blame on the DOJ:
Trillanes also blamed the DOJ for not ensuring the protection of witnesses who could have bolstered the "hearsay testimony" of sole witness Norie Unas.
First of all, Senator Trillanes is imagining things that aren't there for a case that seems made up. It is highly doubtful that there could be other witnesses who "overheard" GMA instructing former Maguindanao Gov. Andal Ampatuan Sr to "to fix or change the result to get the be 12-0 result in Maguindanao". If there were, they would have been hailed as "heroes" by the Aquino government by now just like how Unas is going to get a free pass in his alleged participation in the Maguindanao massacre. And whether or not there were other people who could have "bolstered" the "hearsay testimony" of the sole witness Norie Unas, the onus is still on DOJ secretary De Lima to take steps to avert the likely collapse of the electoral sabotage case.
Senator Senator Panfilo Lacson blamed both the DOJ and Comelec "for what he described as an ill-prepared electoral sabotage complaint that he believes forced Mupas to grant bail":
Bail posits the existence of a weak electoral sabotage case filed by the DOJ and Comelec. One lesson learned here is we cannot build up a strong case through press releases and media interviews," Lacson said. "Rather, it takes hard work and the gift of skill and well-rounded knowledge of law and the rules of court and proper procedures to do so.
That is sound and, at the same time, ironic advice coming from a Senator who voted to convict Renato Corona despite the weak evidence against him. Some people are now saying that GMA's release from detention proves that De Lima is not even fit to be head of the DOJ let alone Chief Justice of the Supreme Court, a position she is desperate to take. She should have realized that the evidence against GMA was weak from very start. She probably did but needed something to charge GMA with to prevent her from seeking treatment overseas in 2011. Her move might have pleased her boss, BS Aquino but it seems things are slowly catching up with De Lima. Defying the Supreme Court's temporary restraining order (TRO) against GMA's travel ban is not only grounds for her to be disqualified for her dream post in SC, she might also become the scapegoat when GMA's case finally gets dismissed.
Now that GMA is out, her detractors are scrambling for a way to bring her back into detention or, if they had their way, to a regular jail. They are reportedly pinning their hopes on a plunder case. The pressure is on for the Sandiganbayan to file the necessary charges. It is another "non-bailable" case of plunder filed by the Ombudsman against GMA and former officials of the Philippine Charity Sweepstakes Office (PCSO) and Commission on Audit (COA) over the alleged misuse of P366 million in PCSO funds. Senator Teofisto Guingona III promises that the evidence gathered against her is "very strong." His statement is yet another reminder of the impeachment trial of Renato Corona. Who could forget the time when the prosecution alleged that Corona had 45 properties instead of five?
Let's just hope that for their sake, they know what they are doing. They should heed one of their own's advice in ensuring a conviction. It does take "hard work and the gift of skill and well-rounded knowledge of law and the rules of court" to guarantee it. After all, unlike Corona's impeachment case, GMA's case is not going to be brought before a Kangaroo Court this time.
[As of this writing the Sandiganbayan has reportedly granted the motion of GMA's counsel to suspend judicial proceedings and to hold the issuance of an arrest warrant against her pending the resolution of motions by the accused before the Office of the Ombudsman. Her counsel Christian Diaz successfully argued that an arrest warrant is unnecessary because there's already a hold departure order and that GMA "is not a flight risk."]
In life, things are not always what they seem.