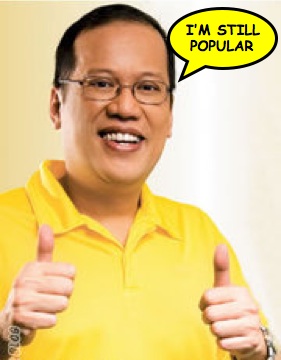 I was anticipating what Budget Secretary, Florencio Abad would have to say about former President Gloria Arroyo's (GMA's) "It's The Economy, Student!", a paper about her achievements during her nine years in office. But I ended up laughing so hard after reading that the only thing Abad had to say was that President Noynoy Aquino (PNoy) is still popular with the Filipino people. He even said that he won't bother doing any research in rebutting GMA because "the surveys show high satisfaction ratings of President Aquino."
Oh goodness me! The Philippines is in big trouble under the Aquino government, indeed. It seems like the current government's only economic policy is to work on their popularity. They probably think that the perception of "trustworthiness" will be enough to sustain the suspension of disbelief by their supporters until PNoy's term ends in 2016.
Whatever your views about GMA's economic policies, there are still things that are undeniable. For one, economic growth at the end of her term, which she claims was at 7.9 percent, had help shield the country from recent history's worst global financial crisis which hit America and some parts of Europe really hard. Whether you think her figures are a bit exaggerated or not is beside the point, really. The real point is this: Abad might be dismissing GMA as sourgraping now but the 3rd quarter growth rate for 2011 at a measly 3.2 percent under PNoy's government might not offer the same protection for the country if another financial crisis hits us tomorrow.
Many people might disagree with GMA's economic policies. Some might say that she was wrong to adopt the controversial Keynesian economic policy, which refers to big government spending to stimulate the economy. The policy is, in fact, being blamed for the P300 billion budget deficit that she left behind. But it was Senator Edgardo Angara way back in 2010 who said that if she did not pump-prime the economy, it would have contracted like other European nations did. To quote the former Senator in a news report back in June 2010:
"The deficit is part and parcel of public finance management. If the economy grows, the deficit and debt will lessen proportionately", he said.

Angara said that the country would not have achieved a 7.3-percent growth in the first quarter if Ms Arroyo did not spend that much.

Ms Arroyo has described this as pump-priming the economy.

"If she did not pump-prime, the economy could have contracted", Angara said.

The deficit that Escudero is going on about might be the biggest but "it was also the biggest economy ever", said Angara.

In the second quarter of 2007, the economy posted at 7.5 percent the fastest annual growth in 20 years, the highest since the 7.7 percent in the third quarter of 1986, the year the dictator Ferdinand Marcos was overthrown. The economy finished 2007 with a 7.3-percent growth.
Another thing that Secretary Abad is unwilling to refute is that GMA's government spending translated to infrastructure that the Filipino people are currently enjoying. In her own words she claims to have "built roads and bridges, ports and airports, irrigation and education facilities where they were sorely needed." The construction of those infrastructure works provided employment to a lot of Filipinos who would have otherwise been either just drinking Red Horse beer around the kanto or lined up at the Philippine Overseas Employment Administration (POEA) bound for contract work abroad.
In response to his predecessor's and former economics professor's critique of his leadership skills, PNoy issued the usual motherhood statements during his recent speech at the traditional Vin d' Honneur for the diplomatic corps at Malacañang. Without giving any details on how exactly he is going to achieve it, PNoy said "the government will continue to sustain the growth of the economy and create opportunities for employment."
PNoy in his customary triumphalist stance claimed to have made great strides in the fight against corruption and poverty. Never mind that he is also being accused of strong-arming his own allies into getting his way in his efforts to persecute his political enemies — a sign that he may not be above corruption himself. It is too bad PNoy is the kind of guy who has never been a fan of using data to back his claims. Everyone else is left wondering how we can measure his achievements. He simply wants us to take his word for it. His only proof is in another claim that "local and foreign groups have acknowledged the government's triumphs by investing in the country, by lauding the efforts in open governance and by supporting the programs."
PNoy boldly stated that "this year we will strengthen the programs that work for our countrymen such as those in education, health, housing and others like our conditional cash transfer program," a generic goal that any sitting president can declare. In fact, he is not doing anything different that he can claim as his own initiative (apart from going after his perceived political enemies, of course).
The Aquino government's main assertion is that they are including the poor in their program through their use of the conditional cash transfer program (CCT), which is something that GMA was also doing during her term. However, there are reports that say that despite the dole outs, the hunger incidence is highest since 2009. Here's something regarding that from The Daily Tribune:
Despite the vaunted cash transfer doleouts or the social welfare department's Pantawid Pamilyang Pilipino Program (4Ps) the pang of hunger among Filipino households was recorded at its highest since December 2009 with one in five households saying it experienced a day going by with nothing to eat, the results of a Social Weather Stations (SWS) survey conducted between last Sept. 4 and 7 showed.
Despite their criticism of the past administration, PNoy's government is hardly doing anything to alleviate poverty and strengthen the economy. If they really want to do something different, they should get rid of or at least reduce the amount of unprogrammed and audit free presidential pork barrel fund, which is reportedly equivalent to 15% of the national budget. The pork barrel fund should be the first to go. It is said to be a source of corruption in the legislature.
But obviously it would be very difficult to withdraw or even reduce the yearly pork barrel allocations of our lawmakers. If PNoy reduces the budget on pork barrel, he can also expect the withdrawal of support from Congress. It's been said that this is how he gets them to do what he wants done. Some members of congress allegedly claim that PNoy used the pork barrel to bribe some congressmen into signing the impeachment bid for Supreme Court Chief Justice, Renato Corona.
PNoy also needs to address the country's dependence on remittances from overseas contract workers (OFWs). The remittances from OFWS could be helping the economy stay afloat but the remittances are also dependent on the economic conditions of the countries where Filipinos seek employment. When countries like Saudi Arabia stop accepting OFWs for one reason of another, the OFWs will have no choice but to come back home and the spending fuelled by their remittances will likewise stop and adversely affect industries across the country.
The economic policy of exporting laborers to answer our economic woes has to be addressed in the long-term. PNoy is probably thinking that he doesn't have to work on the economy because he can rely on the remittances anyway, but as a country we cannot be too dependent on OFWs forever. In a study, Canadian professor Prod Laquian concluded that the export of workers has prevented the Philippines from advancing as a self-sustaining nation. He also likens the country to a man who "has become lazy because he receives remittances from a wife working as a domestic worker abroad.":
He noted that the Philippine government adopted the labor export program in 1974 as a stop-gap measure to ease unemployment and foreign exchange problems.

However, after 37 years, the Philippine economy has become heavily dependent on remittances, he said.

Almost ten million Filipinos are currently working overseas, mostly in North America, the Middle East, Southeast Asia, and Europe, he noted.

Laquian stated that the most serious negative effect of Philippine labor export policies "has been the neglect of domestic production and poor investments in infrastructure, agriculture, mining, export promotion, and social development because of the easy availability of funds from remittances."

"The country may be likened to a man who has become lazy because he receives remittances from a wife working as a domestic worker abroad," Laquian said.

"For the government, the easy money from foreign remittances is a major cause of its inability to pursue sound economic development programs," he added
Like what I have been saying again and again, PNoy has to look at the big picture and not just Gloria Arroyo's picture. He needs to delete vengeance from his agenda. Persecuting GMA and her so-called cohorts will not solve the unemployment problem. All this talk of fighting corruption is just all smoke and mirrors to deflect from the real issue. Besides, in the end, it doesn't really matter if PNoy overtakes GMA's economic growth rate because the country's population growth, which is said to be at a steady rate of at least 2% annually will eventually knock it out.
If the country's population keeps growing, any economic growth achieved will not mean much for the additional mouths to feed. And this is the reason why regular folks did not feel GMA's supposed economic gains during her time. By ignoring the growing population that also affects the deteriorating law and order situation, any government whether past or present cannot be expected to make a dent overall.
So, with regard to addressing the country's problems, it's not just the economy, stupid.
In life, things are not always what they seem.