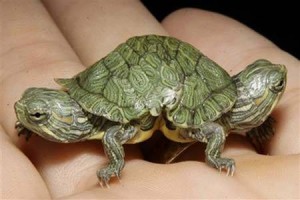 Because the job performance, leadership, and general behavior of the current President is so appalling I think those of us who make a hobby or an actual living of punditry tend to forget that there was a time, not really all that long ago, when his predecessor was every bit the inspirational target for scathing criticism that he is. Gloria Macapagal-Arroyo's essay, "It's the Economy, Student!" is less the powerful, substantial repudiation of N/A's disastrous management than I was expecting from a Georgetown-trained Doctor of Economics and more a bitter exercise in political axe-grinding, which is probably justifiable to some degree but is nevertheless disappointing. And while it is certainly true that she was several orders of magnitude more skilled and dedicated to her job than her successor, the good economy she turned over to N/A and his Ship of Fools was only good in a relative sense – certainly better than anything he's demonstrated the skill or even the desire to produce, but by no means a healthy and productive system.
Of course, GMA has a rather different view of her economic legacy, prefacing her discussion with this confident assertion:
When I stepped down from the Presidency in June 2010, I was able to turn over to the next Administration a new Philippines with a 7.9 percent growth rate. That growth rate capped 38 quarters of uninterrupted economic growth despite escalating global oil and food prices, two world recessions, Central and West Asian wars, mega-storms and virulent global epidemics. Our country had just weathered with flying colors the worst planet-wide economic downturn since the Great Depression of 1930. As two-thirds of the world's economies contracted, we were one of the few that managed positive growth.
That insinuates a constantly-growing economy during her term, but in reality the country's economic progress between 2001 and 2010 was not at all steady: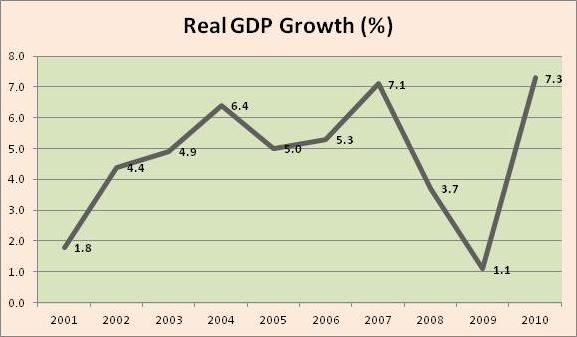 The difference between the "7.9 percent growth rate" that GMA claims and the 7.3% figure shown on the above graph is slight, but significant; these figures are those recorded by the International Monetary Fund, and represent real GDP growth based on year 2000 constant prices. What they do not represent are some significant revisions to methodology made by the nation's statistical curators back in 2003, which was not the only time the Arroyo Administration changed some key economic definitions to produce more palatable results, and is a bad habit the current administration has apparently picked up as well.
The claim to "38 quarters of uninterrupted economic growth" is also a bit misleading. As I pointed out in an article destroying some of N/A's preposterous economic claims last month, because the rate of population growth in the Philippines hovers around 2%, a GDP growth rate of about 4% is actually the country's break-even point; much below that, and the country is technically in a recession. It is now, and during GMA's term was for at least half of 2008 and all of 2009. Otherwise, her administration did achieve economic growth – but within a more modest real range of 0.6 to 3.5 percent. And the best years – 2004, 2007, and 2010 – were all election years, in which massive campaign spending provided a substantial boost to the domestic economy.
What Arroyo really provided the Philippines is a schizophrenic economy. On the one hand, it has sound attributes like a reasonably stable banking system, strong corporate profits, and manageable debts and deficits, but on the other, GDP growth has in practical terms moved at a glacial pace – if at all – for more than a decade. Jobs were created during the Arroyo Administration, but not as a result of real enterprise development; instead, they were created by outsourcing labor – after all, BPO workers are simply OFWs who don't leave – and in encouraging the expansion of contract labor and subsistence-level entrepreneurship.
Erap was a rolling disaster, and all N/A's economic advisor can offer for an excuse for his Administration's feeble performance is a non sequitur reference to opinion surveys generated by the President's relatives, and so by those measures GMA looks like a genius. Even so, "could be worse" is not exactly an impressive outcome of more than nine years of virtually untrammeled power. Small credit as it does GMA, though, that people are now waxing nostalgic for even that little is a savage condemnation of N/A.  He already is worse, and as discouraging as that is for the rest of us, it perhaps is something she can take solace in.
I write a column for The Manila Times on Tuesdays, Thursdays, and Saturdays. Most of the energy sector and the heads of several government agencies probably wish I didn't.