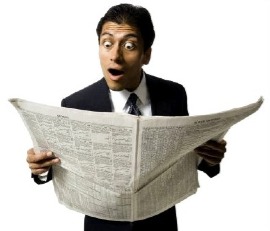 Interesting the way Rappler.com CEO Maria Ressa cries bloody libel over Katrina Stuart-Santiago's article Going to the dogs — an article about the manner with which Ressa's self-described "social news network" startup precipitated (and possibly encouraged) a broader "ganging up" on the University of Santo Tomas over a perceived favour it granted to Chief Justice Renato Corona. Among the targets of this observed "gang up" is journalist Lito Zulueta who wrote a report on UST's response on the matter in the Inquirer.net.
The conflict seems to revolve around elder "journalist" Ressa taking issue with the way Stuart-Santiago posted the article, which contains some opinions which implied some allegations about the blanket motives of some of the people involved in the circus and the broader agenda of Rappler.com. The exchange of barbs played out over the social networking site Twitter and is "storified" here.
The pivotal tweet in the exchange came from the elder "journalist":
@angel_alegre funny @radikalchick never asked me before she wrote and am only a tweet away. Guess that separates the pros …
Pressed by Stuart-Santiago on what exactly the elder "journalist" should have been "asked", Ressa responds with a sledgehammer:
@radikalchick Ask for an intvw – before making libelous charges based on assumptions alone. Wouldn't publish without it.
What does this quaint episode tell us about Rappler.com and its elder "journalist" CEO? Quite simply, it highlights the struggle the self-described "social news network" site is experiencing grappling with its identity in the "social media" landscape it aspires to gain street creds within. So far, Rappler.com stands out as an over-dressed debutante trying to find a seat in a pulsing outdoor rock'n roll concert.
If Ressa's argument is that she was "only a tweet away", implying that Stuart-Santiago (@radikalchick on Twitter) should have come to her for comment first before publishing her piece, one could also respond with the argument that it is only a mouse-click away from the comments facility of Stuart-Santiago's blog — a facility that, as most 21st Century "Netizens" are aware, most blogs are equipped with. So perhaps, rather than stew about not being "consulted" for input before Stuart-Santiago published her piece, Ressa could have simply logged on to the site and clarified her position in a "professionally" written comment there.
Facilities are in place to vote up or vote down the aggregate credibility of content circulating on the Web.
This is an interesting case study in how the full weight of a hierarchical traditionally-exclusive institutional clique tries to stomp into an inclusive ecosystem of loosely-associated mutually self-correcting free agents and impose its quaint "industry practice" on the bemused citizens. The principle at work here is around how trying hard to be two things at once — in the case of Rappler.com both traditional and "new" — is a balancing act not too many folk get right. Obviously, the Rappler.com clique of "online journalists" are fumbling with the ball here.
benign0 is the Webmaster of GetRealPhilippines.com.