Social networking sites keep undoing the impeccable image President Noynoy Aquino (PNoy) is trying to project. Gone are the days when Malacañang Palace officials can keep their shenanigans hush-hush while regular folks battle for survival outside in the real world. Facebook and Twitter are social networking sites that act as double edge swords for high profile individuals. On one hand it can launch someone's career while on the other, it can shoot it straight down. Those 140 character twitter messages have been known to destroy someone's reputation quicker than anyone can hit the delete button. Any attempts at apologising after the damage is done is futile once the Netizens get their hands on insensitive messages sent by anyone high on either wine or pure adrenaline.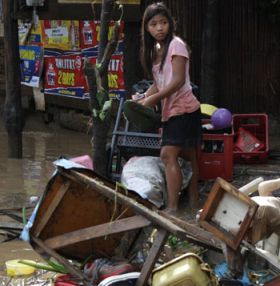 The first tweet that made the Second Aquino Government look like a twit was when Presidential speech writer Carmen "Mai" Mislang posted derogatory messages about their Vietnamese hosts while PNoy attended his first ASEAN summit meeting back in 2010. Malacañang went into damage control by banning its Communication Team from using social networking site Twitter immediately after Mislang tweeted "Wine sucks" and "Crossing the speedy motorcycle laden streets of Hanoi is one of the easiest ways to die". The people showed no mercy for Mislang. Although being a buddy of the President, she only received a slap on the wrist, Mislang is already a national disgrace.
Unfortunately for Malacañang, not everyone is under their control or in their payroll. The recent backlash they are receiving from Netizens came after Filipino actress, Valerie Concepcion inadvertently revealed that PNoy was at a party during the height of the tropical storm Sendong which claimed the lives of 650 Filipinos as of this writing.
Concepcion probably did not realise that gushing about being with the bachelor President the night before would get PNoy or her in a lot of trouble. A simple tweet saying that "It was nice to see Pres. P-Noy laughing at my jokes & enjoying my performance…", is something that others would have easily dismissed as normal considering it comes from a space cadet, but not when there is a catastrophe unfolding in some part of the country.
Now some rabid supporters of PNoy are blaming Concepcion for her insensitive tweet. I say good on her for revealing a national concern. She should not be blamed at all for PNoy's own insensitivity. Concepcion should be lauded for revealing the true state of the country's leader during a crisis. Besides, it was PNoy who was laughing at her jokes without any care in the world in the first place. PNoy was probably putting some meaning into the saying, "laugh and the world will laugh with you". His behaviour now is pretty consistent with his behaviour during the Mendoza hostage crisis in 2010 when relatives of the eight Chinese tourists who died in the hands of disgruntled gunman, Rolando Mendoza were outraged at seeing PNoy smiling during the press conference after the tragedy.
The lack of a formal statement from PNoy about the disaster is a real disappointment for many Filipinos. His Communication staff has been left defending his inaction. It seems like PNoy does not consider tragedies outside Manila as urgent. In the wake of this tragedy, it has been revealed that Cagayan de Oro did not get any warning about the possibility of being hit by the typhoon. Here's what the Mayor had to say…
Cagayan de Oro City (CDO) Mayor Vicente Emano said they were not warned of the strength of Tropical Storm Sendong (international name: Washi), which lashed Mindanao and left more 300 people dead, with almost 300 more missing. "Wala naman talagang sinabi na ganoon ang mangyayari," Emano said in an interview with dzMM. "Kami ang tinamaan ng mata ng bagyo, hindi na po sinabi yan."

"Wala pong nagsabi na ganito ang darating na bagyo sa amin, wala man lang bulletin, wala man lang nakapagsabi na we will be in the eye of the storm," he added.

Cagayan de Oro is rarely hit by storms, and many residents were ill-prepared for the wrath of Sendong. Flash floods triggered voluntary evacuations as early as midnight last Friday.
Obviously, PNoy's reaction to the tragedy in Cagayan de Oro and Iligan City is a far cry from his reaction when typhoon Basyang ravaged Metro Manila:
On Tuesday, the Philippine Atmospheric Geophysical and Astronomical Services Administration (PAGASA) announced that Basyang would batter Northern and Central Luzon areas, but the storm lashed Metro Manila instead.

At an emergency meeting called by the National Disaster Coordinating Council (NDCC) in Camp Aguinaldo, Aquino told PAGASA that accurate weather information is vital for the government in preparing for disasters.

"That information it is sorely lacking and we have had this problem for quite a long time. … You do what you are supposed to do… this is not acceptable. I hope this is the last time that we are all brought to areas different from where we should be," the president says.
Is PNoy being selective and is only prepared to come out when Imperial Manila is affected? Hopefully not. His reaction in the next few days could make or break him.
The irony here is that the Malacañang communication team would be busy fending off criticism against PNoy instead of concentrating on coordinating relief and rescue efforts for the victims of Sendong.
In life, things are not always what they seem.