Lately I've noticed that we are getting more and more of our updates on the President's whereabouts, views, and positions on some important matters of state from the Entertainment sections of our venerable newspapers. Most recent was the revelation that President Benigno "Noynoy" Aquino III was at a party "laughing at [the] jokes" and "enjoying [the] performance" of Filipino starlet Valerie Concepcion.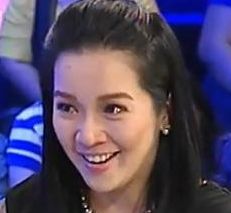 Considering the renowned bloat and track record of snafus associated with the "Communications" Team of Malacañang, it is not surprising that the Philippines' showbiz industry is slowly filling the credibility gap. One of the main components of this gap is the loud silence the President had so far delivered on the matter of the appalling death and devastation wrought by Typhoon Sendong upon the northern Mindanao cities of Cagayan de Oro and Iligan.
Although the presidential staff had in recent days reportedly "fought off accusations that [the President] was partying with starlets" as the disaster unfolded, Filipinos have yet to hear directly from the man himself.
What we do get for now are the appeals coming from presidential sisters Kris Aquino, Pinky Aquino-Abellada and Ballsy Aquino-Cruz. Led by showbiz megastar Kris, the sisters defended their brother the President from the "flak" he had been copping from a public apparently furious over what seems to be a callousness in the way he had been regarding the tragedy.
Over the popular morning television show Kris TV the Aquino sisters took the opportunity presented by that show's multi-million-strong audience to clarify that the President harboured intentions to visit Cagayan de Oro sometime in the future and that the Presidential Security Group and Management Staff were discussing that intention. They also emphasized that the party Noynoy graced had been scheduled far in advance.
Ballsy added that bad things that make people sad do happen but that "life should go on". Life, she said in Tagalog, cannot just stop and sulking will not help at all.
Kris ultimately delivered what seemed to be the bottom line — that "critics should give the President and their family a break."
To be fair, I believe these are all reasonable requests — except that the President did not say these himself and in a timely manner. Unfortunately for him, the Media, bloggers, and the armchair commentators beat him to the punch and did that job for him. What is now an attempt to "communicate" on the part of Noynoy's harried staff and tear-jerking showbiz sisters now comes across as a pathetic pile of half-baked damage control measures.
Tough luck. Unlike with the other things that don't go in a way aligned to the President's personal liking, there is no impeachable scapegoat in this fiasco other than… well, I'll leave my smart readers to figure that one out.
benign0 is the Webmaster of GetRealPhilippines.com.