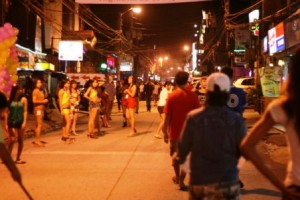 Yesterday as I was browsing my Facebook wall, I followed a link posted by BlogWatch to a Philstar article about a plan by the Department of Tourism to launch a new 'country brand' next month. Since the last outcome of a DOT branding project was the catastrophically hilarious Pilipinas Kay Ganda, I found reason for cautious optimism that, at least as far as the Philstar article describes the new initiative, the current management of the DOT appears to be taking a little more care with this second attempt.
That optimism quickly evaporated, however, once I followed a link to a 'related story' at the bottom of the page and found this little gem:
MANILA, Philippines – Promoting the country as a destination for divorcees is "practically synonymous to marketing the Philippines as a destination for sex tourists," Gabriela party-list Rep. Luzviminda Ilagan said yesterday.

The lawmaker was reacting to the statement of Tourism Assistant Secretary Domingo Ramon Enerio III that the agency is developing the Philippines as a destination for divorcees or those trying to recover from broken relationships.

…

Enerio earlier said that the divorcee market is an untapped sector that can be targeted for the long-stay tourism program. "If we can be a wedding or honeymoon destination, we can be vice versa and become a destination for those in search of personal fulfillment, including those… in flight from domestic turmoil," he said.

He said the Philippines can offer both relaxation and adventure to these tourists.

Aside from divorcees, he said, other possible markets for long-stay tourism are retirees, semi-retirees looking for investment venues, medical tourists, those escaping from the cold winter season, and those who have affluent children.
WOW. People in the present Administration seem to have a gift for saying stupid things, but you, Mr. Assistant Secretary Enerio with Three I's, are clearly their King. That has got to be the most ill-considered, creepiest idea anyone has ever suggested as an official tourism marketing concept since the word "tourism" was invented.
On a side note, "personal fulfillment" is one of the better double entendres I've heard in a while.
What makes the idea creepy, of course, is that there is a kernel of reality in it. The Philippines does have a bit of a reputation for being a place where one can have a good time, so to speak, but it is a reputation that a significant proportion of the country both inside and outside the halls of power are rightly sensitive about and are trying to change. Not only is Enerio's suggestion offensive to the women of this country, it is seriously off-putting to any potential tourists: How attractive a destination is the Philippines going to be to the average vacationer, once he realizes he will probably be presumed to be a sex tourist? Even actual sex tourists would most likely be discouraged by that sort of attention.
Enerio could have stopped with the "come to the Philippines for some rebound sex" idea, but having baked that cake he obviously figured he might as well put some frosting on it, pointing out that the Philippines is a good long-stay destination for retirees (who can subject their fixed incomes to the world's highest utility rates and steadily-increasing inflation), semi-retirees looking for investments (provided they're not picky about not actually being able to own any of those investments), medical tourists (who are sure to be impressed by the medical tourism program's biggest advocate desperately trying to leave the country for proper medical care), and people with "affluent children".
If I had to guess, I'd say once those "affluent children" get wind of Enerio's remarks, they'll be booking their parents tickets to somewhere else. Which is regrettable, because the Philippines does actually have a lot to recommend it, if management of it could be kept out of the hands of insensitive louts.
I write a column for The Manila Times on Tuesdays, Thursdays, and Saturdays. Most of the energy sector and the heads of several government agencies probably wish I didn't.