The longer I write about Philippine society and its politics, the more convinced I get that the country's state of law and order is a joke. Take Davao City for instance. All this time I thought that the city was a model for what following the "rule of law" could do. It turns out, to my disappointment, that Davaoeños rely on hired mercenaries or vigilantes — and not the local authorities as I previously thought — to maintain "peace" and "order".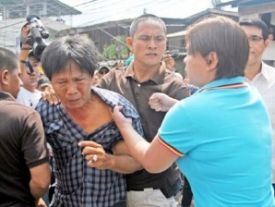 These vigilantes have been dubbed the "Davao Death Squads" or DDS and even have their own Wikipedia entry. And get this: former Mayor and then Vice Mayor and father of incumbent Mayor, Sara Duterte, Rodrigo Duterte even stated once that, "Here in Davao, you can't go out alive. You can go out, but inside a coffin. Is that what you call extra-judicial killing? Then I will just bring a drug lord to a judge and kill him there, that will no longer be extra-judicial." Whew! He just gave a new meaning to the saying, "truth is stranger than fiction".
SUPPORT INDEPENDENT SOCIAL COMMENTARY!
Subscribe to our Substack community GRP Insider to receive by email our in-depth free weekly newsletter. Opt into a paid subscription and you'll get premium insider briefs and insights from us daily.
Subscribe to our Substack newsletter, GRP Insider!
Learn more
I have been to Davao once and spent a few days basking in the sun of Samal Island. When I toured Davao City, I was very impressed at how clean the city was compared to Manila. In short, I fell in love with the place. I did not stay long enough to know that there was a great dark mystery behind why things seemed great. I was, after all, still a naïve college graduate then.
At first glance, you could be forgiven for thinking that, yeah, if hiring mercenaries can reduce the criminal activities and give regular folks a chance at a decent living, then working around the law is a small price to pay. But on closer inspection, you will see that things are not all that peachy and to me if it seems too good to be true, it probably isn't.
For one, you will only appreciate the killings of the alleged criminals if you are not the "alleged" criminal yourself. What if someone you offended over something trivial last weekend hired mercenaries to gun you down just because he thinks you deserve it? I wonder if your family will still think the act of getting rid of you is justified and that the mercenaries are just doing their job of removing a city nuisance. Frankly, I can't believe I have to spell that one out.
Second, you as a taxpayer already pay for the salaries of the authorities, which include the police and the city officials who, in turn, take on the responsibility of maintaining peace and order in the city. That they have to hire a "professional" to do their job does not make any sense. You may also want to ask: Where do they get the extra funds to pay these "guns for hire" to meet their requirements? Worse, imagine if you have to pay them out of your own pocket because you are too impatient to wait for the justice system to get things done. That's what you call double taxation. Frankly, I can't believe I have to spell that one out too.
After one look at Davao City Mayor Sara Duterte's glamour photo I got the impression that she is your typical gal pal. I would have thought that she was a slap-and-not-a-punch type of girl. Some say she has a heart of gold for standing up for the "oppressed". Who wouldn't want her on their side when they get in trouble? Sorry, but I don't think I would.
Punching someone's face is not my cup of tea. Call me conventional but talking things over in a civilized manner is something that I would espouse especially when there is a camera to record everything. I wouldn't call what she did having balls or having guts. I would simply call it cracking up under stress. It pains me to see people reduced to throwing tantrums when they don't get their way. It's even more embarrassing to see that the only reason why some people seeem to have the "guts" to do it is because an army of bodyguards or their "supporters" surrounds them.
Okay, I'll probably be called a moron for saying "mean" things about their mayor. I can see it coming now: "You don't know her and what her family has done for Davao". Yeah, I don't know her personally but now I know what she and her family has done for Davao. A lot of people say that the Duterte's have enjoyed great autonomy and a personal army for as long as they have been in power in Davao. That's not exactly something that I would brag about if I were a Davaoeño. That is something that I would be embarrassed about, really. The terms "warlordism" and "feudalism" comes to mind when I read stories of extra-judicial killings happening in Davao.
Have a quick look at the history of warlordism and feudalism and you will be directed to the early days before civilization in China during the Qing Dynasty or Japan during the Sengoku period. It's too bad it's still happing to the Philippines in the 21st century.
Just in case some people are still not aware, such activities only thrive in so-called failed states. A failed state is described as one that fell short at upholding some of the basic conditions and responsibilities of a sovereign government. Has the government become so weak or ineffective that it has little practical control over many of its cities? If you ask a typical Davaoeño, it has and the extra-judicial killings are justified.
Perhaps the frustration that Mayor Duterte felt when she was reduced to using physical violence to get her way is a manifestation that they are slowly losing their grip on power and already failing their constituents. After all, why wasn't her office properly coordinated with the Sheriff's office after weeks of planning the demolition? Someone must have suggested that it was a good opportunity for photo ops. I could be wrong though. Her supporters keep defending her as a human rights "defender" after she repeatedly punched someone in the face. Such irony simply flies over their heads.
And what does the Office of the President in Manila have to say about the unusual activities over at other side of town? Not much except for the usual "we have already initiated the investigation on the matter". Hardly any surprise there because the Duterte's were said to have given President Noynoy Aquino their full support in the 2010 Presidential election. PNoy's silence assures "that the political alliance between President Aquino and Mayor Duterte will not [get] affected". And so it would seem that the "lords" understand each other. Frankly, there was no need to spell that one out.
In life, things are not always what they seem.