One wonders now what really motivates Roman Catholic Bishops' taking certain positions on various matters of the state. Take the issue of Reproductive Health (RH) — an issue where the Church takes a strong anti-modernity stand on. The ends to which the Church took the "debate" and the pitch to which it took its temper tantrums on the matter was astounding to say the least. One wonders what was really at stake. Was it really just a matter of Catholic principle? Or is there something about allowing Filipinos access to choice and information that exposed something more tangible at stake as far as the Catholic Church's interests are concerned?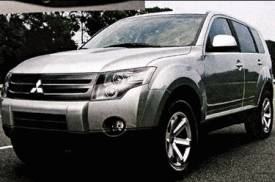 Whatever the case there has got to be something more at stake than Church dogma that accounts for the remarkable vitriol spewed by Catholic Bishops on matters of Filipino Reproductive Health.
A window that might offer a glimpse into what really motivates the political views of our venerable Catholic Bishops may have opened in this recent case of The Pajero Bishop that is making headlines nowadays,
PCSO chairwoman Margarita Juico earlier revealed that former President Gloria Macapagal Arroyo allegedly used PCSO funds to get support from the Church. She said Arroyo, who is now a Pampanga representative, had given 7 Mitsubishi Pajeros to bishops.

A 2009 Commission on Audit report also showed the PCSO gave P1.44 million to the Archdiocese of Cotabato for the purchase of a service vehicle, P1.5 million to the Zamboanga Archdiocesan Social Action Apostolate, P720,000 to Caritas Nueva Segovia, P1.125 million to the Roman Catholic Prelate of Isabela, Basilan and P1.7 million to the Diocese of Butuan.
To be fair, this seems like no more than just the most recent of a number of bombs being lobbed by the administration of President Benigno "Noynoy" Aquino III into the lap of "accountability" of former President Gloria Arroyo (Aquino's preferred approach to distracting the public from what so far seems to be a no-results administration). But then to the credit of Arroyo (sort of), it seems that some aspects of this shady deal were initiated by Butuan Bishop Juan de Dios Pueblos who reportedly wrote a letter to then President Arroyo soliciting "donations" to buy him a nice sport utility vehicle (SUV) for his birthday…
MANILA, Philippines – Butuan Bishop Juan de Dios Pueblos wrote a letter to then President Gloria Macapagal-Arroyo in February 2009 to ask for a brand new car for his 66th birthday.

He said he will use the vehicle to reach far-flung areas in the Caraga region.

"I hope you will never fail to give a brand new car which would serve as your birthday gift to me," Pueblos said in the letter.

"For your information, I have with me a seven-year-old car which is not anymore in good running condition. Therefore, this needs to be replaced very soon," he added.

Arroyo agreed and after 5 months, the Philippine Charity Sweepstakes Office (PCSO) gave Pueblos a check for P 1.7 million, which he used to buy a Mitsubishi Montero.
Interestingly enough, Bishop de Dios Pueblos is considered to be one of the Poster Boys of anti-Corruption and at one time threatened "the wrath of the law and of God on Noynoy Aquino's Three Ks (Kaibigan, Kaklase, Kabarilan) [words in parentheses translated: "firends, classmates, and shooting buddies"]." The good Bishop is also a staunch critic of the Aquino administration and campaigns vigorously for President Aquino's resignation.
What does all of this mean?
Simple.
The key insight here is that such revelations provide new substance to widespread doubts on the purity of the intentions that fuel what our "honourable" Church henchmen preach to their flock. In the case of The Pajero Bishop, the possible real motivation behind his Anti-Aquino "crusades" is now fodder for this most recent of Media circuses. As to what really may be fuelling that other "crusade" of our good bishops — opposition to the passing of the RH Bill — we ordinary folk who can only observe from the outside of the politico-religious complex that rules our Christianic state can only guess.
Could it be that perhaps Church officials do not see themselves as having any possibility of getting ermm, shall we say, a little piece of the vast market for contraceptive contraptions that will be created once the much-debated RH Bill is passed into law? Perhaps the "consulting" services priests offer to young couples planning to get married are seen to be at risk of being trumped by the more real advise that real health service practitioners (many of whom are themselves more likely than the average priest to have practical experience on such matters) can start to offer the average Filipino couple.
Who knows? All we can do is follow the advise of everybody's favourite Pinoy entertainment delivery boy, the esteemed ABS "Cojuangco Broadcasting Network" CBN:
Abangan ang susunod na kabanata…
benign0 is the Webmaster of GetRealPhilippines.com.