The Philippine Opposition like fancying themselves champions of some sort of "war" against "disinformation". Indeed, their foremost "thought leaders" are convinced that the catastrophic loss they suffered in this year's national elections in which current President Ferdinand "Bongbong" Marcos Jr won by a massive landslide is an outcome of a sinister "disinformation" campaign against their hapless leader Leni Robredo.
Thus it is quite interesting to behold no less than former Congressman Teddy Baguilat, vice president for internal affairs of the Liberal Party, caught red-handed spreading "fake news". In a tweet he has since deleted, Baguilat shared on Twitter an obviously fake quote card that featured House Representative Ferdinand Alexander "Sandro" Araneta Marcos III (1st District Ilocos Norte) stating…
Why the big fuss about the prices of red onions? Common sense dictates that you use white onions when red onions are expensive and alternatively, you should use red onions when white onions are expensive. Simple problems need simple solutions.
…to which Baguilat sneers in Tagalog, "In short, ang gusto nila sabihin, mag tiis kayo. Pag ganyan ang problem-solving skills ng leaders natin, kawawa tayo. Sana solusyonan kung bakit nahihirapan ang farmers kya nagmahal…" (translated to English: "what they want to say is, suck it up. When our leaders' problem solving skills are such, poor us. Why not just find a solution to address farmers' hardships that result in higher prices").
The fake quote card bears the markings of Sonshine Media Network International (SMNI), evidence that there may, indeed, be a disinformation campaign being perpetrated by the Opposition camp.
The network has since issued a statement condemning this act of sabotage…
NOTICE TO THE PUBLIC:

SMNI News strongly condemns unauthorized and malicious use of its logo in fake news items pic.twitter.com/QAisNLub1k

— SMNI News (@smninews) November 26, 2022
Rep. Marcos also responded to Baguilat's deleted tweet pointing out the error in the former Congressman's ways.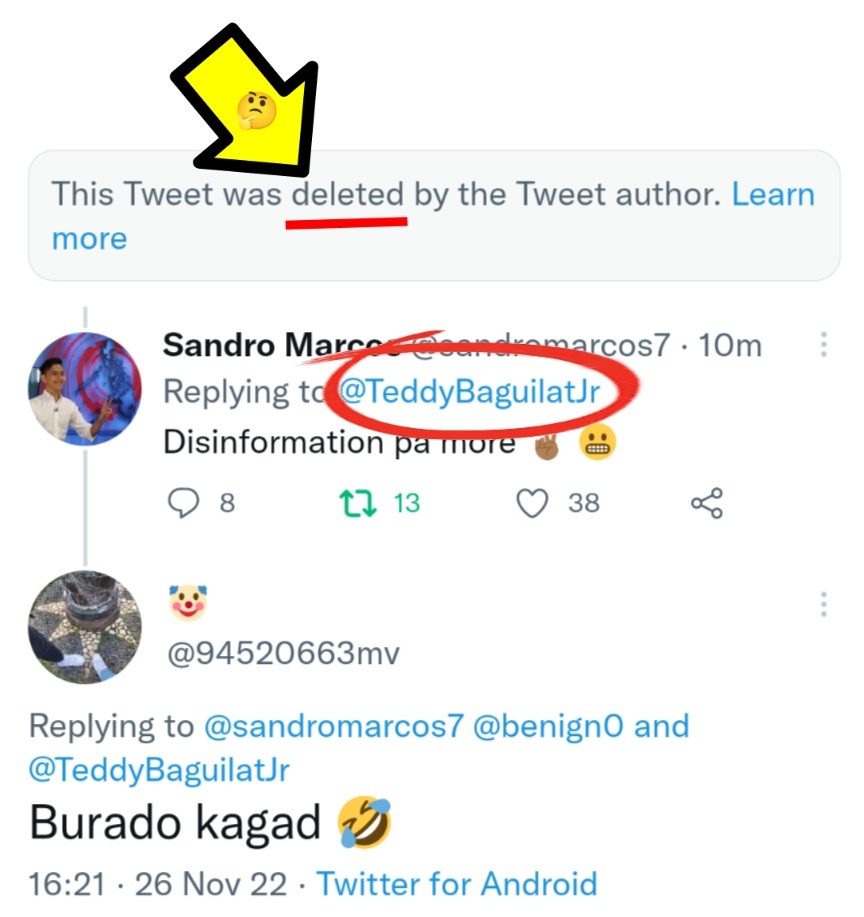 This was not before eminent Opposition "journalists" Boo Chanco of The Philippine Star and Inday Espina Varona of Rappler had, themselves, contributed to the spread of this fakery. Fortunately for them, they had managed to delete their tweets before any further fallout and narrowly escaped Baguilat's fate.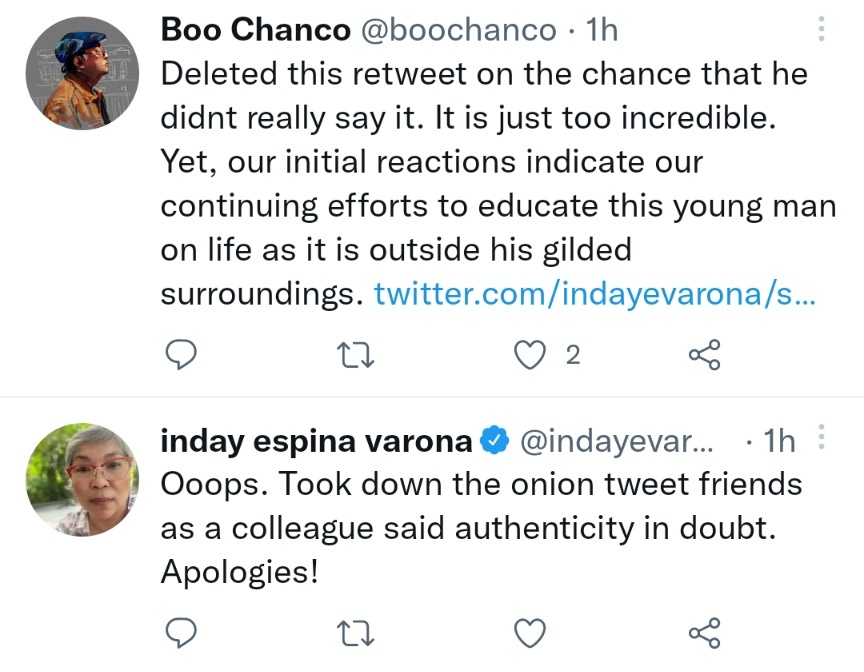 One would think seasoned "journalists" like Chanco and Varona would know better, right? Note, however, that Chanco was not above making a snide remark about Rep. Marcos inadvertently revealing the root cause of his own foolish lapse in judgement. We see the same mindset in a half-assed apology issued by Baguilat on Twitter following his inexcusable gaffe…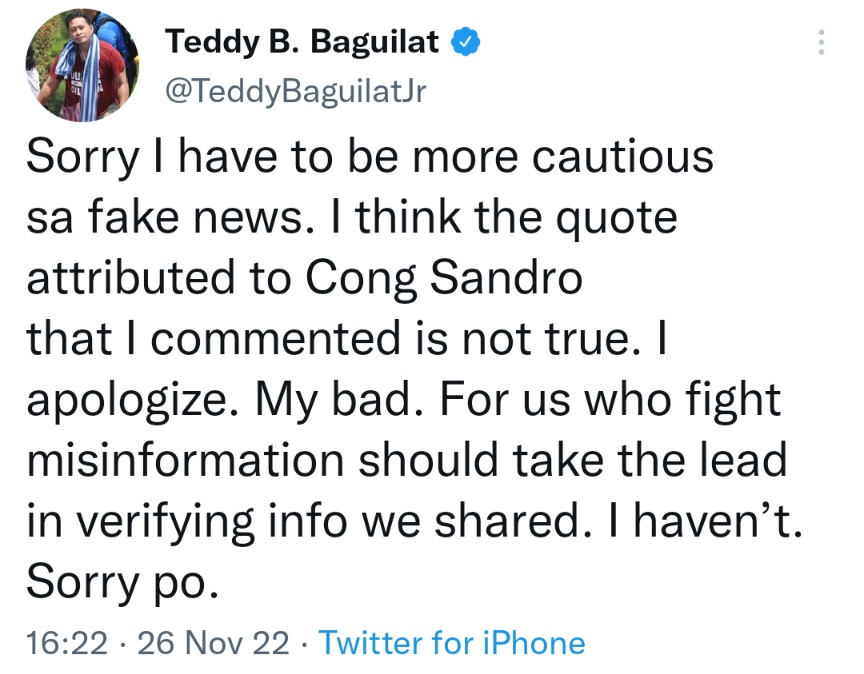 Nowhere in Baguilat's apology tweet does he mention (i.e. add a "@sandromarcos7" to the tweet) Rep. Marcos. It's typical of Yellowtard character — a lack of spine to, at least, directly address whoever they speak of. Baguilat's intent was evidently to give the impression that he is apologising more to his followers while treating Marcos as a mere footnote in his "apology".
Such class acts indeed. It is one thing that they noisily beat the war drum against "disinformation" and appoint themselves God's "Truth Tellers". Yellowtard "journalists" like Baguilat (he was once one) as well as Boo Chanco and Inday Espina Varona have so far yet to prove that they walk their talk. Until then, hypocrisy pa more, ladies.
benign0 is the Webmaster of GetRealPhilippines.com.