In the first part of this series of articles on Ombudsman Samuel Martires' six month suspension order against NIA Administrator Benny Antiporda I said I would delve into the details of the complaint filed against him and the complaint he filed against his agency's allegedly erring subordinates.
There are two sides of this issue which must be highlighted. On one hand, there is the NIA employee's side where they claim to be oppressed by NIA Administrator Antiporda. On the other hand, there is Antiporda's side where he claims that NIA employees complaints is really an attempt to foil his efforts to discipline the ranks and root our corruption in his agency.
(Given that Ombudsman Martires is said to be a staunch enemy of corruption in government, one could assume that he would have looked into Antiporda's complaint first before entertaining the harassment complaint lodged by the NIA employees. But that is not what happened and casual onlookers might be given to thinking that Ombudsman Martires sided with NIA employees accused of throwing a plunderous amount of government money.)
I have seen situations such as this several times over in the past when I was consulting for various cabinet secretaries from the time of former President Gloria Macapagal Arroyo to even the time of former President Rodrigo Duterte.
This happened with then DOT Secretary Richard Gordon, where a union of government employees threatened him with corruption complaints after he had implemented reforms and disciplined government employees belonging to the union.
Ditto for former Agriculture Secretary Luis "Cito" Lorenzo and former HUDCC Chairman Mike Defensor where, again, government employee unions protested some manner of oppression or violation of their rights as employees.
I can't remember the particulars of how each "union led" fight against government Department and Agency heads played out. But I remember it being said that lazy, incompetent, and corrupt government employees were eventually suspended, terminated, or reassigned elsewhere.
Harassed NIA Employees?
On the face of Martires suspension order against Antiporda, it was made to seem that employees had raised the issue of whether the latter should sit as THE ADMINISTRATOR of NIA. Further on, it alleged that because of this, Antiporda engaged in "retaliatory tactics" against employees who questioned his authority. The order enumerates the so-called tactics as:
Prohibiting managers from travelling, claiming that this was counterproductive to their work
Reassignment/transfer of employees without valid grounds
Berating and humiliating an employee
Placing employees on "floating status" and harassing employees by locking down their office
Asking employees to resign or retire
Falsely accusing an employee of corruption
Threatening employees with non renewal of their appointments
Making "bootlicking" to superiors as the basis for promotions
Using flag ceremonies as an avenue for bullying and fake news
Maligning employees through media
Misleading the President
Ombudsman Martires' order claims that "After a careful evaluation of the records, this Office finds that among the respondents, Respondent BENNY D. ANTIPORDA's guilt is strong and the case against him involve Grave Misconduct, Conduct Prejudicial to the Best Interest of the Service, and Oppression, which may warrant his removal from the service."
Thing is, the complaints against Antiporda sounds to me pretty much like the lament of government employees in other agencies who are battling the head of their agency after they had become the subject of disciplinary measures.
Where's The Meat?
As I was reading Ombudsman Martires' suspension order against Antiporda, I was hoping to find some mention of the evidence supporting the allegations made by the employees but couldn't find any.
So, just on the basis of the Martires' order, the public reading it would not be able to see for themselves if indeed there was "careful evaluation" and would just have to trust his word — which is fair enough, I suppose.
Then again, as I pointed out in the first article in this series, the statement from NIA Employees Association of the Philippines denying involvement in the complaint against Antiporda would make it seem that the order stems from at least one fictitious complainant.
If there were evidence, perhaps it would be in the complaint against Antiporda and my sources claim that they couldn't find the complaint. Which leads me to ask, is the complaint so confidential that Antiporda himself wasn't even furnished a copy of it before he was suspended?
Are officials like Antiporda not allowed to exercise their right to face their accusers and refute their accusations?
Were NIA Employees Harassed or Did They Raise Issues Against Antiporda's Appointment and File Complaints To Evade Investigation?
Two months before Ombudsman Martires issued a six month suspension order against Antiporda, the NIA Administrator filed charges against officials of the NIA for various offenses, including violations of the anti-graft law.
Sources say Antiporda's complaint was not acted upon whereas it took Ombudsman Martires just five (5) days to issue a suspension order that presumably would protect from further harassment one dubious complainant and several complainants who themselves were the subject of Antiporda's complaint
It must be noted that the suspension order against Antiporda listed as complainants the "officers and members of the NIA Employees Association of the Phils (NIAEASP), (Cudal), (Raymundo) and a NIA concerned employee.
Antiporda asked the Ombudsman to "conduct further investigation and to file the appropriate criminal and administrative cases against (Atty Cudal) who is the Acting Chief Legal and Atty. Mary Annabelle Cruz-Domingo" both of the NIA Legal Division. The complaint signed by Antiporda was received by the Ombudsman on September 15, 2022.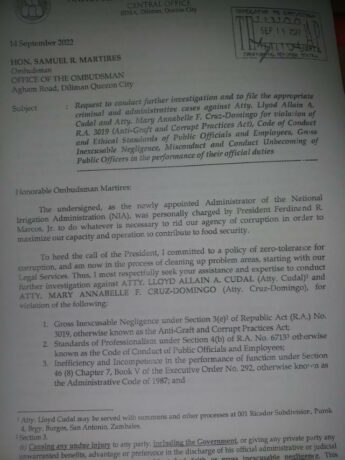 The charges include: gross inexcusable negligence, violation of the standards of professionalism; and inefficiency and incompetence in the performance of functions. The case stemmed from the NIA lawyers' alleged mishandling of a case where NIA lost a staggering P206 million to Green Asia Construction and Development Corporation.
Antiporda suspected that Atty. Cudal who was Acting Manager of the Legal Services deliberately moved to "abandon the case and let the same be handled by novice lawyer Cruz-Domingo so that in the event that NIA loses the case," it can only be blamed on Atty. Cruz-Domingo.
According to Antiporda, Cudal "orchestrated that NIA will ultimately lose the case, and even made sure that the award of the CIAC (Construction Industry Arbitration Commission) will be executed at the most expedient way, which is the loss of legal remedies on the part of NIA."
Antiporda explained in his complaint that "Had they made an effort to peruse the Rule of Court and the Rules of Procedure of CIAC, which both of them should have done, they could have easily known that the correct recourse is a Petition for Review under Rule 43 of the Rules of Court."
Further on he says that "Atty. Cudal's culpability is also undoubted. Albeit he issued a Notice to Explain and thereafter filed an administrative complaint against Atty. Cruz-Domingo after the erroneous filing of a petition for Certiorari without his approval, such actions are already after the fact and are obviously done as mere afterthought intended to save himself from blame."
In his complaint, Antiporda further explains "As the legal manager, he (Cudal) could have acted with prudence and sedulity from the time his office received the Notice of Award from CIAC ordering NIA to pay Php 205,958,119.77. Considering the amount involved, the case should have merited his urgent and full attention."
Michelle Raymundo, on the other hand, is the subject of a separate complaint filed by Antiporda with the Office of the Ombudsman on October 18, 2022 for "betrayal of public interest… in relation to the Anti-Graft and Corrupt Practices Act, habitual illegal use of a government vehicle, habitual drunkenness, discourtesy and maltreatment, grave misconduct and conduct unbecoming of a public officer.
Raymundo is the former Board Secretary of the NIA and as such, was issued an official vehicle, which she used for her personal use and beyond office hours to attend to regular drinking sessions with her friends and colleagues. Likewise, Raymundo is accused of maltreating her drivers.