Same result different survey. The most recent Pulse Asia survey on voter preference had yet again shown Bongbong Marcos as the top preferred presidential candidate of a majority (53 percent) of respondents. Opposition "leader" Leni Robredo is a far second with just 20 percent. The results are consistent to two previous recent reports (Publicus Asia and Laylo) on voter preferences indicating that Marcos and, very likely, his running mate Sara Duterte will win the presidency and vice presidency respectively come May 2022.
The Opposition remain optimistic probably because pessimism is not an option. There is no other way to go but soldier on and many among their ranks have expressed a chilling sentiment — that defeat is not an option. Former Inquirer editor John Nery articulates the logic that props up this fascinating optimism.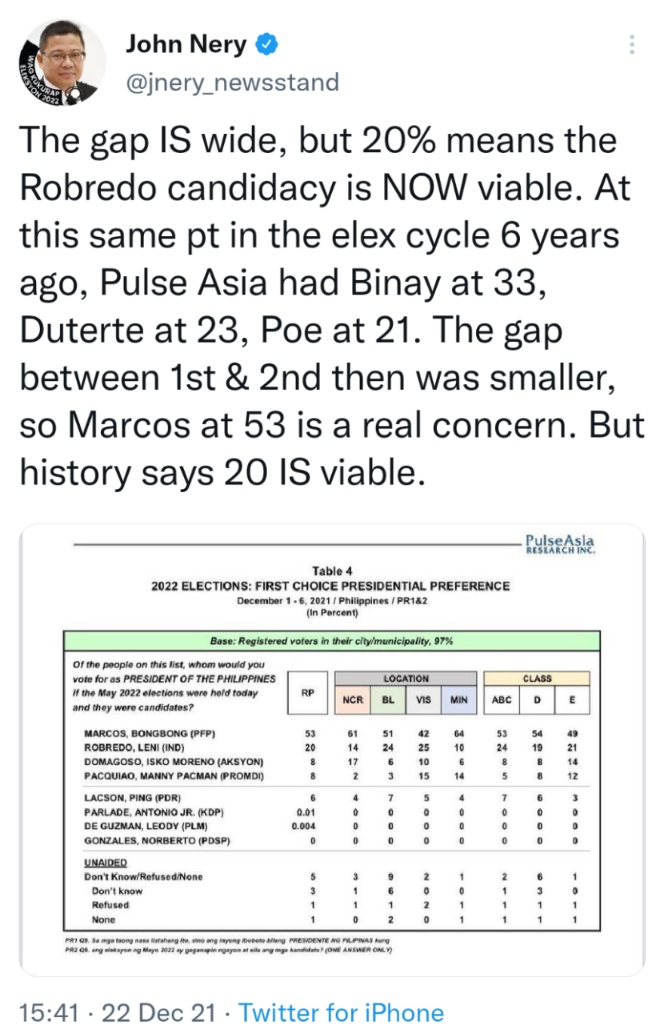 Nery also draws energy from beliefs amongst members of his camp within their echo chambers that Robredo's campaign is an actual "movement" that just needs to be managed properly. Nery, however, points out that evidence that Robredo had, indeed, launched a "movement" comes in the form of "negative proof".
More negative proof came in the last couple of weeks, including but not limited to the heated debates between Robredo supporters a) over the kind of billboards that should be put up, b) whether columnist Manuel L. Quezon was right to assert that Ferdinand Marcos Jr. had successfully claimed the mantle of change and that the Vice President had failed to define herself in the public mind, and c) if the ornery controversialist Miyako Isabel diagnosed the Robredo campaign's media and communications failures right.
Yellowtard "thought leaders" like Nery seem to tiptoe around the elephant in the room — that Robredo's campaign suffers from a lack of strong leadership. This, by itself, speaks of Robredo herself and could be indicative of the sort of president she will be — one pulled in different directions by the same sorts of idiots that surround her today.
Robredo's campaign evidently continues to struggle, which is strange considering that she has, in fact, been campaigning since she was proclaimed "vice president" back in 2016. Right there is the one thing really worth thinking about when considering Leni Robredo. If she can't get her shit together even now — even after years as "vice president" and over that same period regarded as de facto "leader" of the Opposition — what sort of government will she run as president?
benign0 is the Webmaster of GetRealPhilippines.com.