"Ibalik ang tiwala sa gobyerno," ("Regain public trust in the government") says Leni Robredo in her most recent campaign video where she lays out her plan to provide "jobs for all".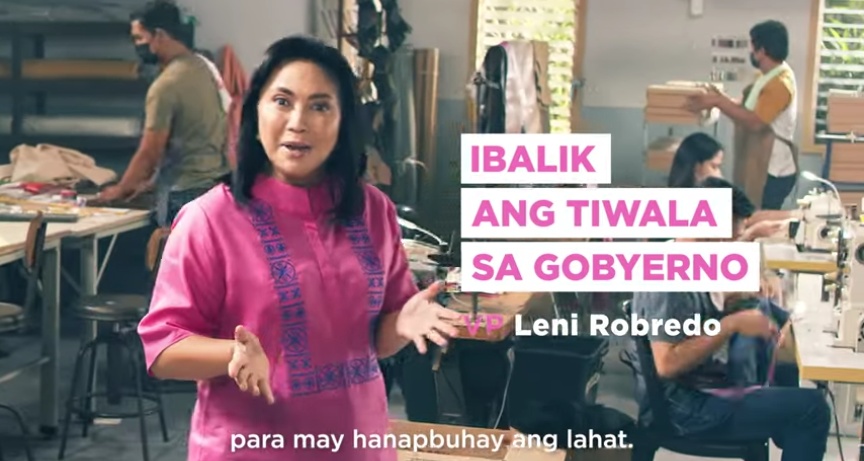 One wonders though. If Robredo's pitch is to regain public trust in the Philippine Government, the question is, is she the right person to make good on such a promise? According to the latest Publicus Asia report, Pahayag Q4, incumbent President Rodrigo Duterte continued to maintain a trust rating of around 55 percent — more than twice Robredo's 23 percent rating this quarter. This is corroborated by another metric exhibited in the Pahayag report showing that about 68 percent of survey respondents believe that the country is "headed in the right direction".

On what basis then does Robredo presume to promise an uplift in public trust in the government if the public trusts her less than the incumbent? Robredo's impossible promise makes even less sense when considering her, yet again, dismal showing in the popularity section of the Pahayag survey which is an indicator of her ability to win the coming national elections. Her rival and top presidential bet Bongbong Marcos enjoys a 52 percent preference rating this quarter up from 49 percent last quarter and still dwarfing Robredo's whose rating slipped from 21 to 20 percent over the same period.

Clearly Robredo and her campaign team need a serious reality check (if this latest report still does not put a rocket up their asses). They continue to believe they will overtake Team Marcos – Sara Duterte over the remaining five months of the campaign (and delude their supporters into thinking the same), yet there is no evidence nor data to back their optimistic appraisal of their situation.
Indeed, Robredo's only chance of winning these elections is if her minions succeed at removing Marcos Jr. from the race through disqualification or cancellation of his Certificate of Candidacy (CoC). If she wins by default it is likely that Filipinos will be even less trusting of her government and, over her six-year term will only see her as the person who deprived them of the person who should have been president. Robredo and her camp need to face the facts. There is no way they can win — even if she succeeds at becoming the next President of the Philippines.
benign0 is the Webmaster of GetRealPhilippines.com.