It's come to my attention that one of our blog posts on our short-article site Get Real Pundit, "Senator Franklin Drilon momentarily asleep during CNN interview with Pinky Webb" was flagged as "false information" by the Facebook "fact check" Taliban.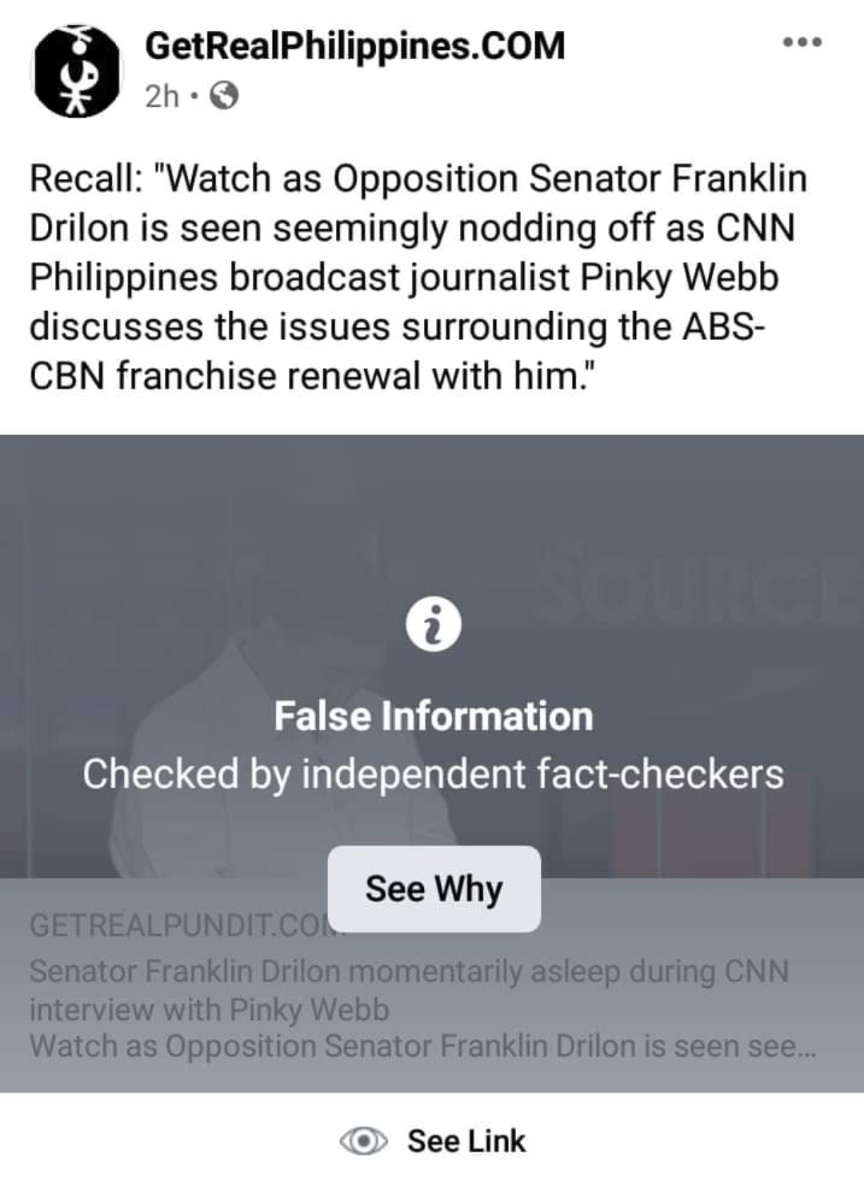 As shown in the above screenshot, the article was "checked by independent fact-checkers", in this case fact-check "partner" VERA Files. The question is, is VERA Files really an independent fact-checker in this instance? We will note that its president, Ellen Tordesillas, is a known rabid supporter of the Philippines' Liberal Party which Senator Franklin Drilon, the subject of the "offending" article, is a top officer of. In that sense, it can be argued that the claim to being an "independent fact-checker" is questionable at best, and very likely false at worst.
Indeed, VERA Files has long been linked with a media alliance behind a concerted vilification campaign against the administration of Philippine President Rodrigo Duterte. As such, any position Tordesillas takes on political matters tends to be suspect. For example, back in April 2019, Tordesillas was quick to get behind a series of videos being shared all over social media at the time where a certain "Bikoy" who claimed to be "a former member of a drug syndicate operating in Southern Luzon and Visayas region" presented "evidence" that linked members of Duterte's family to a "P6 billion" shabu smuggling operation. Tordesilla's basis for believing the videos? She "observed" that the videos "look professionally done. So is the annotation."
"Bikoy" turned out to be Peter Joemel Advincula who, according to an ABS-CBN News report is in the list of Naga City's Most Wanted in 2012 for theft cases in Sorsogon and "is also facing charges of illegal recruitment and large scale estafa in Naga City and Albay". Advincula was later investigated after he had been outed as the character behind "Bikoy". In June, 2019, the Inquirer reported that Advincula admitted in an affidavit submitted to the police "after returning to the PNP Criminal Investigation and Detection Group on May 27 for protective custody" to being part of a broader conspiracy mounted by key members of the Opposition to undermine the Philippine government. The affidavit documents Advincula's claims he met with a number of members of the Roman Catholic clergy as well as former Education Secretary Armin Luistro and that these meetings "centered on how to publicize a story that the President's allies and family were linked to illegal drugs, to unseat Duterte, and to ensure the defeat of administration-backed senatorial candidates in the recently concluded elections."
Dubbed, "Project Sodoma," the supposed conspiracy to undermine and unseat Duterte may have possibly been sanctioned by administrators of the Ateneo de Manila University and could involve the highest officials of the Catholic Bishops Conference of the Philippines (CBCP). In his 27th May affidavit, Advincula reportedly "claimed that [Archbishop Socrates Villegas of Lingayen-Dagupan and former head of the CBCP] was present at a meeting on Dec. 12 at the Jesuit Residence at Ateneo de Manila University."
So far, neither Tordesillas nor VERA Files have published any further reports on "Bikoy".
More importantly, the idea of a discredited "fact-checker" like VERA Files presuming to determine unilaterally what is "false" or not is questionable considering that Tordesillas herself is unable to articulate her own working definition of what "fake news" really is. Back as 2018, shocking revelations of Tordesillas's dishonesty came to light during a televised discussion about the "partnering" of social media giant Facebook with Rappler and VERA Files. Invited to discuss this "partnership" in the show was Tordesillas and De La Salle University (DLSU) Political Science Professor Antonio Contreras.
Asked by ANC Early Edition host Ian Esguerra what working definition of the term "fake news" will be applied in the "fact checking" work they will be doing for Facebook, Tordesillas stammered out an incoherent thought stream in response. An annotated excerpt of the discussion can be found here. It was quite evident that Tordesillas had no working definition of "fake news" to work with and was merely bluffing her way (unsuccessfully) through Esguerra's line of questioning.
More disturbing is the idea that one single authority (or an "accredited" cabal of them) can summarily cancel content on Facebook with neither channel to challenge these cancellations nor room for the community of content publishers to police themselves. Indeed, comment facilities are available for all GRP content and readers are encouraged to challenge every assertion we make. In contrast, the clique of "fact-checkers" that VERA Files is part of is an inbred group within which mere beliefs are propagated and amplified and challenges to these summarily dismissed or ignored. I highlighted the bald dishonesty inherent to these cliques and the flawed logic such echo chambers produce in my article "Let us all please FACT CHECK the VERA Files 'fact check' on Drilon's dozing off incident on TV!" where I point out just how crooked VERA Files' approach to "fact checking" really is using the Drilon dozing off incident…
It is interesting to note that VERA Files used sources from only one side of the story — that of CNN Philippines and its contracted talent Pinky Webb. It did not even manage to secure a full unedited version of the footage and used a mere "screen grab" to "prove" that Drilon was, over the course of the brief footage, reading off documents on his desk. VERA Files had no third party to corroborate the "evidence" it presents — only itself and CNN Philippines and certain parties under its payroll. It seems VERA Files could not even be bothered to take a statement from Senator Drilon himself.

Furthermore, the footage used in this "fact check" was taken directly from the published and edited version of the interview.
This leads us to wonder how many more articles and how much more information that reveals similar disturbing facts are being suppressed by "fact-checkers" like Tordesillas and her VERA Files organisation. It is indeed ironic that Tordesillas and her ilk including "activists" and "thought leaders" of today's Philippine Opposition repeatedly remind people to be vigilant and routinely apply critical minds to the information they find on the Net. As it turns out, Tordesillas and her amigas are the biggest offenders. It's time Filipinos think twice about the trust they put in people like her and the camps she is allied with who claim to be the "decent" mob.
benign0 is the Webmaster of GetRealPhilippines.com.