A recent "fact check" done by "investigative journalist" Ellen Tordesillas's agency VERA Files — a so-called "independent fact checker" of Facebook — asserts that Senator Franklin Drilon did not doze off during an interview with CNN Philippines' Pinky Webb on her show The Source. In their report "VERA FILES FACT CHECK: Jay Sonza, RJ Nieto help propagate wrong claim that Drilon snoozed in CNN PH interview" published the 7th March 2020, VERA Files makes the following claim:
Drilon did not fall asleep at any time during the interview.

VERA Files obtained from CNN Philippines a screen grab of the clip without the character generator (chargen) — the graphics placed on the bottom portion of videos — that shows Drilon not sleeping, but looking at the documents on the table in front of him.
The "report" included the following graphic provided by CNN Philippines to illustrate this claim.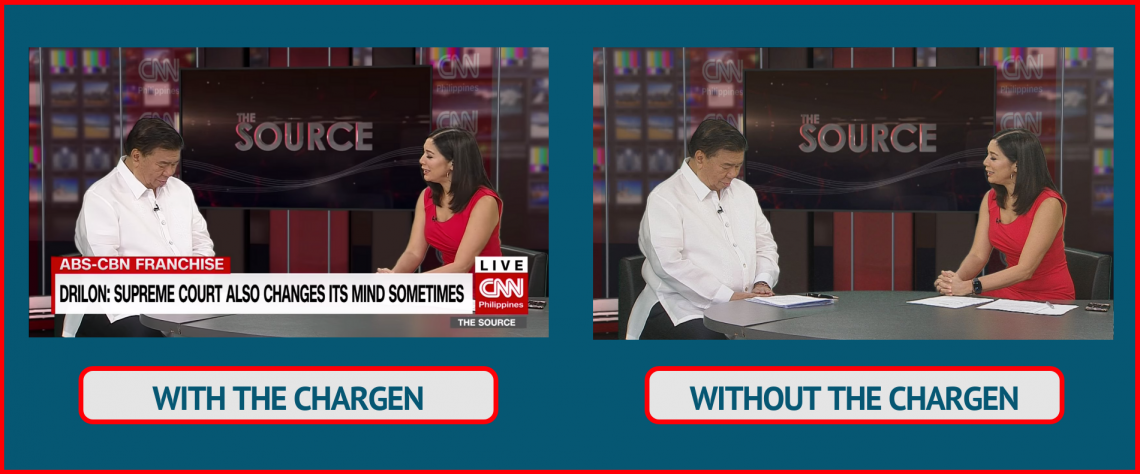 To further lend credence to itself, the VERA Files "report" also quoted the following tweet issued by Webb on Twitter:
Here's what happened. As I was laying the premise for my question, I saw Sen Drilon look down at the documents he had on the table. I did not see him fall asleep.
It is interesting to note that VERA Files used sources from only one side of the story — that of CNN Philippines and its contracted talent Pinky Webb. It did not even manage to secure a full unedited version of the footage and used a mere "screen grab" to "prove" that Drilon was, over the course of the brief footage, reading off documents on his desk. VERA Files had no third party to corroborate the "evidence" it presents — only itself and CNN Philippines and certain parties under its payroll. It seems VERA Files could not even be bothered to take a statement from Senator Drilon himself.
Furthermore, the footage used in this "fact check" was taken directly from the published and edited version of the interview (shown below).
It could be noted that a momentary shot of Drilon with his head down was aired. The camera then cut to Webb who was caught in the middle of a chuckle while repeating the question seemingly recognising that Drilon may indeed have been dozing off when she asked it the first time.
Do Filipinos have to take Webb's account of what really happened? Can they trust VERA Files which lazily reports an account of the story using information provided entirely by CNN Philippines? It is almost as if VERA Files was in collusion with CNN Philippines when it issued this "fact check" report!
It is also very well-known that Ellen Tordesillas is allied closely with the Philippine Opposition which, nowadays, is effectively a coalition of communists and other "progressive" elements led by the Liberal Party of the Philippines. Tordesillas was a strong defender of former Opposition Senator Antonio Trillanes who is a convicted mutineer and renowned for being rabidly loyal to the Aquino-Cojuangco clan.
People should put their foot down and say enough is enough with these bald insults on their intelligence. In the same way we witnessed Senator Grace Poe, despite being laden with a mountain of conflicts-of-interest, squander taxpayers' resources and use the Senate as a theatre for ABS-CBN's song-and-dance, we now see "fact check" agency VERA Files in collusion with another media outlet, CNN Philippines, in a similarly brazen dishonest act. Truly, Big Corporate Media lead our community of communicators in perpetrating the biggest acts of dishonesty in the business!
Step back for a moment and think about it. What makes VERA Files more correct than other people who viewed the very same video? It's not as if VERA Files provided footage from a different camera angle or over the full length of the incident with no edits applied by CNN Philippines production personnel. It is not as if VERA Files offers any facts that are not already accessible and readily-evident to all Filipinos.
The smart way forward from here is for Filipinos to apply a bit of critical thinking when examining the facts caught on video. It's really a personal choice, but the exercise befits the thinking faculties of modern consumers of mass media. VERA Files is, by no means, exempt from critical scrutiny.
benign0 is the Webmaster of GetRealPhilippines.com.