No less than Manila Times publisher Dante Ang himself writes the report following an investigation into a network of organisations supposedly representing the Philippines' "journalism" profession. Occupying a prominent space within the network Ang describes in his explosive exposé OUST-DUTERTE PLOT BARED is "social news network" Rappler and a bevy of personalities associated to it implicated in an email trail leading to a slanderous video that supposedly reveals a "narco-list" that includes members of President Rodrigo Duterte's family.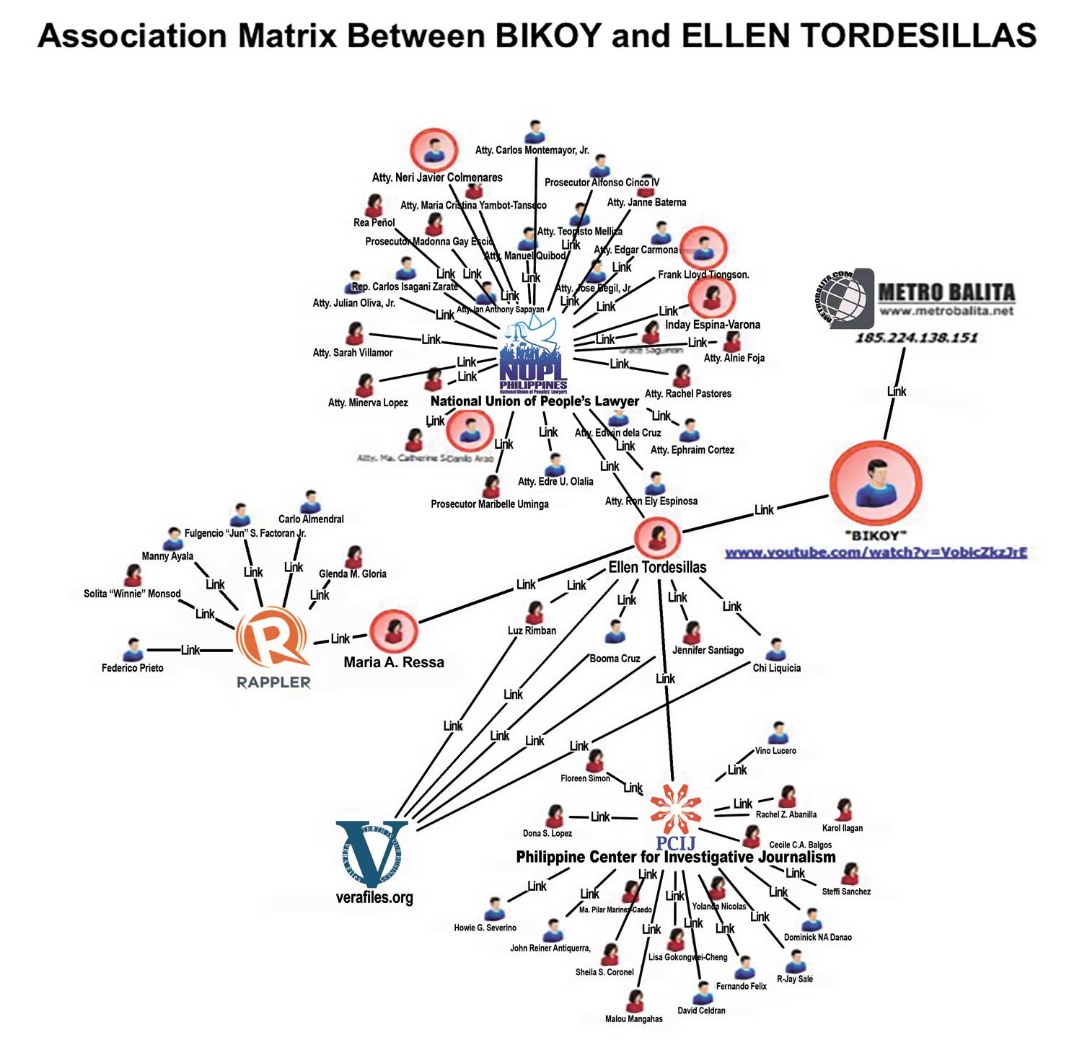 The nodes in this "matrix" are linked by a set of lines that, together, "illustrates the flow of news from the source to a nexus or distributor and finally to the individual journalists for publication."
The Philippines' Queen of All Fact Checkers Ellen Tordesillas of Vera Files herself endorses the video at the centre of this conspiracy where a certain "Bikoy" supposedly tells all. Tordesillas reports on her blog that the videos "look professionally done" and were "uploaded on You Tube and Facebook [under the] account of 'Metro Balita', which lists itself as 'media/news company'."
An evidently defensive Rappler today countered with the article authored by Lian Buan screaming that Human rights law group calls Oust Duterte plot 'rubbish', a position that contributes nothing to debunking any of the assertion Ang makes in his report.
Rather than address the points raised in Ang's report directly, Rappler resorts to the all-too-familiar ad hominem argument…
"The Manila Times under Dante Ang, appointed special envoy for international public relations by President Rodrigo Duterte, is the reason why journalism schools and newsrooms in the country should be actively educating the youth and communities on what truthful, responsible, and ethical journalism is," Rappler said.
Real "investigative journalists" can do a lot better than that. Indeed, the Manila Times in this instance has single-handedly taken to task the country's foremost honchos that form the chi chi clique of self-anointed "fact checkers" and "truth seekers". That's one against three. One would think that three of the Philippines' so-called "guardians of truth" — Vera Files, the Philippine Center for Investigative Journalism (PCIJ), and, well, Rappler — together wouldn't be the least bit intimidated by one newspaper — the Manila Times. But seeing the lost composure and astounding incoherence in their response on exhibit amongst God's Gifts to Philippine Journalism, one couldn't be blamed for thinking that Ang is on to something real.
benign0 is the Webmaster of GetRealPhilippines.com.