Amid "heavy" social media "backlash" mostly from Yellowtards (the bloc within the Philippine Opposition rabidly loyal to the Aquino-Cojuangco clan), top Philippine media network ABS-CBN has reportedly "ended its partnership with Chinatown News TV (CNTV) and will no longer air the Mandarin-language newscast." As expected, Yellowtard Netizens and "thought leaders" are now busy patting themselves on the back for showing Big Corporate Network who's boss.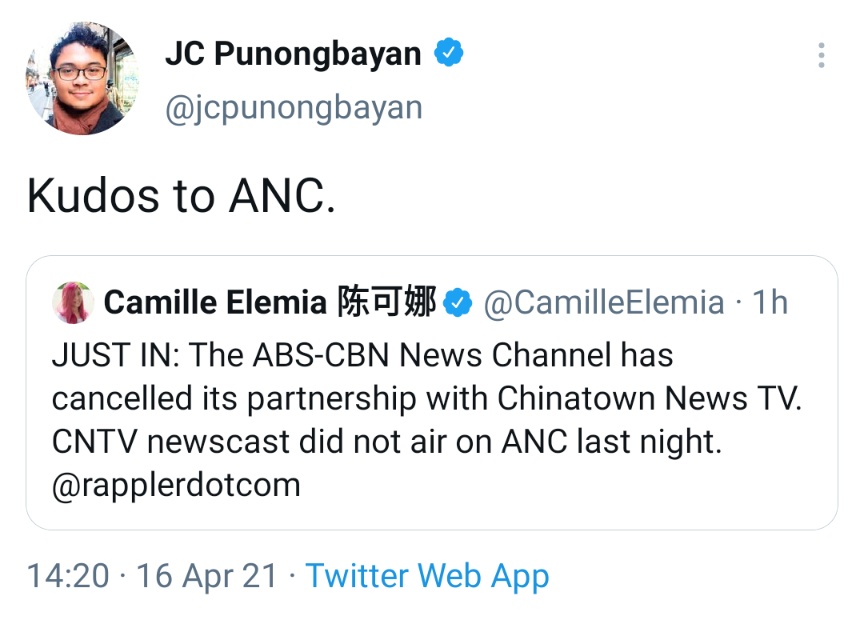 One wonders though if ABS-CBN is in good enough financial shape to go as "woke" as its chi chi audience would like it to go. It has lost a significant chunk of its ad revenue base when its franchise to broadcast expired and was not renewed by Congress last year and its shares are trading at less than half the value of what it averaged over 2019 and the first half of 2020. Its nearest competitor, GMA Network Inc seems to have benefited from ABS-CBN's troubles reportedly enjoying a 79 percent profitability surge while ABS-CBN suffered a 65.5 percent drop in ad revenue in late 2020.
GMA acknowledged that it benefited from an increase in advertising sales after ABS-CBN's free-to-air broadcasts were shut down last May 5.

"The closure of biggest rival, ABS-CBN, due to the expiration of their broadcast franchise last May 5 and the subsequent denial last July 10 by the House Committee on Legislative Franchises of ABS-CBN's new application also contributed to the increase in sales due to the shift in some advertising placements," GMA said.
Broadcasting Chinese-language content will likely have contributed a bit of a boost to its fortunes on account of the additional audience base Chinese News TV (CNTV) would have brought to ABS-CBN had the deal with CNTV owner Horizon of the Sun Communications, Incorporated pushed through. However, it seems that ABS-CBN executive management bow more to the shrill cancellations of its "woke" fans than the plight of its shareholders who watch helplessly as their investment in the network evaporates.
Particularly disturbing is how little foresight ABS-CBN executive management have so far exhibited. They seem to have not done their homework and taken into account the prevailing political tensions with China that Opposition partisans, "activists", and "thought leaders" have been drumming up as part of their vilification campaign against Philippine President Rodrigo Duterte. One would have expected ABS-CBN management to consider that they had relied heavily on Opposition partisans rallying behind their efforts to lobby Congress into renewing their franchise last year. More notable is how quickly ABS-CBN had backpedalled after feeling the wrath of wokedom's cancel culture.
As expected, the Yellowtards and communists are celebrating this as a triumph of "principle" over profit tipping an empty hat to ABS-CBN doing "the right thing". Then again, "principles" aren't a line item in ABS-CBN's balance sheets and it is unlikely that its CEO Carlo Katigbak will be anywhere near assuring his bosses in the Board that the people they represent will be laughing all the way to the bank every month like they did in the good old days.
benign0 is the Webmaster of GetRealPhilippines.com.