We should throw Angkas on top of the pyre of online discussions generated by news of Chinese intruding into Philippine territory.
Not only is Angkas getting very very special treatment from the Department of Transportation and the Metro Manila Development Authority — BEING THE ONLY MOTORCYCLE TAXI SERVICE ALLOWED TO OPERATE.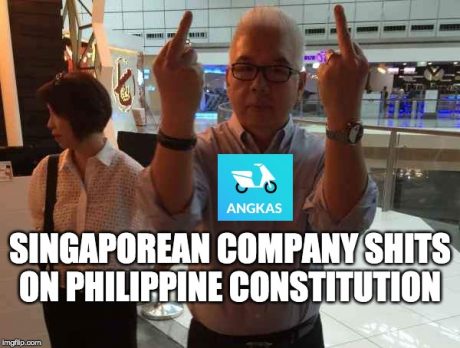 Angkas is also a foreign carpet bagger, profiting from the misery of Filipino commuters!
SUPPORT INDEPENDENT SOCIAL COMMENTARY!
Subscribe to our Substack community GRP Insider to receive by email our in-depth free weekly newsletter. Opt into a paid subscription and you'll get premium insider briefs and insights from us daily.
Subscribe to our Substack newsletter, GRP Insider!
Learn more
Just this morning, I was prompted into Googling information on whether Angkas is Filipino owned and couldn't find any reference to its ownership. Neither its official website nor the dozens of articles I found stated that it was either fully or partially Filipino owned.
I searched for this information because a friend told me that Angkas is 99.9 percent Singaporean owned.
The only other information that seems to hint at the ownership of Angkas is that its CEO is Angeline Tham is Singaporean born and is/was married to a Filipino.
Angeline Tham was born in Singapore and took up a business degree at Stern School of Business in New York University. She was a banker for JP Morgan Singapore for almost five years, until she realized that it was not her forte. She then came up with a business idea that brought her to Manila. She eventually married a Filipino and now has a toddler. Angkas started in December 2016.

(Source)
Of course, the nationality of the CEO would have little bearing on the nationality of Angkas, but then again, would it be reasonable to expect Tham to be the sole owner/proprietor? Is it even registered as a business in the Philippines?
Another ride hailing service, Go Jek, was barred by the Land Transport and Franchise Regulatory Board from operating in the Philippines.
…LTFRB pre-accreditation committee said in its decision that only 20.4% out of 1.2 billion common shares were "actually sold" to PCVC, therefore concluding that Velox is "not-Filipino owned."

In its decision, the LTFRB further said that Velox "failed" to present Proof of Payment of Capital Gains Tax and Proof of Payment of Subscribed Shares allegedly subscribed by PCVC.

(Source)
Perhaps Mr. George Royeca, the head of Angkas' Regulatory and Public Affairs, can clarify these issues.