The "woke" social justice warriors do what they do because their assumptions about poverty and suffering on earth are wrong. My impression is that they are like the vegan "activist" who posted on social media (assuming they meant it) a message admonishing people to not slaughter animals for meat and instead buy from groceries – which reflects that they are ignorant of where food comes from. And even if the wokes know where food comes from, their ideas still tend to be angry, impatient and irrational. Wanting to overthrow government and capitalism are among the non-solutions they flout as solutions.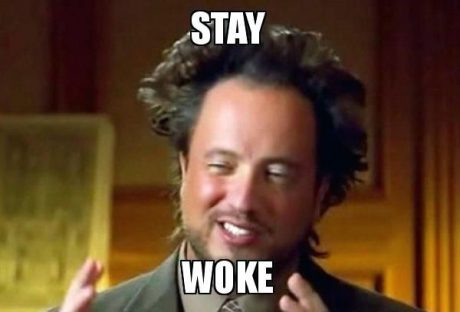 One other non-solution is forced sharing, or redistribution of wealth. it will not work because it does not address the root causes of poverty. It also looks for someone to pin the blame on for others' poverty. It is also a gamble; you try to spread wealth in the hope that with greater wealth, people will no longer be poor. But wealth is something that is easily lost if you don't know how to handle it, which has been proven with many lottery winners.
The fatal assumption of the wokes is that poverty is always man-made, that people are poor because someone else made them poor, and one cannot be naturally poor. Their idea is, when someone becomes rich, their wealth automatically is stolen resources from someone else in the world. This is the driving force behind forced sharing and demonization of rich people. The problem is, that connection cannot been proven and is emotionally driven. It is also another exercise in scapegoating.
Inequality itself does not mean people are in poverty. People can be in a situation where their incomes are vastly unequal, but still they have enough for basic living. That is not poverty.
I'll attempt to help demystify things by discussing my views about the two major categories of causes.
Manmade Causes
When it comes to causes of poverty, we GRP bloggers are quick to point to culture. Traditional culture included. India for example bans the slaughter of cattle for religious belief. The bad joke is that it's a land of hungry people with cows walking around. Another is when cultures reject modern technology, saying it is against their identity. As a result, they are unable to maximize production efficiency for their needs. If a culture decides, being poor is part of our image, then that indeed leads them to poverty.
Slavery and exploitation are all part of culture. Headhunting has been part of many cultures, including our own. Certainly, business won't thrive where the businessmen fear being literally headhunted (or when the tribal breadwinners were actually headhunted!). Tribalism also contributes to conflict and poverty, and that certainly applies to Filipinos.
Crap ideologies also cause poverty. A good idea is when China tried to apply redistribution of wealth under Mao, but their practices were completely inefficient and corruption-ridden, leading to a massive famine. When they switched over to allowing basic free-market business in their country, it lifted a lot of people out of poverty. At least that gives some support to the idea that capitalism does not cause poverty; bad decisions do. Really, if you want China to lose today, tell them to go back to the Communist way of doing things.
It also boils down to personal habits. Some people are poor because they have habits that keep them poor. They don't want to work, they don't want to feel hardship and they want to depend on others. The leftists hate the saying, "the poor are poor because they are lazy." But there are poor who are lazy. So the hated saying is partially true.
Dictators don't necessarily cause poverty. Dictators can also rise because of poverty, promising to beat it. Thus ousting dictators does not solve poverty, as lately proven in the case of Tunisia. Even with corrupt politicians put away, poverty can still happen. Also, with people's attention on national dictators, they miss out the "little dictators," the corrupt people at the grassroots level. Yes, even in poor communities, there are corrupt people. Why else would we have a crime rate at all?
Natural Causes
Poverty can be naturally caused (This can apply to other social problems, such as inequality and suffering). Life by nature is hard. Poverty is among the effects of the dynamics of physical existence. It is easy to stay in poverty because if you do nothing at all about your condition, you will remain poor. And people die even if other people don't kill them. That's why there's something called "natural causes." I believe the naive mindset of some wokes is that if someone naturally dies, someone still has to be blamed for it. If you get lost in a harsh land and die there, nobody else should be blamed for your death (Christopher McCandless anyone?).
In order to be able to drink or eat, and survive, you must take necessary action to gather the materials you need for it. Hence, people work. They must, and this is a phrase some hate, help themselves. Helping oneself is the natural state of life. Yes, there are circumstances where people are unable to help themselves, and that is where (voluntary) help from others comes in. But another assumption of the "forced sharing" advocates is that help is an entitlement. They also hate it when a person is just single and enjoying themselves, they want to force that person to help others by hook or by crook. But that is never assured of success, and forcing others to give can be a violation of human rights.
The environments people live in are a big factor. I read in Cracked (and this is a factual article) that the Pilgrims during the initial settlement of the United States had it easier than the history books would like to have us believe. Compare that to places like Africa and Yemen. Deserts and jungles are unforgiving, and people are certain to die because of a little mistake. People in these areas are perhaps the poorest in the world, and other people did not cause that condition.
In the Roman era, historians estimate that the child mortality rate was 75%. Many diseases we are familiar with today were seen as mysterious evil forces then. Travel far from your village or city, wild animals were all around to get you (or simply starvation… McCandless again). Wokes of the modern world have been spoiled with the relative safety and security of the modern industrial era, that coincided with advances with health and science, leading to the lower morality rates and population explosion of today. Convinced that their way of life should be the standard of the world, they try to force it on others… only to learn (and perhaps fall into depression because of it) that just because you think you have a great idea doesn't mean that people are obliged to accept it or that it's going to work.
Woke Knee-Jerk Reactions
When people react to seeing rich and poor, and get angry at the rich for not giving to the poor, they do so with poor understanding of the whole story. Their reaction is also a function of the desire to feel power by judging others. It satisfies the natural desire for violence, not goodness.
I'm not saying we should not try to alleviate poverty. But we should not overestimate our abilities in doing so. Just as discrimination is actually part of the natural dealings of people in society, addressing poverty cannot be understood without understanding its natural parts. There will be natural limits to our attempts to address poverty, and we have to accept them.
People in better-off parts of society should not carry the burden of the world. The idea that the rich are responsible for the poorness of others leads the wokes to believe that they are responsible for the poor and are obliged to do something about it. It's not their fault, but they insist it is. And when other rich are not "giving to the poor," they assume that attacking these rich will fulfill their moral burden. It won't.
Let's just accept that as much as we want to help others, it all goes back to people helping themselves. That will still be normal and natural. Let us stop seeing ourselves are "heroes" trying to save the world, and just live knowing what our limits are. And if we want to help in efforts to solve poverty, let's stop looking for people to crucify.
I believe, as my cohorts here do, that what Filipinos embrace as their culture is what actually pulls the country down. And those who seem to be anti-dictators, who may also believe themselves to be "heroes," are the real dictators.