Revolt is the buzzword of the hour after it is claimed that French president Emmanuel Macron gave in to the so-named Yellow Vest protesters, who went to the streets and rioted, calling for Macron's resignation. But all Macron did was promise to raise the minimum wage (a step that some economists are likely to facepalm at). And it's only a promise. No action has yet been taken, and thus there is no sign that the protesters will get what they want. Even if that step is taken, there's no assurance it will work. No one could safely claim yet that protests and "revolts" worked. And if the Yellow Vesters overthrow Macron, that will likely lead to disaster.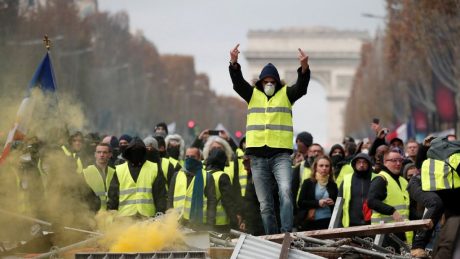 I remember a post on Facebook about employees of a small store who walked out on their boss because she said "cancer is no reason to not go to work," which offended them. While some agree the boss was insensitive, one wonders should whether the walkout was the right way of "protesting." But some, especially the social justice warriors, would look at this walkout as a great first step to a "revolution." They hope that everyone in a society would just strike or walk out of work and then go on overthrows of their companies and governments (same with anti-Duterte nutcases). Yes, the wet dream of the left.
So why isn't it that way? Why don't workers in a company just go up in arms and take over? Or, why don't they all walk out and so something else? It should be easy, right?
It looks easy in theory, but in practice, it's actually dumb. As I wrote before, ousting never really solved problems. You change the corrupt leader, another corrupt leader could always replace him. You're back to square one. I mentioned Tunisia as an example.
But in the Philippines, revolt only makes life harder. It's for the insurgents who can depend only on robbing other people (revolutionary taxes) for sustenance. The people they are robbing don't agree with revolting against the government. Why is this so?
Filipinos desire certainty and stability. A revolt will lead to the opposite: chaos, uncertainty and instability. A friend of mine surveyed some workers about what is the most important thing for them at work. So there were other choices, such as income, work environment, and others. The result was job security. It is important for the workers to keep a steady stream of income without interruption, no matter how big or small. It's important especially for those I wrote about before, the breadwinners tending to breadlosers. So when a factory, company or society is in chaos after a revolution or strike, this income stream is disrupted. And that means security is disrupted. People are not willing to make that kind of sacrifice (if you can call it that).
Revolting just exposes people to a lot of unnecessary risks. One of them is this likelihood that has happened so many times: the revolters soon turning on each other. It's happened so many times, such as after the 1700s French Revolution, after the Bolshevik Revolution in Russia (Stalin's purges) and so many other times. It's so naive to assume that "oppressed" workers will know what to do when they take over. Squabbles ruin almost every successful takeover.
Perhaps if a serious revolt does happen in the Philippines, other Filipinos (not just soldiers or police, even ordinary Filipinos) might crush it. Kasi istorbo eh. Or they won't support it at all. Example: May 1, 2001.
People who are annoyed by my opinion will badger me with, "so what have you done to change society?" Just being an upstanding citizen is enough. If people want me to revolt against Duterte, and do what the French Yellow vesters are doing, it's not going to happen. Because revolting like that is not serious about change, it's only about doing things for show.
The better revolution to do is just change your habits and lifestyle. For example, if beauty products hint that you're not pretty if you don't have any product on, just ignore it and believe you're OK without them, beautiful or not. You can be happy without being rich or famous, and you don't need any validation from anyone, because this seeking validation is what makes you buy products. Not doing so is the real revolution.
If you're still acting based on other people's urging and not your own, then you're not really acting on freedom or a "revolutionary" attitude. You're just acting as someone's puppet.
SJWs and lefties believe societies will magically pick themselves up after the chaos. But the historical record disproves that. The revolutions or violent uprisings I've mentioned and many more – Yugoslavia, Soviet Union, Cambodia, to make only a few – have led to more people killed and societies turned even poorer. People have tried revolutions, and they all led to more problems. The free market may have its own problems, but it at least provides stability in life. Nothing warrants abolishing it. The best change starts at the grassroots, and at the individual level. Without individual freedom to make choices in one's life, any attempt to make "revolutions" successful for the long-term will fall flat.
I believe, as my cohorts here do, that what Filipinos embrace as their culture is what actually pulls the country down. And those who seem to be anti-dictators, who may also believe themselves to be "heroes," are the real dictators.