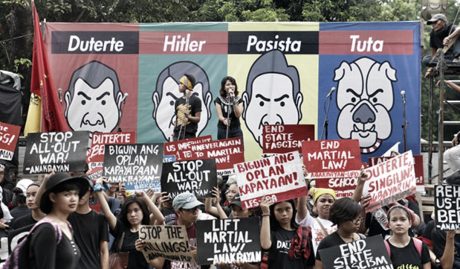 It isn't much of a preparation as there is neither vision nor platform to give meaning to their pitch to the Filipino voter. The fact, however, that the Philippine Opposition led by the Liberal Party (a.k.a. the Yellowtards) are now on full campaign mode in the lead up to the 2019 elections exhibits their grudging faith in Philippine democracy — a faith that contradicts what they shriek about in their rallies and media circuses.
Indeed, many "thought leaders" of the Yellowtards continue to screech about their new lame narrative surrounding an imagined "descent to dictatorship". An example of this shrill but lazy "activism" can be seen in prominent Yellowtard Francis Baraan IV who observes…
I am quite concerned about the state of our democracy, too. We're not just inching towards a dictatorship, we're sliding fast down into a dictatorship.

#Duterte doesn't even need to place the country under #MartialLaw. It's practically Martial Law.
Even more interesting is that this is in response to an earlier observation issued by what seems to be a British national on the state of health of this democracy…
@MrFrankBaraan Hope you're well Francis…

I'm really concerned about the state of democracy in the Philippines, and Duterte even locking up lawyers who speak out against him.

You need another democratic uprising before it's too late!
Note the recommended course of action — "another democratic uprising". One would think that if the Yellowtards really think that democracy is "dead" then there wouldn't really be any point in participating in the coming democratic exercise, the 2019 mid-term elections.
For that matter, what does a "democratic uprising" even mean? Current President Rodrigo Duterte, warts and all, is the duly-elected Chief Executive of the Philippines. Any sort of extra-constitutional "uprising" will be anything but democratic. It will be no more than another one of those garden-variety coup d'etats that have become mainstays of Yellowtard ideology. Democratic institutions and process be damned so long as the Yellowtards get what they want. That's as close to a platform these political parasites could cough up.
If the Yellowtards are truly convinced that democracy is "dead" then they should walk their talk. Mount this "uprising" they keep yakking about. Now na! You can't be a "revolutionary" and a participant in due process at the same time. You either take a shit or get off the can. Otherwise you come across as just as lame as the communists who have one ass cheek in legitimate democratic politics and another up in the mountains killing Filipinos and the soldiers who defend them.
The only way the Yellowtards can truly prove that they are "defending" or even "fighting for" democracy is to participate in it legitimately and win legitimately. More often than not, this involves being intelligent enough to play by those rules and succeed at overcoming a formidable opponent. The way the Yellowtards are approaching this challenge, however, they'd much prefer upturning the chessboard in the middle of the game, hitting their opponent on the head with it, then storming away. The chess match is not won, but it makes for a great media circus.
benign0 is the Webmaster of GetRealPhilippines.com.