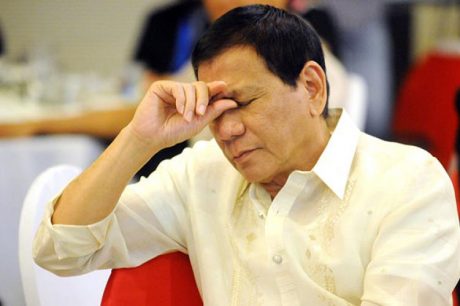 What happens if President Rodrigo Duterte is toppled?
Easy. Things revert to the status quo. The Liberal Party (LP) – the no-results, hypocritically decent, group of politicians whom Filipinos have had to bear with for the past thirty years – will be back in power. The drug problem, which has been the cornerstone of Duterte's anti-crime campaign, will go away. Mainstream media, long perceived to be favorable towards the LP and the Aquinos, will make it disappear from the public consciousness. Crime and corruption will go back to pre-Duterte status. The economy will be deodorized, but the poor will indefinitely remain poor. Plus, they will be safely ignored until the politicos need their votes again for re-election. Expect any political opposition to clam up. The LP will once again get away with prioritizing their self-interests over those of the Filipino people.
Filipinos will, once again, live in ignorant bliss.
But why suggest that the Duterte presidency is capable of being toppled?
Because the support of the people who voted for him is hardly enough against a persistent, well-organized, and well-funded group of people. A group of people who have grown comfortable, and used to, calling the shots. They will not hesitate to take down and silence all who get in their way, by any means necessary. As we have seen, they will resort to propaganda, to calling in foreign intervention, and to blaming their blunders on Duterte. Who knows, we may just be surprised (or not) to find out one day that they could be actually funding armed conflict and terrorist attacks in the Philippines!
What happens if he isn't?
The Duterte government is in a precarious position, more so than it likes to think. Inertia is its greatest enemy.
On the political and economic fronts, all the LP-led opposition has to do is to provide enough of a roadblock to Duterte's "change", such that he will be rendered inutile. It will simply end in a war of attrition; which will endure, faith in Duterte, or the opposition's skullduggery? With all the resources at its disposal, the LP is more than capable of doing that, and winning. Furthermore, because the Filipino people allowed enough of the opposition, as well as clowns like Tito Sotto, to be voted into the Senate and Congress, Duterte will have to deal with a legislative branch that doesn't and won't do its job properly, and keep on bypassing deserving cabinet members like Judy Taguiwalo, who, unfortunately for her, won't pander to their self-serving interests.
A comment I read on social media states that president Duterte's being too soft on his enemies is perhaps a big, even debilitating, weakness of his. Perhaps Duterte is allowing them to make fools of themselves, but no one, or very few at best, outside the pro-Duterte sphere of influence seems to think that way. Instead, sentiment outside of the sphere, that Duterte is a madman, a despot who must be stopped, persists, and is perhaps even growing unstoppably stronger.
Well, since the opposition is branding him a dictator, he should have just crushed them decisively anyway. But that's just me.
On the socio-cultural front, because Duterte had made outrageous promises during the election (who didn't), Filipinos have seemingly found no reason to go outside their comfort zone, where they expect their leaders to change everything for them. They have yet another hero, whom they can put on a pedestal, and whom they expect to magically make their problems disappear.
Perhaps it is too ambitious to expect Filipinos to go beyond being "inspired" by Filipinos like Duterte, who stand out. Every time their idols are in the news, they will shout Pinoy Pride, associate themselves – however possible – with the personality, and will regard any criticism of the idol as a personal affront.
The "pent-up sentiment" that pro-Duterte supporters like to use as their excuse to act the way they do, in the face of criticism of the president, is starting to grow tired, old, and frankly, quite embarrassing. Common sense: you can't expect people to keep listening to you if you keep being "angry" all the time. What is the use of the "scholars" and "erudite thinkers" on their side, then?
If Filipinos don't take advantage of Duterte's leadership, and collectively come together to change their public affairs and spaces (outside kinship and clan lines), then that is the big wasted opportunity. For all their talk of "we want change", their actions seem to betray that they don't want it hard enough, all because they're simply not willing to put in the collective work needed from their end.
Wasting an opportunity to do things differently is perhaps a bigger tragedy, than voting dumb bags of nails into office and expecting things to be different. Perhaps this is why, it has been said, that Filipinos don't deserve good things.
А вы, друзья, как ни садитесь, все в музыканты не годитесь. – But you, my friends, however you sit, not all as musicians fit.