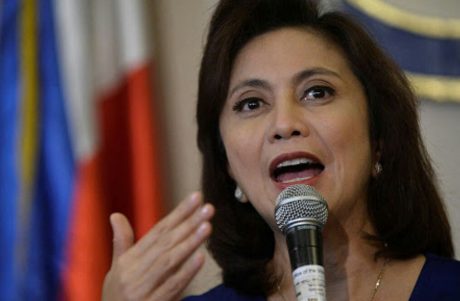 Imagine driving at full throttle on your rugged all-terrain Jeep Cherokee through a vast rocky wasteland infested with rabid zombies, with the steel belt strands of your tires starting to peer through the increasingly thinning worn-out rubber.
You come to think of the big WHAT IF: the likelihood a tire will blow out anytime soon. How do you proceed when at the back of your mind you know full well your spare tire is actually flat? Should you go on in your mission-critical journey under such a glaring risk?
The Importance of Backups
Remember the Fukushima nuclear disaster – how such a devastating environmental tragedy resulted from the emergency backup generators failing to kick in, being flooded under the enormity of those 13-meter-high tsunami waves.
Red flags are popping up all around folks. Unless we replace that backup who is as incompetent as the Yellow line of bozos that preceded her  (Cory, Noynoy, Mar and their KKK band), the entire nation is up for some real trouble!
Duterte is already showing signs of bowing out prior to completing his 6-year term, owing to his age and state of health. And let's not discount other possibilities such as an assassination or plane crash. Are you willing to accept the reality of a looming Leni presidency? You must really hate your country so much as to wish it a flat tire for its emergency backup wheel. Let's brainstorm a bit more…
Solution 1:  A flat spare tire needs to be vulcanized. This can be done by exposing Leni to some authentic hands-on leadership as Duterte's apprentice. Looks like Duterte has closed that door just recently by stripping her of any opportunity to hold any executive office in his cabinet.
Solution 2: A flat spare tire once installed can be pumped every few kilometers. This is like training a pilot by putting him/her in a real live cockpit without any prior experience in flying a plane. Should we entrust to a novice OJT trainee the massive role of taking the helm of a jumbo jet with 100M souls on board? Depends on how valuable the cargo is.
Solution 3: Replace the flat spare tire with a fully functional one.
The longer the Supreme Court delays in handing down a verdict on the electoral protest case of Bongbong vs. Leni, the longer we proceed traveling without any feasible and reliable backup leadership for this country. So much of the gains of the Duterte administration these past few months (far outweighing the 6 years of Noynoying around) will just go down the drain once this Leni character comes into Malacanang goofing all about.
Moreover, the backup should share the same vision and leadership strength as the incumbent to ensure continuity in the administration's programs.
Leni – The Clanging Cymbal
The office of the vice president has been reduced to an irrelevant annoying clanging cymbal, a complete waste of taxpayer's money. Just look at this attention-hungry pa-cute girlie – in the headlines of every Yellow broadsheet every so often these days:
Robredo not laughing at Duterte's crash joke
Robredo: I have not read Mocha's blog, don't intend to read it
LP not doing enough but I understand: Robredo
Now ask yourself in all honesty, do you really think this clueless Cory-copycat who happened to just get "lucky" to have her husband die in a plane crash (so as to catapult her to necro-political stardom) should be the best this country has to offer as the backup leader we will be looking up to – to solve the myriad complex problems we are facing as a struggling poverty-stricken nation if and ever anything happens to President Duterte?
Some of that invigorating "Common Sense for Pinoys" juice should start kicking in by now.
Zealous revolutionary advocate of bringing back common sense for the common good in a land of dysfunctional and delusional zombies.