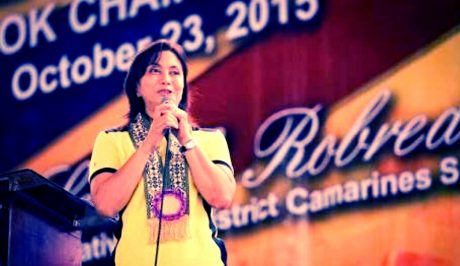 The Philippines' Opposition do need a leader. Desperately. Indeed, I've recognised that a long time ago in my July 2014 piece The Philippine opposition remains too flaccid and disorganised to EXPLOIT the current situation. I wrote then how "as Opposition to former President Marcos, then during the administration of former President Gloria Macapagal-Arroyo, the Yellow mob was a force to reckon with". They had, in those heady days immense and unmatched political capital…
They had a united front — united behind the Yellow shade and the "L" hand gesture that stands for Laban ("fight") — and two well-loved national heroes directly associated to their "cause", the 'martyred' former Senator Benigno 'Ninoy' Aquino Jr and his late wife and former President Cory Aquino.
This was political wealth utterly squandered by the administration of former President Benigno Simeon 'BS' Aquino III. Even at the peak of political power, Aquino was unable to shake that old opposition mentality which "did not mature into an Administration mentality."
Over the last four years, not only the Yellow mob but the President himself stuck steadfastly to the adolescence of Laban rhetoric — flashing the "L" hand gesture at every opportunity and wearing that yellow ribbon. Even more bizarre, President BS Aquino would paint the very Establishment itself — the Establishment he is currently a part of — as the Goliath to his David persona reminiscent of those old Laban days.
History was to show that this whole Laban spiel was worn to tatters by the Second Aquino administration, an astounding waste of public goodwill that paved the way for the spectacular ascent to power of current President Rodrigo Duterte. Even more interesting, the last remnant of that camp to cling to power, presumptive "vice president" Leni Robredo continues that very tradition of further stretching that old "laban" rhetoric to breaking point. She persists in that old approach of painting herself as a victim of the powers-that-be even as she herself fights to secure the legitimacy of her claim to the second highest office in the land.
Old habits die hard. Following her recent basang sisiw circus over her being excluded by Duterte from Cabinet meetings after which she issued a dramatic resignation spiel to the public, Robredo is but the most recent of a string of "Opposition leaders" that fit that "victim" archetype preferred by the community of emos, necropoliticians, and bleeding-heart "activists" who rally around these "prayerful" and "saintly housewife" types.
The important question remains, however. Can Robredo (for that matter, any politician of her personality type) rally a fragmented and disorganised Philippine Opposition and challenge an incumbent who continues to enjoy the trust and confidence of the vast majority of Filipinos? Perhaps the first step to answer that question begins with imagining what sort of president Robredo could be. Indeed, as the supposed "vice president", she is a mere heartbeat away from the presidency. But for many Filipinos, the answer to that question is becoming clearer by the day. Just in the way Robredo conducts herself before the cameras — in that girlish colegiala sort of manner that rubs pragmatic and real people the wrong way and gets under the skins of even some of her own supporters — she will likely fall far short of that lofty pedestal her die-hard fans put her upon.
The Opposition camp should stop setting a low bar for the qualities that befit a true leader. They should start by purging their rhetoric of that old housewife-widow-turned-reluctant-labanista narrative.
benign0 is the Webmaster of GetRealPhilippines.com.