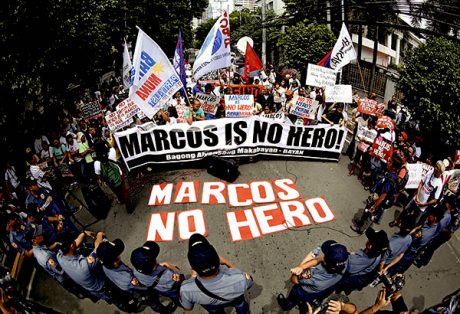 Okay, let's get some things squared away first. Unlike Charles Englund, I'm not a martial law baby, I was born a little later and yes, I'll accept the criticism that I am indeed probably too young or ignorant to be aware of the Marcos regime's atrocities and cruelties. I am also not a Manilenyo even though a lot of really upset and unhappy commenters (who are probably suffering from a serious case of hemorrhoids) out there seem to think I am. However, again, I'd like to offer some of my observations regarding the whole issue of having former president Ferdinand Marcos buried among heroes just a few nights back.
Look, while I'm willing to admit that I am indeed a Marcos loyalist, I do fully understand that he was far from perfect. I know that his rather Draconian methods combined with the kind of cruelty inherent in just about every authority in the Philippines creates for a very unflattering image. I understand that some of you or at least some of your loved ones have been victims of the Marcos regime's harsh rule and I can only offer you my sincerest sympathies. But I will also say that Ferdinand Marcos, at the end of the day, was just another man, flawed, broken and ever vulnerable to temptation. I will say that while his rule did indeed involve atrocities, I will also say that when he first began, he at least probably had good intentions.
Anyway, so as not to rub you the wrong way, allow me to tell you another story about my past and the wonderful people I shared it with…
My grandfather was somewhat particular about what I watched on TV. He allowed me freedom to watch what I wanted, but he would often speak out against shows he didn't like or didn't believe was appropriate for a child my age. For instance, grandfather was fiercely critical of my relatives who allowed their children to watch shows that had strong themes of sex and violence.
As you can probably imagine, there were a lot of things I was barred from watching and one of them was Silence of the Lambs and the Hannibal film franchise as a whole. I was 16 when my old man decided I could at least watch Silence of the Lambs and watch a then young and attractive (and still presently attractive) Jodie Foster outsmart a serial killer who victimized women to take their skin with the help of a vicious serial killer played by none other than the talented Sir Anthony Hopkins. Ah, Dr. Hannibal Lecter, how you shape my deeply disturbed mind to this very day.
With my grandfather now gone to take his place among his friends and family in some happier world beyond and with me now of age, I can watch pretty much what I want. Heck, I'm on the last episode of the first season of the Hannibal TV show and plan on watching the remaining two seasons with the free time I'll have this Yuletide Season. However, even now I take to heart the discussion I had with my grandfather regarding the Hannibal books by Thomas Harris and the various films and TV shows made from them.
"No matter how nice and gentlemanly he may seem, Hannibal Lecter is and always will be a murderer!" my grandfather said to my 16-year-old self. "And a vicious and disgusting one at that. He murdered young and innocent college girls to steal and eat their organs, murdered police officers who tried to stop him and simply doesn't see people as other people. He sees other people as animals to be slaughtered and devoured and only those who can somehow impress him like Agent Clarice Starling or Will Graham are ever really spared from his demonic appetite and even then it's still likely that he can and will kill and eat them if they bore or annoy him enough."
"However," my grandfather went on. "When compared to some of his more dangerous enemies, Hannibal Lecter comes off or is made to come off as almost heroic. Take for instance Mason Verger who raped his own sister and preyed on innocent children or James Gumb who tortured and skinned women and compare them to the nigh noble Hannibal Lecter who acts by a twisted code of honor and is almost always polite and courteous to his guests and people he likes. This makes Hannibal Lecter sympathetic but never forget that he is as vicious a killer as the other murderers in the story. It just so happens that he's been safely (relatively anyway) contained and is willing to cooperate with the authorities."
So alright, I know some of the grievances of Anti-Marcos protesters out there are well-grounded and that the victims of the Marcos regime should also be given justice but, when compared to the incompetence of the previous president, the Marcoses seem almost angelic. Look, I know it sounds harsh but look at just how terrible things became because of that spoiled brat Noynoy. Traffic became hellish and the stupid fish-faced bastard seems to think it was a "sign" of actual progress.
This doesn't even take into account the many avoidable tragedies that took place in the last six years such as the Luneta Hostage Crisis, the Yolanda Tragedy, the SAF 44 Massacre and the Kidapawan Killings just to name a few. And where was Fish-Face in all of these? There he was, grinning like all the death and sorrow were the coolest things ever! Like all the weeping widows, the bawling orphans, the mangled corpses and the heartbroken masses were the funniest and most awesome sight he had ever seen! And what has Fish-Face ever said about all that happened:
"It's Marcos' fault!"
"It's Arroyo's fault!"
"I wasn't informed!"
Guys please, I know some of you don't agree with me and I know a lot of you are probably angry now, but hear me out here. Before everything blew up in the past six years, I didn't care one bit about where former President Marcos should be buried. But with the way Fish-Face screwed everything up, I'd rather side with the alleged "baddies" who are at least willing to cooperate for the greater good than the family who have thought and done nothing for anyone but themselves.
I have a theory that if Fish-Face didn't generate so much hate for himself and his family, Ferdinand Marcos would never have been buried at LNMB. In fact, I can tell you now that most people wouldn't have cared one bit about where he'd be buried if Nonoy had just done his job right. If anything, majority of Filipinos probably allowed Ferdinand Marcos to be buried at LNMB to spite the Aquino family and wipe that smile off of Nonoy's drooling and disgusting face! Because after everything Noynoy and the LP has done for the Filipino people, the Marcoses come off as at least responsible and competent.
I HAVE RETURNED TO LAY WASTE TO OUR ENEMIES!