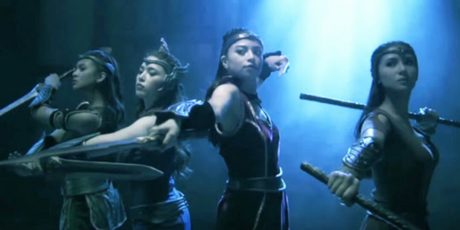 Again, ladies and gentlemen, this is just another "rant" from your favorite troll contributor here on GRP and this one centers around the remake of Philippine fantasy TV show Encantadia. Truth be told, I was actually somewhat of a fan myself even though I didn't keep up with the show as consistently as some of my relatives and friends. For one thing, I really appreciated how they made the fae of the show possessed their own culture and sense of morality that was distinct from that of humanity's. For instance, they had a neutral to hostile view of humans and generally saw them as inferior beings which is a far cry from the helpful fae in most cheesy Pinoy fantasy shows.
So now they went and made a remake of the old, three-part show and this time added a few elements of Game of Thrones and basic ingredients for a sappy Pinoy romance: petty rivalries and an old-fashioned love triangle. Heck, they even added in Robin Padilla to make the show more appealing to action fans and there were those who claim that the show is like a "local version of Game of Thrones" and can thus be qualified as a "world-class" show.
Actually, there have been a number of shows in the Philippines that many Pinoys claim to be "world-class". There was that latest Panday film that somehow ripped the Kraken straight out of the latest adaptation of Clash of Titans as a villain for the heroes to fight. Then there was Wapakman that featured Manny Pacquiao as a protagonist in a film that seems to me like a very cheap knockoff of Hancock.
So now, let me ask just what does "world class" signify for Pinoys?
Look, I'll be honest, considering the kind of technology available to film and production crews, one can't really expect much in terms of visuals and special effects. However, I still believe in the old adage: "There is no excuse for bad storytelling." Indeed, even a movie with poor or cheap special effects can come out well if executed properly. Take for instance the film Jaws wherein the mechanical shark for the show would malfunction often but nonetheless became an iconic film monster that frightened people away from beaches for years to come thanks to clever use of the camera and turning the audience's own imaginations against them. The film Monsters had a fairly tiny budget but managed to pull off some truly epic scenes with really good timing and buildup as well as present an interesting point to viewers such as asking if it's the invading alien species (which are largely just animals trying to survive) or the humans (who are using the alien invasion to support fear and paranoia for political gain) are the "monsters" of the movie.
For me anyway, a film can be considered "world class" if the creativity involved is enough to impress viewers from other countries and not just because it contains elements from foreign titles. Indeed, while it may seem harsh, the films that Pinoys consider "world class" would either be largely ignored or scoffed at by foreigners. Thing is, I still believe that Pinoy storytellers and filmmakers have plenty of potential but the demand for stupid elements in local programming is what is essentially killing them.
As a child, I greatly appreciated the show Hirayamanawari, a local TV show for children that was episodic in nature and told various outlandish tales in its run on TV. Nonetheless, I liked how original most of the shows were and, even when they weren't, they were pulled off in such a way that you didn't really mind all that much. Also of note is the fact that while some its episodes were somewhat cheesy, it was somewhat understandable since it was a show made for children. However, while it may have been a children's show, I will still go as far as to say that it certainly outshines most local shows where originality and imagination is concerned.
Anyway, as I see it, it all boils down to the fact that too many of our shows try to add too many telebasura elements to their shows to make them sell and end up making an abomination instead.
See, here's what happens:
The General Idea of "World Class": A thought-provoking and engaging show that viewers from all over the world can relate to thanks to great characterization, plot advancement and inclusive theme.
The Pinoy Idea of "World Class": A show that feels foreign with elements from more internationally successful movies and TV shows with typical Pinoy plot points like sappy romance and illicit affairs.
As mentioned above, the only new addition to Encantadia's remake is Robin Padilla, a typical love triangle and some imagery that some claim have been ripped off from Game of Thrones. Honestly, there's nothing really wrong with occasionally copying elements from other works as there is some truth to the idea that there's hardly nothing original anymore per se but to call it "world class" just because it contains elements from more successful foreign shows is another issue entirely. Indeed, what will make a show "world class" is its ability to attract and hold the attention of both local and foreign viewers and leave them interested in the show's premise long after it's over.
It saddens me to no end that until now, majority of Pinoys are still stuck on the superficial and can only see the flashy and attention-getting aspects of foreign shows rather than the theme and premise of what they are trying to express. I still hope for the day when Filipinos can finally realize what it means to be "world class" when it comes to TV shows and films and attract audiences from all corners of the globe. Unfortunately, to this day, many Pinoys still seem to think that simply giving their shows and films a foreign look and film without really understanding them is enough to make them "world class".
All in all, until Pinoys learn to look deeper into a given work and are more willing to think than simply be carried away by our emotions, the global community will continue to ignore and ridicule us…
I HAVE RETURNED TO LAY WASTE TO OUR ENEMIES!