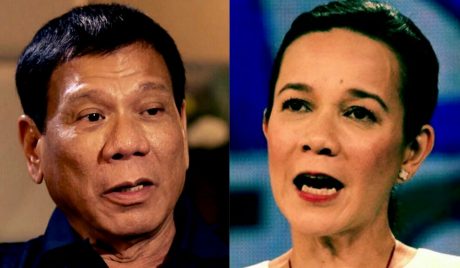 If 6 months to stop criminality was kind of a stretch for many of us, Grace Poe's answer to the Duterte camp's plan is that she can ensure our "feeling of security" in just a month. A woman of hardly any executive experience will attempt to outdo a public official who has been in the tough business of hands-on governance for decades.
Well I can understand how slipping behind to No.2 in the latest survey (Duterte at 30% vs. Poe at 25%) can get a previous leading candidate desperate; but this kind of statement just seems too surreal for even half-wit squatter tambays drunk on Red horse to even take seriously.
How in the world will Poe achieve this? – considering the first month in office will be loaded with a hectic schedule of organizing cabinet ministers and leaders in government, the arduous process of transitioning into new leadership for many departments and agencies, and communicating to them the plans and strategies to which they must align to.
Poe is very vocal about the right person she has in mind to lead the police force. It seems the success or failure of her entire presidency simply hinges on her perception of how competent these appointees are. She has even simulated it all in her head that some kind of incentive system for local government units will entice local officials and police units enough to cut down crime rates.
A Presidency is About Image Projection
Grace Poe fails to realize what a presidency really entails: that it's about personifying vision and leadership. The president himself/herself is the very symbol of either the strength or weakness of the entire government and country, and is the face the international community will see for them to make decisions on how to deal with us – whether to respect us or dismiss us as an irrelevant nuisance.
How criminal and destabilizing elements view Poe is more important than who Poe appoints as crime czar. Ang mga criminal ba ay manliliit, o mamaliitin ba nila si Grace? Poe is not someone to be feared; she projects an aura of grace and soft-heartedness. Not that these qualities are not assets for people in public service; they are. But for a crime-infested third-world country like the Philippines, a motherly figure is the least we need now.
We have to realize that many battles are won just based on "projection." As in poker or the game of bluff, it's what image you project to your opponent that makes them either cower or be emboldened in the amount they are willing to bet against you.
Duterte claims he can address criminality in 6 months. He even said "killl me if I fail to bust crime in 6 months." Cayetano also said they will both resign if they don't deliver. Duterte projects confidence; and it is founded on a very sound logical basis and plan. His audacity in proclaiming this is not devoid of experience to back it up. In fact, it has more to do with his very essence as a leader than anything else.
Should Motherly Women Become Presidents in the Philippines?
This brings us to the question of the appropriateness of placing women trying to project an image of motherhood as supreme commander-in-chief of our men in uniform in the Philippines.
We have seen what Cory brought to our country. Relentless coup d'etats rocked her presidency. But when a respected Military General (Ramos) took the helm, peace and stability were achieved almost instantaneously.
The Philippines as a society has not matured enough to be led by gracious ladies. We can understand why advanced functional societies have no problem with a Merkel or a Thatcher. But the Pinoy psyche is nowhere near their level in evolution. What we need as president at this stage as a nation is someone with a name whose very mention will bring criminals and corrupt officials trembling and scrambling like cockroaches.
PNoy projected an image of "Daang Matuwid" and international rating agencies and investors bought it. An image even if feigned can work wonders. We need an image of a Punisher for this undisciplined society. So between a Poe and a Duterte, who would you rather trust to deliver on their claims to bring peace and order in the land of chaotic anarchic zombies?
Would you trust an inexperience newbie who claims will deliver a "feeling" in a month, or would you rather bank on a battle-hardened proven crime buster who will stake his very life to deliver concrete results in half a year?
What is the first word that comes to mind when you think of a certain candidate? The answer should give you enough basis to judge whether you should cast your vote behind him/her. For example, think of Mar – the first word that will surface will likely be "incompetence" or "clown." So should you vote for him?
"Common sense for Pinoys" is my wish for all who will be exercising their right of suffrage this May. May the most qualified symbol of respect and resolve win!
Zealous revolutionary advocate of bringing back common sense for the common good in a land of dysfunctional and delusional zombies.