It certainly seems that President Aquino is really worried about Senator Bongbong Marcos's ever growing popularity. Indeed, according to some, Senator Marcos' vice presidency is assured this coming election. Now, truth be told, it's quite obvious that President Aquino is still stuck in the past and still eyes the Marcoses warily, thinking them responsible for the death of his parents. He would like no better than to see Senator Marcos discredited and demonized before the public and lose any chance of holding on to any kind of political power. That's why you'll notice the allies and associates of the Aquino family going out of their way to remind people of the alleged "horrors" of the Martial Law years and spouting slogans like "never again" which, to me at least, seems to be a ripoff of the motto of Holocaust victims.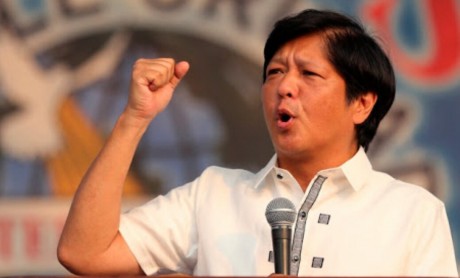 Anyway, try as he might, I strongly doubt President Aquino will be able to effectively ruin Senator Marcos's reputation as a politician and a statesman. Media organizations allied with the Aquino family can spout whatever black propaganda they want about Senator Marcos but, from the looks of things, will only further infuriate audiences who are fed up with the Aquino administration's incompetencies and inadequacies. Of course, I don't really agree with the idea that Senator Marcos will win for sure but I also think that President Aquino will have to rely on more than just malicious slander if he really wants to discourage people from supporting and voting for Senator Marcos.
As always, don't just take my word for it though. After all, I wouldn't want all of you calling me out on just spouting a lot of hot air. Here are five things that President Aquino needs to overcome if he plans to make Senator Marcos look bad, or at least, look worse than the current administration:
Senator Marcos Is A Self-Made Man
Okay, truth be told, "Marcos" is a household name and just about everyone has at least heard of them. However, take note how many, especially the Aquino family and their media allies, go out of their way to demonize the Marcos family. Indeed, even now, many of them claim that the sins of the father are also the sins of the son and that Senator Marcos should apologize for all the said "atrocities" that took place during the Martial Law years. I'd like to say that if this were indeed the truth, President Aquino should also be held accountable for his grandfather's betrayal of the Filipino people to Imperial Japan back in World War II but I digress.
Thing is, President Marcos made his way up through school, the Senate and Congress through his own hard work. He has few, if any, honorary titles like our current president, meaning he worked hard to make something of himself and didn't get to where he was simply through the popularity of his namesake. Also, he is now running as vice president of the Philippines without using the death of any of his loved ones to boost his popularity.
Senator Marcos Has Actual Achievements
On we go to his actual performance as a politician. As a congressman, he passed bills that helped improve the accessibility of medicine for our countrymen and, as a senator, he authored senate bills against drunk driving and human trafficking. This is in direct contrast to President Aquino'a lack of any bills he has passed on his own during his time in the Senate.
Now, Senator Marcos's bills might not seem like much to some of you but I'm gonna go out of my way to explain why I think they're important. Did you know that drunk driving kills more people than natural disasters? Okay, can you imagine the horror that can ensue if a fully loaded jeepney is being driven by a heavily intoxicated driver? Also, did you know that many of our countrymen are being exploited overseas are being exploited as slaves by foreigners after they were duped into thinking that they would become well-paid OFWs outside their country? Can you imagine the horror of being a sex slave in the Middle-East?
Senator Marcos Is A Progressive Thinker
Another thing to note is that Senator Marcos doesn't allow his family's past to tarnish his current work and vision. While I doubt he's perfect, he seems to have a genuine plan for both his career and his constituents. He is a man who looks forward to tomorrow and how bright he can make that tomorrow.
Now, compare this to President Aquino who does nothing but play the blame game whenever he's given the chance to talk. He goes on and on about the "horrors" of Martial Law and how his predecessors, namely former President Arroyo, has ruined the country even though he seems to be using the latter's plan for economic growth which he claims credit for. President Aquino can't seem to even think about the future of the country he's supposedly running as he's too entrenched in the past and his childhood.
Senator Marcos Is A Mature Person
Note how Senator Marcos seems to take everything in stride even though people continue to vilify him and his family. In the end, he almost does what he thinks is best for his constituents and works hard at making something of himself and his role as a politician. When he meets with media personnel and common people, he behaves appropriately and treats people with respect and dignity.
Okay, now take a look at President Aquino's constant grinning even in inappropriate circumstances like the death of the SAF 44. Note also his tendency to make excuses such as saying that "he wasn't invited" to the memorial service to the victims of Yolanda in Tacloban. He has shown little empathy for his people if he has even the slightest amount of it.
Senator Marcos Is NOT A Loser
Alright, maybe I am going to far with this one but I just can't help myself. Of course, we all know that Senator Marcos is already married but don't forget that this too has its own significance. Marriage isn't simply about two people coming together, you know.
By being married, at least you can show people that someone has their full trust, respect and love in you. It's not simply about someone "shacking up" with you. It means that someone out there is willing to share their life or perhaps even soul with you because you mean that much to them.
So you see, what can we expect from a 50-year-old spoiled brat of a boy who has yet to know how to act like a right and proper human being around others?
[Photo courtesy PhilStar.]
I HAVE RETURNED TO LAY WASTE TO OUR ENEMIES!