Okay, before we begin, I'm pretty sure some of you will be wondering what an "idiocracy" even is. Well, in case it's not obvious enough from the words that compose it, an "idiocracy" is a nation or state that is ruled by idiots. This is a kind of place where being an idiot is actually "cool" and being smart or practical is embarrassing and generally avoided. In an idiocracy, approaching a topic with sound reasoning and rational thoughts is unthinkable and the simplest and easiest conclusion will always be chosen over complex but correct ones. Solutions for problems in idiocracies will always be the "shortcut" kind as well thought-out plans run counter to what is desired in an idiocracy.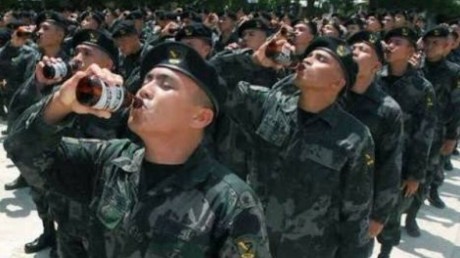 The idea of an "idiocracy" essentially came from the 2006 film of the same name and watching that film will give you a better idea of what it actually is…
Anyway Zaxx, in one of his previous articles, implies that language equals thought and that, if everyone spoke fluent English in the Philippines, the country's overall intellectual capacity might actually improve. While certainly thought-provoking, I beg to disagree with his sentiments as I've come to discover that it's not really the language that makes one dumb or smart. Remember, the Japanese and the Russians aren't exactly too savvy with the English language but can hold their own as progressive countries.
The problem, I think, lies not with our language of choice but what we choose to talk about. You see ladies and gentlemen, just because a person speaks English doesn't necessarily mean he or she is smart. It also depends largely how they use the language and what they choose to talk about. We can speak any language we want but if our conversations lack any kind of substance or significance, then we're still not any smarter as a people.
Here are three big points that has led me to believe that we have indeed become an idiocratic country as opposed to a democratic one:
The Local Media Has TINY Reference Pools
This is why I almost have a massive beef with the local media. Now, from time to time, there are shows that somehow insert some pop-culture jokes and concepts into their show. I was once even impressed with a show that managed to include some of the various quotes made by Jose Rizal in Noli Me Tangere. Other than that though, I have seen so little reference pools used in any of our shows if they are even used at all. It's as if the producers seem to think that referencing another work will fly over the heads of viewers and which probably will considering how dumbed down our people have become over the years.
Now I have met and certainly gotten along with fellow Filipinos who have at least a decently-sized reference pool. Indeed, thanks to Filipinos' love for films, there are few who don't know what Star Wars is or who is James Bond. Nonetheless, I find it more than a little infuriating when there are people who think you're talking about porn when you mention Herman Melville's Moby-Dick.
It might not be too obvious but I have come to learn that since the media in the modern age permeates nearly all societies, they have a hand in shaping nations into what they are. Truth be told, the media isn't just about entertainment, it should also be about the exchange and enrichment of ideas. By referencing various works throughout history and the world, you can tweak a person's interest in exploring a given idea and improve his or her outlook on the world.
Unfortunately, all that's really shown in the local media today is infidelity, shallowness and immorality. If this is all our people are exposed to, is it any surprise that the common Pinoy tends to adhere to a clannish mindset and a blatant disregard for others?
Our Sense Of Humor Is Crass And Shallow
The ability to tell a good joke speaks volumes about a person's mental aptitude. This is especially true when it comes to things like irony. Unfortunately, not all Pinoys are gifted with a deep sense of humor. More often than not, humor to your typical Pinoy is usually either about slapstick or plain old vulgarity.
Now, I'm not saying I don't like shallow humor. Heck, I engage in nastiness in my own gaming community on a regular basis. Unfortunately, we have so little to offer when it comes to more mature forms of comedy.
Individually, Filipinos can be smart as I've come to discover, but as a whole we are all too often onion-skinned and mean-spirited when it comes to comedy. We prefer to make fun of people whom we don't find attractive such as those who have dark skin or flat noses instead of engaging in and sticking to humorous wordplay or throwing in a reference joke. Then, when the tables are turned and other nationalities either call us out or make fun of us, we cry bloody murder. Is it any surprise then that there are those who see Filipinos as dumb and backwards because of our often juvenile sense of of humor?
We Don't Focus On Relevant Issues
As Mike Portes pointed out in one of her previous posts on FB, it all started with the Roxas vs. Duterte vulgarity fests. Now we have Grace Poe's son who's being called out on buying expensive shoes. Look ladies and gentlemen, I'm sure these are also issues to be discussed in some other point in time but these are not relevant topics when it comes to the presidential election.
Heck, as an example, I can tell you that my circumcision was nightmarish ordeal because I refused to be sedated throughout the procedure. Now, let me ask you: Does it have any real bearing in how I can establish a successful career.
I find it very deplorable that instead of focusing on presidential debates, our media instead focuses on shallow and irrelevant banter and insults between presidential candidates. What's sad is that to a lot of us out there, Duterte's promiscuity, Poe's materialism and Roxas' circumcision is somehow more important than what they can do for our country as leaders. It's an entire new breed of stupid when one cares more about the state of a president's genitals rather than what kind of person he is and what he can do as a leader.
***
Please ladies and gentlemen, our country is already facing several crises from the onslaught of natural disasters to territorial disputes with our neighbors. Let's focus on what's important for the betterment of the country and save petty issues when we have the luxury to argue over them. This is not the time for shallowness but for thorough and planned decisions.
I HAVE RETURNED TO LAY WASTE TO OUR ENEMIES!