I am so tired but there are things that need to be said and they need to be said now…
Well, it really looks like Manny Pacquiao is serious about running for senator and, more likely than not, he'll probably win considering all the people who say: "He donated lots of money to poor people so he's nicer than all those other corrupt politicians so he deserves to become a senator and maybe even president someday!" Then, here's another gem: It seems that Senator Soto is now using the ever popular kalyeserye AlDub to support his campaign to keep himself and his cohorts in power. Lastly, we still have Senator Grace Poe who is more or less riding on the popularity of her late father in order to win the presidency and claims to "continue what her father started" whatever it may be.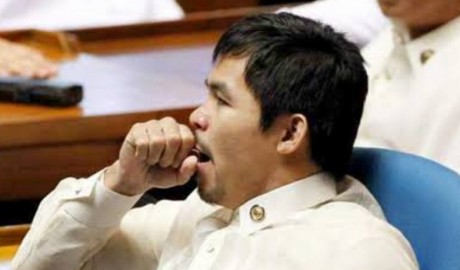 Seriously, I'm beginning to run out of words to describe how I feel. I cannot express the sheer amounts of disappointment, fear and indignation that are threatening to burst forth from my body in a fiery explosion. Indeed, if I could just find a way to better understand and contain what I am experiencing now, perhaps I can harness it into something my countrymen could use for the greater good. Perhaps they could use my emotional outbursts as an alternate energy source the way that children's laughter in Monsters Inc. could be used to power the cities of the titular of monsters.
But I'm going off topic again, aren't I?
Anyway, what I'm trying to say here is that Philippine politics has somehow become a circus. It has become not about competency but popularity and nothing else. It no longer matters to people if the country and its people can function properly so long as the people they like are in power.
But what can we expect from the utterly immature and juvenile method of thinking that is inherent in the ever-dysfunctional Pinoy psyche, after all? What can we expect from the people of a nation who voted a clearly unqualified presidential candidate into power simply because he came from a popular family who is well-connected to the media? Could we expect anything more from a society that went utterly nuts when a certain actor was beaten within an inch of his life because he wanted to meet with an old flame through a rather questionable relationship but couldn't care less about our the hapless Lumads who are being slaughtered by ruthless terrorists?
Wait! I know exactly what you people are going to say now that I've probably made you upset again. I know how you're going to counter any point I post here. Most of all though, I know how flimsy and nonsensical your arguments will be so I'm going to spare you from having to waste time typing them in the comments section.
So people of the Philippines, are you ready to be butthurt again?
"But They've Provided So Much Money For Charity"
Ah yes, let's start with this one, shall we?
Now a lot of you may not know this but charity, more often than not, is a way to lower one's taxes. That's right, if you provide money for charity, the local tax people are supposed to provide you some leeway. So no ladies and gentlemen, more likely than not, the people who bought the new goodies for you are probably just doing that to avoid scrutiny from the BIR.
Also, providing charity is fairly easy for anyone with enough money to burn. Take for instance the fact that Manny Pacquiao is already filthy rich with his earnings as a boxer. He doesn't really need to be a politician in order to provide charity. As a boxer, he can easily make millions that he can use to help the less fortunate people of the Philippines.
Besides, being a politician isn't just about providing charity. In the case of Manny Pacquiao, his job is supposed to be making laws for the common people but it seems that he has only attended congress for four days. If that's indeed the case, he should just stick to boxing or his basketball team as he can still make millions (which he can also give to charity) without having to dabble in legislative issues which he is clearly not qualified or not interested in.
"But They Give Us Good Vibes"
Okay, now for Senator Sotto and his AlDub…
Look, as I've said countless times before, all of you are welcome to enjoy whatever it is you like. You like AlDub? Then by all means, have fun. Do you prefer Pastillas Girl? Then stick to that if you like. Are you a fan of Laura Angel? Then you and I are probably going to get along.
However, please, don't let these things rule your life. They're just entertainment ladies and gentlemen, I cannot stress this enough. Sure, they might make you feel good for a while the same way alcohol or certain narcotics will but what happens when they're over? Your favorite shows aren't going to put food on the table, get your kids through school and they most certainly won't make your lives any better. They're distractions people. No more, no less. They can make you feel good about yourself but they're not really meant to improve anything.
"They Were Chosen By God"
No doubt many of Manny Pacquiao's supporters are going to resort to the good ol' "God Card" again. After all, didn't Manny Pacquiao mention something about him being chosen by "God" to bring glory to His name. If that's the case, then that must mean that no one has the right to question him or his motives even if they seem questionable at best and possibly insane at worst.
Here's all I have to say in the matter: God rarely, if ever, cares a good nickel about politics. So either Manny Pacquiao has been hit in the head too many times or something ungodly pretending to be God is urging him to remain in politics since he has done nothing with his political position but prevent qualified individuals from becoming rightful legislators.
***
Ladies and gentlemen, let's stop with the idol worship please!
Popularity doesn't translate to competency if Alma Moreno and her disastrous interview is anything to go by…
[Photo courtesy Los Angeles Times.]
I HAVE RETURNED TO LAY WASTE TO OUR ENEMIES!