Just recently, one of my best friends has now moved to Singapore with his wife and hopes to make a decent living there as an engineer. My heart goes out to him and his wife and I hope that they have a prosperous life there together while raising their family. However, with everything that's happened so far, I can only hope that they will be safe, not from the harshness of Singaporean society mind you, but from the corrupt clutches of our own government who seems hell-bent on financially and spiritually raping our countrymen who are forced to work or live overseas to make a decent living for their families.
Over the years, I have always wondered what it means to be an OFW. Just what is it like to live beyond the safety and familiarity of your homeland in order to eke out a living on foreign soil? Our media likes to claim that OFWs are our modern heroes as it is they and their profits that keep the Philippines afloat. However, all things considered, should we really be calling them "heroes" when it's more than a little obvious that they are, in fact, "victims"?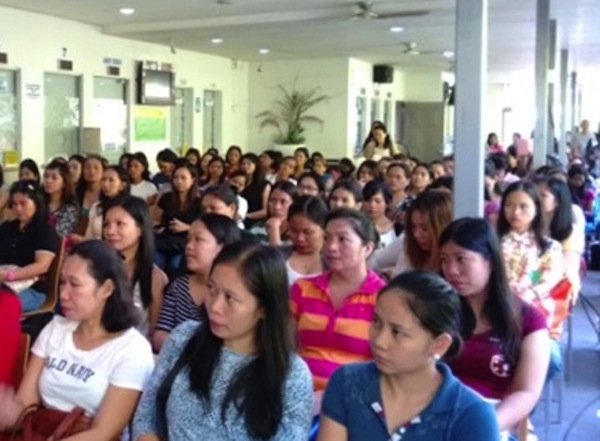 As a side note, in my younger (and dumber) years, I have always been baffled by the necessity of becoming an OFW. Why do so many of us yearn for work beyond our own shores? Why do so many fathers, mothers, big brothers and big sisters want to make a living in foreign lands? What about our own country? Doesn't the Philippines offer some good opportunities so that our countrymen can live prosperous lives with their families in their own homeland?
It wouldn't be until recently that I would find out for myself how the government has essentially betrayed their own people through the systems that surround OFWs…
Protectionist Principles
In other cultures such as Sweden or Japan, it is considered honorable to live, work and die in one's country. However, in the Philippines, it is the opposite with so many people struggling to find a means to leave the country and build a life elsewhere. It's funny that so many of our countrymen are working so hard just for the chance to find a job in another country where they will more or less be treated like second-class citizens and, at worst, be treated as nothing more than slaves with paperwork that disguises their slavery as legal work.
Ladies and gentlemen, I remember President Aquino (who was probably in a delusional frame of mind) saying that Filipinos work in other countries because they want to not because they have to, similar to the way he said that Manila's hellish traffic is a sign of a booming economy. However, as President Aquino's mental state becomes more and more questionable, it becomes apparent that it is the 1986 constitution, postulated by President Aquino's own mother and her allies that is essentially robbing the people of better opportunities in their own homeland. Indeed, because of the constitution's protectionist policies, common businessmen have essentially become aristocrats with the common people becoming the peasantry.
At the end of the day, our people have essentially become willing slaves because of a government that allegedly "freed" them from the yoke of tyranny back in 1986. Let me ask, how can we be considered a truly "happy" people when so many of our countrymen have to distance themselves from their parents, siblings and children just to provide their loved ones with a better life? Will the common Filipino ever be granted an opportunity to make something of himself in his own country honestly and safely without having to be tainted by the crime and corruption inherent in Philippine society itself?
The Balikbayan Box Issue
I have to admit, this is probably one of the things that really pissed me off even though I'm not an OFW myself. I mean really?
OFWs are all too often stressed out and lonely Filipinos who long for home and usually think of nothing but their loved ones back home. For some OFWs even, they live as nothing more than slaves in a foreign land that openly despises them. Unfortunately, the allies of the LP (who authored the constitution of slavery for the common Filipino) had to go ruin even the already bleak lives of our OFWs. Not only are our OFWs figuratively raped through heavy taxation, they are now also robbed by ruthless customs agents who sort through their stuff under the pretense of "protecting the people".
The "Laglag Bala" Scam
This probably ties in with the "Balikbayan Box" mentioned above. In a fit of a "suspiciously specific denial", Mar Roxas, according to Paul Farol's latest article on the presidential candidate's interview, even stressed that the government was not responsible for the scam even though that wasn't what the question was about.
Slip of the tongue there, eh Mr. Roxas?
Anyway, to justify inspections and in the hope of ripping even more off of our countrymen, it seems the LP and its allies are determined to take their abuse of our OFWs even further.
***
My countrymen, when will enough be enough for the common Filipino? How much longer must we remain beholden to a government and culture that denies our countrymen of a bright and promising future? Will we allow our mothers, fathers, brothers, sisters, husbands, wives, sons and daughters to work in countries that could threaten their lives while greedy customs agents steal away their hard-earned rewards? Are we really going to let the latest scam ruin not just the livelihoods of our countrymen but also our national image before foreigners?
Ladies and gentlemen, I think it's high time we put an end to this foolishness. Let's put an end to the suffering of our OFWs not just by granting them justice and finding thieving customs agents and con artists dropping bullets into their luggage, but eliminating the necessity of forcing them to work overseas in the first place. Let's bring the better job opportunities here to our own country and give our countrymen a chance to make something of themselves in their own homeland.
I HAVE RETURNED TO LAY WASTE TO OUR ENEMIES!