Rappler recently issued an apology to Roxas because "the quote did not fully represent his position on a sensitive issue".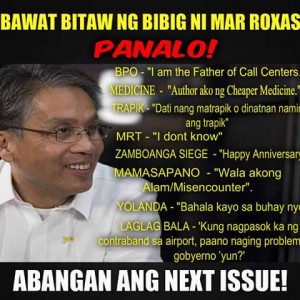 However, after watching a youtube video of what is claimed to be the more complete video footage of Mar Roxas' interview in Isabela Province regarding the tanim bala or laglag bala extortion racket at the Ninoy Aquino International Airport, it seems to me Rappler was being sly about its apology and was actually saying, "were sorry that you said something that will make people hate you more."
Below is a transcript of the interview with English translation and notes.
Note: The video footage begins with Roxas presumably already answering a question that was not recorded.
Roxas: Malinaw dito ano, hindi policy ng pamahalaan, hindi policy ng daang matuwid ang magsamantala at gumawa ng pangongotong… ang maglaglag droga, laglag bala, laglag kahit ano sa ating mga kababayan.
(It is clear that it is not the policy of government, it is not the policy of The Straight Path to take advantage of and commit extortion… to plant drugs, plant bullets, plant anything on our countrymen.)
Ang policy natin ang matuwid, matapat at maayos na pamamahala, kung meron mang gumagawa nito, kahit naka uniporme pa sila, dapat lamang na maparusahan, masuspindi, matanggal sa serbisyo.
(The policy is straight, trustworthy, and orderly governance, if there are people who do otherwise, even if they are in uniform, it is just right for them to be punished, suspended, taken out of service.)
Ang mahalaga dito eh magpatuloy ang tiwalang pinagkakaloob ng mga kababayan sa kanilang mga kinauukulan, sa kanilang pamahalaan.
(What is important is for our countrymen to continue trusting those they are referring to and the government.)
Ang pamahalaan nila ay kasangga nila, at hindi pinagmulan pa o sanhi ng perwisyo sa kanila…
(The government is their ally and not there to be the cause of their problems.)
Note: Assuming that the preceding question was about the bullet planting extortion racket, it seems Mr. Roxas has taken the liberty to dish out the straight path dogma first before anything else. It comes across as patronizing, as if people DO NOT KNOW and HAVE to be told that the government is on their side. Then again, perhaps the people INDEED have to be told because everyday reality contradicts Roxas' straight path incantation.
Question: "Who should take responsibility?"
Roxas: Yes, I think what is important… anyway, aaah…
Note: At this point, Roxas shakes his head and seems to have an irked or annoyed tone of voice as well as facial expression.
Question: "Sino dapat mag-take ng responsibility?"
Roxas: Eh, hindi eh, kung nagpasok ka ng contraband sa airport, paano naging problema yun ng gobyerno yun?
(No. If people bring in contraband into the airport, how is that the government's problem?)
Note: Still sounding annoyed, this is where it becomes clear that Roxas is working on the assumption that people are purposely bringing in contraband or illegal items inside the airport and the assumption that reports of bullet planting extortion incidents were merely MADE-UP.
"unintelligible question"
Hindi! Ang damage… ang damage sa industriya natin dapat ilagay natin sa konteksto, kung sino ba talaga ang nagpapasok nitong mga kontraband na ito. Kung meron naman talaga na nagpasok nitong contraband sa mga paliparan natin, eh diba tama lamang na nahuli sila ng pamahalaan.
(No. The damage… the damage to our industry should be put into the context, who brought in the contraband. If there are people who brought contraband into our airport, isn't it just right that the government caught them?)
Note: This is where Roxas' assumption that people are bringing in contraband inside the airport.

Taken all together, it is clear — at least to me — that Roxas statements in Isabela regarding the tanim bala or laglag bala incidents at NAIA shows that the Liberal Party comes first before the citizens of this country.