"Trapo", a word or label commonly used to describe the typical Pinoy politician. More often than not this label is all too often slung at one another by politician who are all guilty one way or another of being a "trapo" themselves. In all honesty, no politician in the Philippines can't not be guilty of being a trapo although I can say that some are at least a little worse than others. Clear standouts of being trapos include the likes of President Aquino himself, his puppet Mar Roxas, his one-time BFF Jejomar Binay and the would-be female blacksmith, Grace Poe. However, one must ask, just what is it that makes a politician a "trapo"?
Well, here are at least five things that you can use to figure out whether or not the political candidate you're looking at can be categorized as a "trapo". Note that just hitting one of these traits might not be enough but if they can hit as many as three or four, then you have yourself a real-live "trapo". By knowing well the five points I have witten below, you can learn to play the game "Spot the Trapo" like a pro and make your competition feel like idiots.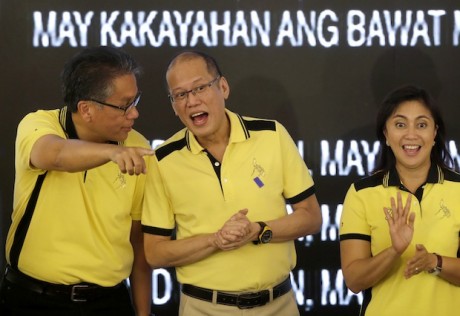 So, are you ready?
Insensitivity
The thing is, being a leader isn't about just getting other people to do what you tell them to do. Being a leader is about caring about those same people who do what you tell them to do. I remember an old saying in the military about not making people do what you wouldn't want to do and this gives you a good idea on what being a leader is supposed to be.
One of the key factors of leadership is empathy, the ability to put oneself in another's shoes. That's like imagining how you'd feel if you were that poor homeless guy living in the street, that overworked lady trying to make ends meet for her children or that lonely elderly couple next door. Unfortunately, time and time again, the typical trapo has proven themselves unable to feel the pain of their own people.
In fact, they go out of their way just to avoid feeling the kind of pain their people are experiencing. Note how both President Aquino and presidential candidate Mar Roxas simply ignore the mostly homeless and hopeless survivors of the Yolanda Crisis. Then there's the fact that they seem more than a little dismissive of the people they're supposed to be serving. Consider for instance the fate of the SAF 44 and how President Aquino and his lackeys won't even acknowledge their sacrifice.
Self-Entitlement
Look, to be honest, all leaders probably experience a sense of grandeur somewhere in their lives. Indeed, it's largely unavoidable all things considered. However, it is something else entirely to think of oneself as royalty or even a deity when it is the common people who ultimately decide on who their leaders will be.
Much to the misfortune of the common people however, we are stuck with the likes of the Binay Clan as well as the ambitious Grace Poe. Instead of thinking of the welfare of the common people, they instead think only of themselves and how they can assure their authority in the next election. Take for instance how the children of Jejomar Binay abuse common employees on a regular basis and look down on them with contempt, seeing them as "lesser" people even when it was their votes that put them into office in the first place.
Dishonor
It is pretty much common knowledge that during elections, politicians dig up all the dirt they can on each other and have a total festival in slinging it at one another. Now, this isn't inherent in Philippine politics alone, mind you. It happens all over the world actually. However, what I think is wrong is that this seems to be the only viable tactic our politicians can use.
I mean, in the United States for instance, they choose a leader for his or plan for the country. It's never simply about someone being "clean" because I'm pretty sure no one in this world is really "clean". Unfortunately, our politics is less about planning for the future and more about the lesser evil. That's why we have people like Jejomar Binay trying to smear President Aquino despite the fact that they not only came from the same politically corrupt party but are both responsible for many crimes and worse that have taken place in the country.
Pettiness
Truth be told, everyone has enemies. Even me. In fact, I have lots of them.
However, there is an honorable way to treat your enemies. While it's not exactly easy to "love" our enemies as the Bible dictates, one can at least learn to respect them. Indeed, one of the hallmarks of a true gentleman is to treat even his enemies with a sense of respect and honor their rights as human beings.
Unfortunately, that doesn't seem to be the case with our politicians. Here we have people like President Aquino maltreating former president Gloria Arroyo by having her imprisoned against her will without a fair and thorough trial. Then you have Jejomar Binay disrespecting a police officer without stopping to think that the said police officer was just fulfilling his duty as part of the law enforcement community.
Indeed, many of our politicians behave more like rowdy and juvenile teens than grown men and women.
Selfishness
This is probably the biggest so I saved it for last. Another trait of typical Pinoy trapos is their tendency to look out for themselves and only themselves. Tying in with just about all of the four I first mentioned, trapos tend to take the idea of selfishness to a completely new level.
Now, there's nothing wrong with being a little selfish from time to time. After all, you need to think about yourself from time to time as well. Unfortunately, trapos think of little else but their own welfare.
At the end of the day, as mentioned by many authors here, trapos see their positions as an ends and not as a means to an end. They run to keep themselves in power and not because they want to help improve their country. More often than not, many trapos lack the proper faculties of a leader (I'm looking at you Lito Lapid and Manny Pacquiao) but run anyway as they refuse to let go of their positions in the government.
[Photo courtesy The Japan Times.]
I HAVE RETURNED TO LAY WASTE TO OUR ENEMIES!