By now, the whole country is aware that what president Benigno Simeon "BS" Aquino recently had to say about the Mamasapano incident, which resulted in 44 Special Action Force (SAF) members dead, was that he was seeking an 'alternative truth', another version of the events that transpired, so to speak.
Based on what BS Aquino said, part of such 'alternative truth' was that the wanted Marwan was not killed by the SAF members, but by the wanted man's own aides.
Eventually, though, he retracted his statement and is now standing by the statement which indicates that the SAF members were the ones who got to Marwan.
SUPPORT INDEPENDENT SOCIAL COMMENTARY!
Subscribe to our Substack community GRP Insider to receive by email our in-depth free weekly newsletter. Opt into a paid subscription and you'll get premium insider briefs and insights from us daily.
Subscribe to our Substack newsletter, GRP Insider!
Learn more
Some social media commentators have pointed out that perhaps one of the reasons for his about-face was that he was worried about the political fallout – namely, how it would affect Mar Roxas's presidential campaign. Or perhaps he was severely affected by the negative reaction of some members of the Armed Forces. Or perhaps his buddies in the Moro Islamic Liberation Front (MILF) don't really want to hear anything about Mamasapano again. Never mind that MILF members are widely believed to be among those who were responsible for the death of the 44 SAF members.
BS Aquino seems to have missed the cues that, at this point, the public – those he presumes to call his "bosses" – no longer care how and by whom the wanted bomb maker Marwan was killed. Rather, the public, at this point, really just want the answers to one simple question – a question, apparently, the Aquino administration has no intention of answering, ever:
When will the killers of the 44 SAF members be brought to justice?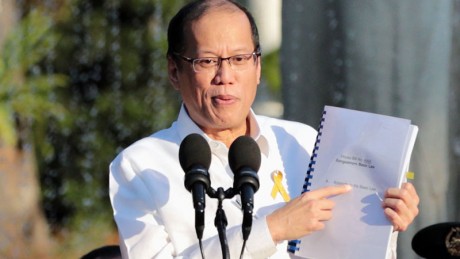 Instead of being transparent about the details of the operation – once news of the SAF 44 could no longer be contained – the Aquino administration chose to cover things up and say as little as possible. Consistent with his inability to admit that he made mistakes, BS Aquino has refused to own up and take command responsibility for the results of the entire operation. In accordance with this administration's obsession with looking immaculate, this administration has tried to pin the blame and accountability on all other entities other than themselves.
And BS Aquino just spat on the bereaved and the graves of the deceased once again even just considering going through with his quest for an "alternative truth".
BS Aquino and his Daang Matuwid are about to end in a little less than 9 months. The next presidential elections are going to push through in May next year. As early as now, those who have declared their intent to run for government posts are making themselves known. In the loud noise of the election chatter, this issue with the Mamasapano incident is most likely just going to get buried again.
Life is truly unfair sometimes. In the Philippines, the dispensation of justice is apparently not either. The Mamasapano incident seems to represent yet another case added to the ones that will remain unresolved.
[Photo courtesy: Philippine Daily Inquirer]
А вы, друзья, как ни садитесь, все в музыканты не годитесь. – But you, my friends, however you sit, not all as musicians fit.