1) From the start, let me say that this is by no means a movie review. You will find many others out there, most of which are glowing and all heaping praises on it.
With that being said, on one hand, I would agree that the movie Heneral Luna is worth seeing at least once. It represents something out of the ordinary for Philippine Cinema, if you know what I mean.
On the other hand, I couldn't really relate to all the praise it was getting. I don't believe the film is bad; it's just that, to quote a review I saw on the Internet, I felt the movie had a "kitchen sink" feel to it. It was trying to do and be too many things at one time. Perhaps, as an example, the timing of the comic relief didn't work for me; I was left wondering saan kaya gusto nila patungoin (what direction do they want to take with it?), or "where did that come from?".
Nevertheless, I maintain that Heneral Luna is still worth the price of admission because it did relatively well either or both of the things that a good movie should: stir one's emotions or make one think. It did the latter.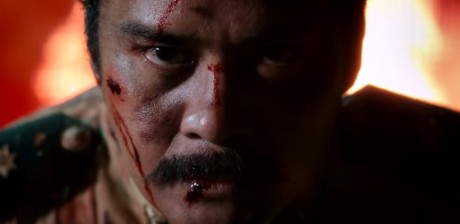 2) Compared to the likes of Jose Rizal, Andres Bonifacio, et al., Antonio Luna is for most Filipinos a relatively obscure figure. Yet the role he played in the fight for independence cannot be ignored.
3) History, however, seems a tough subject to tackle in a film, in the sense that keeping it interesting is a big challenge. For most of us, we relegate it to a subject in school that we have to pass. We could even say that history is something a lot of us are either stuck in, or are only trying too hard to forget. We cannot deny, however, that history is only too vital, because those who don't learn from it are doomed to repeat it.
4) Perhaps through calculated timing, or through the sheer natural flow of events, the themes depicted in the movie resonate with more moviegoers. More and more Filipinos are becoming disillusioned and dissatisfied with the way things are in this country. The politicking, the provincialism and pettiness of Filipinos were depicted as existing even as far back as those times, the start of the 20th century.
5) The question foremost on my mind is this: Why do we need a film to tell us what we should already know?
Let me borrow and paraphrase a line from the film: "Filipinos have a bigger enemy than the Americans, and it would be themselves.". As an example, your average Filipino would find such a line utterly profound, or deep. But for a realist, it's Tuesday.
6) At this point, I do wonder: despite all the praises being heaped on the movie in social media, why have the cinemas showing it been decreased? Is there something that the movie houses or big business knows that the viewing public does not? Is there something in it that they don't want the viewing public to see? Or are they merely being controlling and presumptuous with what they think will sell?
7) Whatever the final box office figures for Heneral Luna will be, let's just say that from the start it would have been a really tough sell to an audience that prefers its Enteng Kabisote or AlDub or On the Wings of Love to serious, relatively more thought-provoking stuff. Nevertheless, the support it has gotten does indicate that there is a market for such films out there. There are people who want better quality and more diverse media on both the media makers' side and the viewers' side. The challenge, as always, has been to convince the public that certain filmmakers' vision and stuff is worth it, and to get more of them to support it.
8) If you've already watched the film, and you come out of it hating Emilio Aguinaldo more, or admiring Antonio Luna for what he is, I think that is only one part of a bigger picture. It may even be missing the bigger point. The point is, our history is replete with lessons about ourselves; lessons, that apparently, we have yet to apply, lessons that we deny or ignore. The deeper ills that were supposedly present in our society back then are the same ones that we are still facing now. The times have changed; the dysfunction has not.
We've got to focus on ideas and ideals; focusing on personalities and events accomplishes very little.
9) Change is something Filipinos need drastically. Both in real life and on the reel. I can only say, in conclusion, that it is a fitting thing to think about for the Heneral Luna movie.
А вы, друзья, как ни садитесь, все в музыканты не годитесь. – But you, my friends, however you sit, not all as musicians fit.