They are fools and take us for the fools. It is US or THEM.  More like them versus us, really.  Outside that and between that is the truth.  But, truth does not matter. They prefer their truths, even if it is farthest from any truth, because they rule with their laws and dynasties. 
We gave them their cue.  We typically totally drop what we are doing to watch a championship boxing match, or say, a showbiz star arguing with her lover on live TV, and that the lover better watch out for she had more than half a dozen other lovers.  That is the way to entertain us.  When we are choosing between THIS or THAT, we forget other issues.  It is US or THEM, but this can't be, for that kind of THIS or THAT is dangerous to their health. They have to bait us into another kind of THIS or THAT.  Thus, they compete among themselves with their lies and half truths so that there is at any one time a beguiling political boxing match. Unfortunately, we always take the bait; we remain entertained by their duels, real or not.  Thus entertained, we forget that in taking either side of THEM, we are still siding with lies and half truths.  Because it has been done for decades, the more they, and others, take us for fools now.  Be there a lie or truth, that is lost in the continuing THIS or THAT among THEM.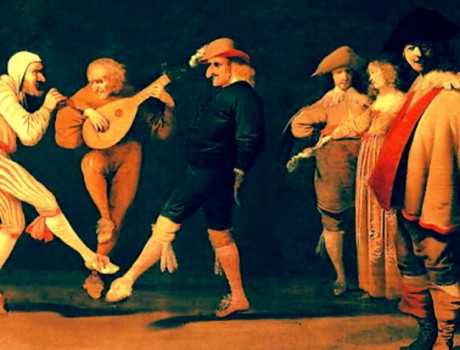 The first THIS or THAT within our memory is the one between a widow and a dictator.  It appeared that one of them was with US, and the other was with THEM.  But, the son of the widow has, wittingly or unwittingly, exposed now that neither the widow nor the dictator was with US.  It was just a fight between THEM.  They got us involved in the fight, and we now are asking what we got in taking one side.  The fight had an incredible bait.  We should have considered  in the first place that it is really US or THEM, and not gotten involved with either of them.  If we stood by that, we probably would have been able to write a different and better history.
It was a good bait, alright.  We were made to understand that we could either bet on either freedom or curfew, and all things that those signified. There was no third or other choices; maybe, there really was none.  But, it should be worth looking at this in retrospect for it might afford us a different perspective.  Why freedom versus curfew?  If it was not THEM forcing a choice on US, would we have been able to say that it should have been about prosperity versus misery?  With freedom came misery, as we see now.
Their proposition was that prosperity should follow freedom.  Aren't they so wrong?  It is now apparent that freedom should follow prosperity.  Even Lee Kuan Yew said so.
But they rule with their laws and dynasties. How can we insist that we have found a correct theory against their wrong theory?  They disagree, their theory is correct.  They got their freedom, and subsequently, their exponentially increasing prosperity, no matter how nefarious, how dishonorable, their prosperity is.
We?  We also got freedom, at least the illusion of it.  And with the illusion, we became carefree children.  We are still learning this freedom, the kind that comes before prosperity.  Because it is still an untrained horse, it keeps going behind the cart.  Whoever is responsible for this horse has not yet learned responsibility.  And, it is obvious.  Irresponsibility pervades in our society.  It is no wonder that it is our responsible ones, our best and brightest, who immediately saw what was going on.  They are now making a living somewhere else far.  It is foolish indeed to be taken as fools by THEM who have no empathy, but only rule by their rules and dynasties.
Thing is, it has gotten worse.  One of them wanted a Nobel Prize so badly; he was willing to give away a big chunk of our land in the south, never mind if it could be to a wrong party.  Why?  No one of us would dare to jail a Nobel Prize winner; that could be an international embarrassment.  For THEM, there was nothing noble about the Nobel.  It was a ticket to be able to rule with impunity.  They could dazzle us with THIS or THAT, with PDAF and DAP, even if those are our hard-earned monies they took from us. 
We could never thank enough our heroic SAF44; this sinister THIS or THAT was exposed.  Imagine they were ramming it down our throats that it was only about body bags versus their piece of paper; BaBaLa.  But, that choice was only invented by THEM who rule by their rules and dynasties.  We always were for peace, and no other choice exist.  Ain't we glad?  It was goodbye Nobel for him.
We were infuriated by PDAF and DAP; they professed kung walang korap, walang mahirap.  It was hypocrisy, and it had to be covered-up.  But, in Daang Tuwid, they can't jail this AND that, only this OR that, selectively.  This AND that would have been precarious for the one with Nobel imagination; some of THEM might talk and whistle, or whistle and talk, and it would surely be jail time for him after he steps down.  So, only Tanda, Sexy, and Pogi went to jail.
Precarious he remains, and this is only what he now worries about.  In the meantime, those of us who only know precariousness day-in and day-out, who don't even have enough food day-in and day-out, are totally neglected.  Even those of us who have food are either stuck in a precarious train, or a preposterous traffic jam, for the greater part of most days.  They want us to appreciate traffic for they claim it is a sign of economic progress.  They even told us that traffic cannot be fatal; so we had to tell them: tell that to the Marines.  But, we wonder if they heard us.
As expected, they had a Plan B for themselves; for they always have Plan B's for themselves, but never a plan for us.  They rule with their rules and dynasties, and the hell with us.  Tanda saw it was the correct time and told those among THEM who are in a precarious position that he had a Pandora's box.  He will only open it if they set him free so that he could continue with what he was doing.  He opened it, and they liked what they saw, so they set him free. 
Now, that was brazen.  It showed what has always been a reality; that it is really between US versus THEM.  They have to cover this up with their usual tactic, and that is what they are doing.  We are suppose to believe they are quarrelling.  It is about this old man versus a young man, or at the very least, his ilks.  As old as he is, he still has a thick hair because he has to protect his brain, while the young man has almost no hair because he has to protect none.  They will in the days to come elaborate on this plot and up the kerfuffle.  Hopefully, many of US will now see through that, this is nothing, but about THEM, and nothing about US.  It is really THEM versus US.
We will see in the coming days if this is only to complicate the bigger THIS or THAT, in which WE and THEY are very much in the middle of.  They have run out of talents, and all they could present to us is a Corrupt, a Neophyte, and an Incompetent.  This is dismaying for it shows they don't care.  Still, they have to continue to rule with their rules and dynasties.  It is all just about THEM  It is nightmare, and we still have to wake up.  How could we make all see that it should be about US, especially for those of us who don't have enough food.
Stupid all, it is about prosperity or misery, and stop all these other THIS or THAT.
GRP Featured Comment hall-of-famer. Former executive of the Far East Regional Office of a US-based multinational company living out of a suitcase covering the market from Tokyo to Mumbai to Melbourne, and all the countries within that triangle. Got tired after logging 300k air miles per year. Now, I just have a little trading biz on specialty chemicals.