Recently, I tried to talk to one of my officemates about the death of Pamana, one of the few existing Philippine Eagle, and her response is:
"Big deal ba?"
I tried to do my best to hide my feeling of being insulted since Pamana is not just an eagle, but he is a symbol to Filipino hope, and some, or most of the Filipinos seemed to be brain dead about the matter.
I tried to answer. Well that eagle is as important as our identity as a citizen of this country. He's like our flag. A symbol of our nation. It's not just a piece of cloth but it symbolizes you. It symbolizes the hundred years of struggle to get this piece of cloth raised from the chains of war, that gave you independence, that gave you freedom to do anything, that gave freedom to wreck havoc to this beautiful country, that gave you an easy life among hundreds of smartphones that turned you into a dumbhuman. Alright? That piece of cloth symbolizes our forefather's efforts to free us from foreign occupation. That flag is freedom.
You make fun of the flag and I'll kill you.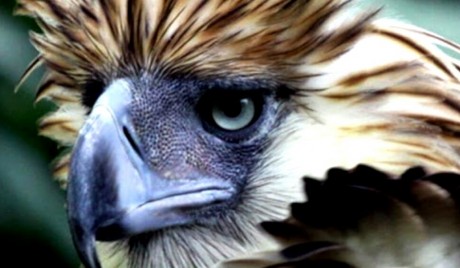 Let's go back to Pamana. First of all, Pamana is the Tagalog term for heritage. This eagle was rescued in the forest of Iligan City in 2012 having two, that was two gunshot wounds. After years of healing and recovery, thanks to Philippine Eagle Foundation of Davao, he was released back in the wild last June 12. And after two months, he's dead. Death really chased him. He's supposed to be the "hope". That's what kind of eagle Pamana is. And someone with a brain of a peanut decided to shoot it, thinking that its something to serve as a self reward and now he's dead.
And my officemate responded:
"E di wow"
A very intellectual answer indeed. This is why I'm losing hope to humanity. This planet is not ours, you know. We're supposed to be the protectors but we're rapidly evolving the wrong way.
So back to my office mate's answer. "Big deal ba?"
I'll ask you that same question. Big deal ba? For someone who doesn't have any bit of love for this country, that's no big deal. According to one of the comments in Facebook, "pwede namang padamihin uli". (you can just breed another one). For someone who's just using the resources of this precious country for their own good, the death of Pamana is really no big deal. They will just continue to live without any hopes to lift this country from this wretched poverty because the way of their thinking revolves around themselves only and not the good of everybody.
The death of Pamana is a sign that Filipino's sense of nationalism is also dying and you're proud to be a Filipino? Why don't we do a ten minute re-assessment of ourselves and ask ourselves, what have we done for our nation. Is being a champion in Clash of Clans already an achievement for you? Come on. Somebody out there killed the symbol of our hope and its no big deal because you can just breed another one? We really are all fucked up citizen if we don't change our way of thinking.
So what can we do? Let's say we care about it. Will that help change our nation?
Yes of course. Because if we care, that means we are not selfish. We care about others, we are all good citizens and there will be no epidemic of "me first" attitudes among ourselves, we can maintain peace and order in our roads, we will work not only for the sake of our family but for the sake of the goodness of the nation and we're not gonna end up being slaves of this freakin' oligarchy.
But the sad part is, that is just a dream that is so hard to obtain. We just keep on dreaming and praying without thinking of solutions. We don't even use the obvious answers to our long time problems.
So I'm begging you all. We are living in the age of information and being ignorant is gonna be your choice. Look at EDSA. Dan Brown is right. Look at the whole system. We are stuck in the vortex of corporate manipulation. They control us. Somebody out there is using us. We have the power to change it but we chose to remain silent and accept the fact that we are all mere tools.
Imagine a place were everything is ugly. Imagine hell. That will be the world that our future children will inhabit. That's gonna be the future of this country. Are you just gonna let them live in a place where everybody is killing each other. We don't want another Pamana to die just because we are selfish. We don't want another 44 Special Action Force troopers to die because we are selfish. We don't want another 58 innocent journalists to die because we are selfish. We don't want death just because we are selfish. Pamana's death is big deal for someone who loves his country.
How many more lives are we going to kill? Everything is killing us at this moment and someone will say it's not fatal? Right Mr. DOTC? Come on people. Grow up.
Let's extricate this poor country from the mud trap of selfishness. We should love this country and her children. We should love not only each other but everything that is living among us. We should learn respect. Is Values Education really not enough during our elementary days or we are really stupid?
A moment of silence for Pamana and all the victims of selfishness.
.
.
.
.
.
.
.
.
.
.
.
Let's work together for the best of this country.
When I die, please don't use coffin and chemicals. Please just bury me, and put a seed of mango in my grave.