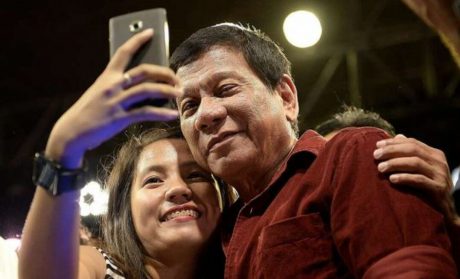 Here we are debating whether the catcall and wolf whistle of President-Elect Rodrigo Duterte (DU30) was sexist or not. Okay, let us debate it for whatever lessons it might give us, but to have it as one of our headline news? Aren't we losing focus on the biggest problem? Oh, I forgot, it involved one of the members of the media, the Fourth Estate, the Establishment whose very existence is about protecting inequality.
I am not worried about the 60% who didn't vote for DU30 because I am elated by the 70% who expressed their revulsion for Daang Matuwid, a principle, as formulated by the Yellows, that has, and will, perpetuate inequality. It just shows that we don't have as many Dutertards like me, but more importantly, there are much less Yellowtards now. A good many of those who didn't vote for DU30 would always wish DU30 fails. Let them, for they not only make Philippine politics colorful and interesting, but would one day fall flat in their faces. They may not realize it, but a call for equality is a powerful force, especially now. In the near future? If we do not reckon with it directly, it will be a revolutionary force in yet unseen ways ….perhaps, in violent ways — hopefully not.
However, I worry about Dutertards who still don't know why they voted the uncouth Mayor. They are the ones who lose their focus when the Yellows and the media throw in trifles in the marketplace of ideas. But, isn't this the very technique that has now been employed for 30 years, which we continue to buy to this day? For one, they talk to us of decency, dignity and presidential qualities. Sure, they are nice topics to talk about — in fact, quite entertaining at times. BUT, have we not yet realized that these qualities are better acted upon, perhaps even in a way outside of traditional boxes, than talked about? Or, you didn't know we voted for DU30 because we are tired of the hypocrisy in our society?
They want to change our President-elect whose very persona is about change. That is a negative on a negative which yields a mathematical positive, which really means maintaining a status quo. They want a President in the mold we all have been used to. But, how can DU30 change? He ate inequality for breakfast, lunch, and dinner.
He is showing he is the product of a rotten society, a society which he had to fight if he had to spare others of the rot. Thus, in his close daily contacts with the rotten, he may have gotten himself to look like rotten. But, is he rotten in the inside, or just on the outside? Is he like our typical TraPos? He talks extemporaneously for two hours, with no holds barred, because he wants to show us his heart. Unfortunately, many refuse to look into his heart.
For many, they could not even look. Hypocrisy has long been a way of life in this society. They look at the outside, but don't look at the core. They could not understand why minors have to have a curfew, why drinkers can't have their sessions in the side walks, why drunks can't simply drive, etc. etc. ….and they call these unnecessary micro-management by a CEO? But, isn't he simply telling us that if we want change, it has to start with us? Discipline has become alien to us, and we don't want to accept it. What hypocrisy.
Media is shocked when he admits that he does not know how to help them with regards to media killings. Oh what blasphemy! The Constitution has mandated that they have to be the most respected lot in our society. But, has media even attempted their darn best to earn that respect? Or, have they become the main promoter of mediocrity and patronage politics? Or, have they policed their own ranks, or have they been themselves remiss in their own obligations because of their focus on network wars, scoops, advertising revenues, and bottom lines?
Yes, no media killing can ever be justified no matter what, but how can this message be delivered by DU30 when in every press conference, stupid questions are asked, trifles are thrown in, main points are missed, and no effort to elevate the discussion is attempted. DU30 opens a press conference with a 20 minute rant, but most of the questions thereafter do not have anything to do with his opening statement. So, why would he not rather play with them, tease them, when media wants DU30 to listen to them, instead of them listening to him? In the first place, why do they send cub reporters instead of the seasoned ones? Isn't this an insult to the Presidential Office already? And, the Holy Cows are shocked? What hypocrisy.
Of course, in his attack of every facet of society, he has not spared the Catholic Church, of which 80% of the population are adherents. I am a Catholic, many of my Catholic friends, who voted for him as well, are shocked at his continuing tirade against the Church. I am not. In fact, I find his bitter rants welcome events Why worry? If the Church is the true Church, it will withstand these attacks, as it always has in the last two thousand plus years since its foundation, and always came out of these attacks a better Church.. The Church has been through more profound attacks, heresies, and tumultuous events. If it is not the true Church, it should have folded a long time ago.
The Church should have been the moral guardian of Philippine society. Then, why is our society rotten to the core? Thing is, the Church has remained a vital political force. It maintains the biggest network of charitable institutions, operates the leading schools, influences many members of civil society, etc. Is this the reason why it has become so complacent? Could it even be a contributor to the hypocrisy? You know, Bishops, it is irritating to hear that it is the Pajero Bishops who are the nosiest at this point. Why fight fire with fire? Aren't there better Christian ways than this?
Pope Francis is the most popular Pope in modern history. Why? …because he is into solving inequality. It's his advocacy besides Mercy — why don't you read his last two encyclicals? And DU30 an enemy? My gosh, the guy's very being, his waking hours, and I suppose, even in his sleeping times, is about solving inequality. If you don't get this, then you will never understand the man. An enemy, Bishops? No way, he is my and your ally.
HYPOCRISY!!! That is why we cannot see the INEQUALITY.
GRP Featured Comment hall-of-famer. Former executive of the Far East Regional Office of a US-based multinational company living out of a suitcase covering the market from Tokyo to Mumbai to Melbourne, and all the countries within that triangle. Got tired after logging 300k air miles per year. Now, I just have a little trading biz on specialty chemicals.