Nearly a whole day has passed since members of the Iglesia Ni Cristo occupied EDSA and as of this writing it still seems as if the government hasn't managed to bring order back.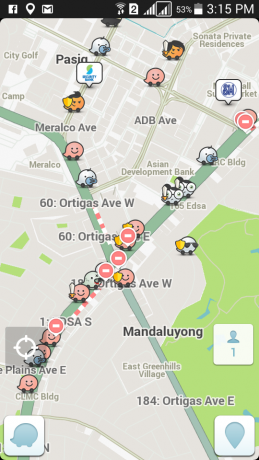 So, I really don't get all the praise being given to DILG Secretary Mar Roxas for a statement he made regarding the rally that had people stuck in traffic for hours and hours.
In a statement on a Facebook Page run by Roxas' campaign team, the DILG Secretary was supposed to have said:
As in all protest actions, preserving peace and order with maximum tolerance will be practiced by all responding policemen.
While all citizens have the right to be heard and to peaceful assembly, the exercise of these rights cannot impinge on the rights of others or cause inconvenience to anyone. Lalo na yung mga kababayan nating pauwi sa kanilang mga tahanan para magpahinga at makasama ang kanilang mga pamilya.

The PNP is duty-bound to ensure that the safety and general welfare of the public is maintained, both those protesting and those uninvolved. This includes making sure opportunists do not try to take advantage of the situation for personal ends.

Let us remember that ours is a Rule of Law and not of men.

(See original here)
End result? The rally still continued despite the tough talk about the Rule of Law — which, by the way, now looks just like lip service.
Funny really and that statement could have fooled me to think that Roxas actually grew enough backbone to intervene in such a difficult issue. I've actually seen him refuse to get involved in settling disputes amongst his staff when he was in DTI and I really find it remarkable that he seems to have turned over a new leaf.
But the thing is I was brought up believing that the real measure of toughness (and other personal qualities) is seen in what people DO and not what they merely SAY.
If it were any other group rallying in that area on EDSA, I would suppose they would have been dispersed in a matter of hours. But because they are the INC, a powerful religious group, Roxas and his team merely issued a statement assuring the group that the police would practice maximum tolerance. Which is short of saying that they'd basically be there to do nothing.
Even as Roxas' camp criticizes other contenders for the presidency for issuing soft (or even fawning) statements regarding the INC rally, they should be CIRCUMSPECT enough to realize that the maintenance of peace and order is actually Roxas' job as DILG Secretary.
And you know what? A apart from the fact that EDSA was virtually impassable, there were reports of an ABS-CBN news team being mauled and that trash as well as all manner of human filth littered the place.
The others can say whatever they want and even side with INC, for all I care. It's not really their job to make sure to maintain peace and order on EDSA.