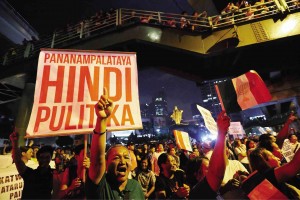 The Iglesia ni Cristo (INC) has occupied a portion of EDSA since Friday night, August 28, 2015, and it looks like there is no sign of their backing down, at least not until end of Sunday, August 30, when their rally permit expires. Their presence on EDSA had added to what was already an uncomfortable traffic problem. It was not only the start of a long weekend, it was a payday weekend, and now the INC had to come along and make things worse, so thought the commuting public stuck in traffic that night.
Grace Poe, Jejomar Binay, and Mar Roxas – the three names who are seen to be vying for president in next year's elections, all made statements regarding the rally. While Poe and Binay essentially went the "they have a right to protest" route, Mar Roxas chose the "maximum tolerance" and "please do not inconvenience others" spiels.
That, of course, hasn't worked out well until now, has it?
The seemingly apparent reason that none of the three, most especially Roxas, as the "resigned" Department of Interior and Local Government secretary, has advocated dispersal of the crowd – violent if needed – is because they will not risk crossing the INC and losing the bloc voting strength that it is perceived to represent. It is no secret that the INC exerts a lot of political pull on the Philippine government, and that its members are deeply entrenched and involved at many levels. Prospective candidates all clamor and will gladly step on one another to gain the oh-so-coveted endorsement. Thus, the government can only stand back and be ineffectual and be reduced to sound bites about pleading for maximum tolerance and avoidance of inconveniencing the rest of the populace.
After seeing my timeline splattered with numerous updates all about the INC rally in EDSA, I couldn't help but remember just how spectacularly previous protests against the government have failed. Million People March, or PDAF March, whatever they were called, anyone? They were seemingly one-off events; no one has managed to organize another protest despite the incessant in-your-face incompetence and ineffectiveness that the Aquino administration has been showing.
The INC walked up to EDSA, inconvenienced the rest of the riding public, and they didn't give a damn about what everyone else thinks. The apparent reason they went there in the first place was they didn't like what they thought was Department of Justice (DOJ) Secretary Leila de Lima's giving undue attention to the cases involving certain ministers of the INC. Word has it that the flock was passed a message that "their religion was under attack by the government". And how does a zealot react when you threaten that which is very dear to his/her way of life? Expect things to get violent.
Whether you agree or not with the reason the INC is protesting in the first place, and whether or not you agree with their methods, you've got to admit that they seem to be showing qualities that are needed for protest rallies to succeed.
Commitment, single-mindedness, and resolve – without these, any action "to make the people's voices heard" will eventually fizzle out, if not quickly.
Protest rallies not only get attention, but work only if the threat of greater disorder is implied unless you listen to the protesters. Whether they were aware of it or not, the INC pushed a hot button that the public in general has had with the Philippine government – the traffic situation. Their presence on EDSA may have earned them the ire of quite a few of the non-INC populace, but they have come out making the government look more inutile than it already is. Plus, the administration, and other politicians in general, still perceive the INC to hold some sort of bloc voting strength that could very well determine who wins elections.
There is one word that describes what the INC has, which is actually also used in the context of business negotiations: leverage. The INC is holding the government and the public by the balls, and they will continue squeezing until they get what they want. It is up to the government whether they will do the right thing, or the popular thing; we all know which one they're going to choose to do now, don't we?
To balance things out, if there are things protesters could take from the INC, then there are also behaviors which they should not emulate. One example of which is the poor sod shown below: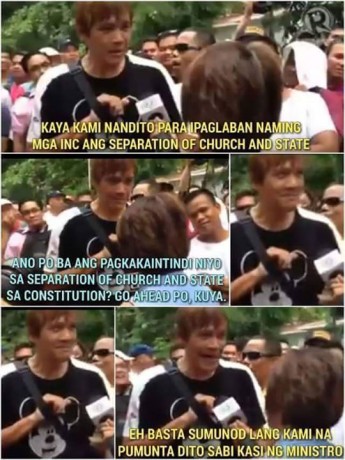 Protip: always make sure that you know what the hell your group is protesting about in the first place.
The second behavior that people should not emulate is much harder for Filipinos, regardless of INC or non-INC. It's sort of like asking them to stop breathing. One has only to look at the picture below to see what I mean: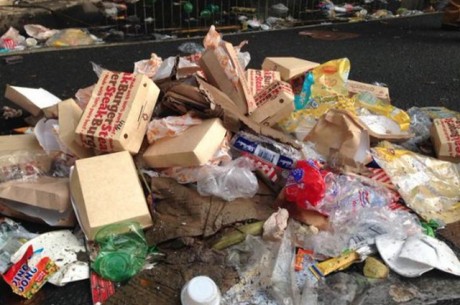 Protip: always make sure to clean up after yourselves.
Final protip: Song and dance numbers have no place in a protest which is supposed to be serious.
The fact that one single religious organization can cause so much trouble, that Filipinos and their government are effectively paralyzed in dealing with it, should be enough to tell you just how seriously screwed up Filipino society is.
А вы, друзья, как ни садитесь, все в музыканты не годитесь. – But you, my friends, however you sit, not all as musicians fit.