The purpose of which, of course, is to keep them in line. If Filipinos had not devolved into a generally unruly group of people, I might not have even considered this thought. Now it becomes debatable.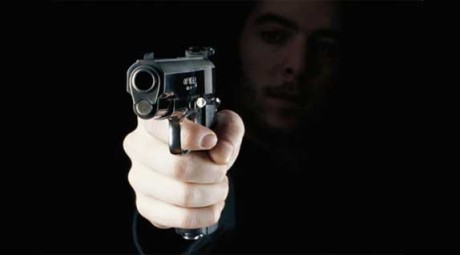 If you ask both the irate pedestrian and the jeepney driver he shot, you would get two different answers. The former would probably say yes, because his fellow drivers, and especially jeepney drivers, are generally jackasses on the road. The jeepney driver, had he lived, would probably tell you no, because others should understand why jeepney drivers drive the way they do.
It is worth mentioning – and some commenters in other forums have brought it up too – that if the irate pedestrian had no gun, the jeepney driver would have simply shrugged the whole thing off and said "pasensiya na, naghahanap-buhay lang.". No blood, no foul, so there's nothing to complain about.
There is simply no appealing to any innate "goodness" in fellow Filipinos. To them, the ability to do what they want regardless of the effects and consequences on others takes precedence.
I am more important than everyone else. I will drive like an asshole. I will eliminate anyone who slights me in the least. I will abuse whatever authority has been given me. I will use my position for my personal gain. I will strike fear into the hearts of people I don't like. I will blame others for things that I could have a part of the responsibility in. Why? Because I can.
Or so the typical Filipino thinks.
The Filipino acts like a previously caged animal that has just been released into the wild. Any attempt to take away its "freedom" will result in a fierce (and often pointless) clash.
But isn't the Philippines supposed to be a modern country where the rule of law prevails?
甘い, 甘い. (Amai, amai, how naïve.)
The Philippines is the wild wild west. Rules and regulations here are regarded as mere suggestions, you see. In fact, Filipinos see laws, rules, and regulations as an impingement on their so-called "freedom". They certainly don't want to be put back in the cage.
Discipline and rule of law? Nope, Filipinos associate both with the strongman Ferdinand Marcos, who is up to now still regarded and painted as an evil dictator who oppressed the Filipino people and had many of them killed. Filipinos seemingly don't want to go back to those times, yet it seems they are unable to move on from them.
On the other hand, if you ask me why a city like Davao, where Rodrigo Duterte is mayor, is safe, I would probably say that the mayor carries out his threats to take care of criminals with consistency. It's not the prescribed consequences of violating the law that people are afraid of, it's that they could face death when caught.
Of course, the results that Duterte has gotten in Davao cannot be ignored, but the inevitable question arises: what happens when the Dutertes are no longer in power? Will the city regress from being the safe one it supposedly is now?
Thus the issue of compliance with the law depending on who the sheriff is arises. You could be in his good graces one day, but suddenly find yourself facing the barrel of his gun the next. If the sheriff is a weak one, criminal elements will run rampant. If the sheriff suddenly decides that for whatever reason, you are a criminal, then no amount of appealing to the law will save you; he IS the law. If the police and law enforcement agencies are ineffectual the city will devolve into chaos. If the society provides ample opportunity for people to do undesirable things then they will seize that opportunity because it's easier.
That is why the law exists. Ideally, it minimizes the biases in the sense that the penalty is the same regardless of the way society feels about a person. Everybody is supposedly equal under the law. That is why justice is represented by a chick in blindfolds holding the scales.
But nobody in the Philippines really wants to be subjected to something such as the law. Filipinos want to carry out their own brand of justice. Filipinos want privileges that come with rank or societal status. Filipinos never take any personal accountability; they are always a victim of circumstances. Filipinos perpetually plead ignorance of the law, or that the law is too severe for them, as if these are valid excuses.
Let me, once again, use the example of the jeepney driver who was shot. GRP webmaster benign0 asked the question of whether he deserved to die. Not according to the law.
Well, it depends on which law you're talking about.
If you're referring to the codified legal system in the Philippines, the answer is no, he didn't deserve to die. But if you're talking about the Philippine justice system, which is basically "an eye for an eye", and the local, perverted version of the Japanese "kirisute-gomen", the right of samurai to strike commoners for perceived affronts, then your typical Filipino will say, yes, he deserved to die.
As I said earlier, the Filipino acts like a wild animal when concepts such as rule of law and discipline are thrown at him. He would rather see the world burn than go back into the cage he perceives those two to be.
How does one go about dealing with that? To put the animal back into the cage, one may be required to shoot it with a very strong tranquilizer. To keep him in the cage, you have to make it strong enough to withstand all his strength. Somehow, he must realize for himself that breaking out of the cage is met with a punishment that will leave a lasting impression in his mind.
Sometimes, certain men must be spoken to in the language that most resonates with them. Whether you think it is inhumane or cruel to regard Filipinos as animals to be tamed and disciplined depends on which side of the discipline equation you're on.
А вы, друзья, как ни садитесь, все в музыканты не годитесь. – But you, my friends, however you sit, not all as musicians fit.